2010 Florida Building Codes Update ADA Requirements, Energy Provisions, Wind Design

The International Code Council and the Florida Building Commission, housed within the Florida Department of Business and Professional Regulation (DBPR) today announced significant changes to the Florida Building Codes which will result in safer, sustainable buildings and homes.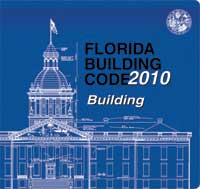 Now available, the new 2010 Florida Building Codes – Building, Test Protocols for High Velocity Hurricane Zone, Residential, Plumbing, Mechanical, Energy Conservation, Fuel Gas and Existing Building – are based on the 2009 International Codes® and include a number of updates from both the International Code Council and the Florida Building Commission. The 2010 Florida Accessibility Code is already available online in a viewable PDF format at www.floridabuilding.org, and the complete Code will be available early next year. The codes are also available as a Complete Collection or Designer Collection as well as in six code Combos, including Building and Residential; Building, Accessibility and Energy; and Building and Test Protocols.
One of the most visible changes to the 2010 codes is the integration of the 2010 Federal Americans with Disabilities Act requirements within the 2010 Florida Accessibility Code. The Florida Building Commission also centralized all energy provisions, including the energy provisions formerly located in Chapter 13 of the Building Code and Chapter 11 of the Residential Code, creating the 2010 Florida Energy Conservation Code to promote ease of use and application. The new code also includes substantial revisions to wind- and flood-design provisions found in Chapter 16 of the Building Code. In accordance with the new American Society of Civil Engineers ASCE 7-2010, the standard creates a new wind map for the state.
The updated Florida State Building Codes are mandatory for all new construction or rehabilitation projects with a permit application date of March 15, 2012, or later. More information is available on the International Code Council's website at www.iccsafe.org/2010FL or the Florida Building Commission's website at www.floridabuilding.org.
The International Code Council is a member-focused association dedicated to helping the building safety community and construction industry provide safe and sustainable construction through the development of codes and standards used in the design, build and compliance process. Most U.S. communities and many global markets choose the International Codes.
The Department of Business and Professional Regulation's mission is to license efficiently and regulate fairly. DBPR licenses more than one million businesses and professionals ranging from real estate agents, veterinarians, and accountants to contractors and cosmetologists. For more information, please visit www.MyFloridaLicense.com.