Greece Fire Marshal Elected to International Code Council Board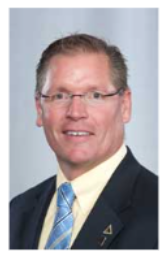 Rob Drexler, Fire Marshal for Greece, N.Y., has been elected as a Director on the International Code Council Board. He serves as a liaison between the town and its four Fire Districts with responsibility to provide the town's fire prevention program. He assists in investigating the cause, origin, and circumstances of fires involving injury, loss of life or substantial property damage. He also provides leadership to assistant fire marshals and building inspectors on code enforcement including fire safety enforcement, education, inspections and plan review.
Through public/private sector collaboration, the Code Council provides support to government by developing codes that allow for safe and sustainable construction. As a result, government does not take on the high cost of developing its own codes and benefits from code uniformity that encourages local, affordable construction growth.
Drexler's duties also include public speaking on fire prevention, fire detection systems, fire protection equipment and evacuation procedures, and developing fire prevention education materials. He is Co-Chair of the New York State Code Coalition to Protect and Preserve Our Communities, and the Monroe County Fire Marshals Association Delegate to the New York State Building Officials Conference.
Drexler was elected during the Council's 2011 Annual Conference in November.
"Our Directors devote a lot of time and energy to volunteer for the International Code Council Board," said International Code Council CEO Richard P. Weiland. "They could not serve on the board without the support of the jurisdictions they work for. We thank the Board members and their employers for their dedication to pursuing the goal of building safety and fire prevention."
Drexler holds a Fire Protection Degree from Monroe Community College and a Construction Technology Degree from Canton Agriculture and Technology College.
The International Code Council is a member-focused association dedicated to helping the building safety community and construction industry provide safe and sustainable construction through the development of codes and standards used in the design, build and compliance process. Most U.S. communities and many global markets choose the International Codes.