ICC Resources in Place to Supports California Reduce Water Usage

Outlines program to aid manufacturers and AHJ's with compliance
On April 1, 2015, California Governor Edmund G. Brown issued an Executive Order to implement further mandatory water reductions in cities and towns across the state. The International Code Council (ICC) and our Family of Companies outlines a program to help manufactures and governmental members to comply with the order. The Governor's directive requires, in part, "updating standards for toilets and faucets and outdoor landscaping in residential communities and taking action against communities that ignore these standards."
ICC is a partner in the U.S. Environmental Protection Agency WaterSense program that protects the U.S. water supply by promoting water efficiency and increasing awareness of water-efficient products, programs and practices. The U.S. EPA WaterSense Program identifies water-efficient toilets, bathroom sink faucets, commercial pre-rinse spray valves, showerheads, urinals and weather-based irrigation controllers.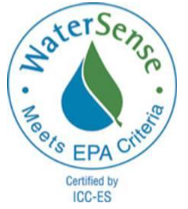 Products and services that have earned the WaterSense label with the ICC-Evaluation Service (ICC-ES) certification mark are certified to be at least 20 percent more water efficient without sacrificing performance. ICC-ES, a subsidiary of ICC, is a separate company and has its own management, staff, rules and procedures. It is third-party accredited and has many decades of experience in product evaluations.
"An ICC-ES WaterSense listing allows municipalities to easily identify plumbing and irrigation products that reduce water usage combatting confusion and false claims, and allows manufacturers to
demonstrate products comply with the U.S. EPA WaterSense program," said ICC Chief Executive Officer Dominic Sims, CBO.
WaterSense and its partners are committed to bringing water-efficient products to market, labeling new homes as WaterSense compliant and spreading the word about the need for smart water use.
Manufacturers seeking WaterSense product certification should contact ICC-ES at its new Connect+ Customer Service phone line, 1-800-423-6587 ext. 1. ICC-ES technical staff will guide manufacturers through the WaterSense listing process. Products certified by ICC-ES to the WaterSense program can be identified by the ICC-ES/WaterSense logo on the product or product packaging.
For information about products certified by ICC-ES to the WaterSense program, go to www.icc-es-pmg.org/Watersense/listing.cfm or the U.S. EPA WaterSense website at: www.epa.gov/WaterSense/products.
Municipalities with questions about the program should contact ICC-ES at 1-800-423-6587 ext. 66546.
About us: The International Code Council is a member-focused association. It is dedicated to developing model codes and standards used in the design, build and compliance process to construct safe, sustainable, affordable and resilient structures. Most U.S. communities and many global markets choose the International Codes.