Building Safety Month starts strong
A public awareness campaign celebrated worldwide during the month of May for the past 38 years, Building Safety Month (BSM) helps individuals, families and businesses understand what it takes to create safe and sustainable structures. The campaign — with a theme this year of Building Codes Save Lives — reinforces the need for the adoption of modern, regularly updated building codes, a strong and efficient system of code enforcement, and a well-trained, professional workforce to maintain the system.
The International Code Council and its 64,000 members worldwide, along with professionals from the building construction, design and safety communities, have stepped up their support this year to make BSM 2018 a success because they understand the need for safe and sustainable structures where we live, work and play.
Proclaiming your support
Our members and chapters are our biggest and most valuable resource in spreading the word about building safety. To date, 35 states, 153 jurisdictions — 76 from the state of Kentucky alone — and 67 chapters have submitted official proclamations recognizing Building Safety Month 2018. The Code Council thanks jurisdictions across the nation and globally that proclaim Building Safety Month. Discover how you can support Building Safety Month through submitting a proclamation.
Celebrating safety coast to coast
City officials and code professionals nationwide are stepping up and out into their communities to educate their residents on how building codes and standards are helping to keep them safe — through receptions, roadshows, roundtable forums, presentations, career fairs and training events. From coast to coast, jurisdictions have planned events that offer something for everyone. Check it out.
Video viewing choices
More of a visual learner? Be sure to check out our Building Safety Month 2018 video collection on YouTube, which includes our official ICC Building Safety Month PSA video you can watch and share. Also, our popular "Value of Code Official" video is now available with closed captioning for you to use and share as you help us promote Building Safety Month 2018.
Flip over to Flickr
A picture is worth a 1,000 words… but a photo showing our members, chapters and partners celebrating Building Safety Month is priceless. Head over to our BSM 2018 Flickr album to see some of the great pictures people have submitted. Don't miss out on the fun. If you have a photo, send it to us.
Mentoring Mondays
The Code Council's Emerging Leaders Membership Council (ELMC) is an active group of young industry professionals excited to celebrate building safety. This year, the group unveiled its "Mentoring Mondays" video project that features interviews with Code Council Board of Directors Vice President William Bryant, Board Immediate Past President Dwayne Garriss, Board Director Tom Peterson and 2017 Gerald H. Jones Code Official of the Year Award recipient Becky Baker as they discuss their professional experiences. Be sure to follow the ELMC on Facebook, Twitter and YouTube.
Chat us up
Alliance for National & Community Resilience Executive Director and ICC Government Relations Regional Manager Bryan Soukup hosted our Building Safety Month Twitter chat about disaster preparedness on May 14.
Click here to check out last month's Twitter chat on fire safety hosted by ICC Vice President of Fire Services Rob Neale.
Join us in June for the next #CODEversation. Stay tuned for details.
Making safety a priority
ICC is grateful for the companies and organizations that are making building safety a priority by sponsoring Building Safety Month.
This year's co-sponsors for week 1 — Partnering with Code Officials to Build Stronger, Safer Communities — are the American Gas Association, American Concrete Institute, National Council of Architectural Registration Boards, American Wood Council and Simpson Strong-Tie.
Week 2 — Advancing Resilient Communities Through Science & Technology — is sponsored by the Building Owners and Managers Association International.
The sponsor for week 3 — Protecting Communities from Disasters — is the American Society of Interior Designers.
Week 4 — Safeguarding Our Water — is sponsored by Corzan Piping Systems.
This year's co-sponsors for week 5 — Improving Education & Training Standards for a Safer Tomorrow — include the National Multifamily Housing Council, Laborers' International Union of North America and Koffel Associates.
This year's Capitol Hill Rooftop Reception sponsor is the National Association of Home Builders.
Learn more about our Building Safety Month sponsors.
It's not too late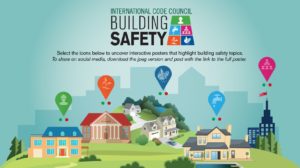 Join us in our month-long celebration to bring awareness to the importance of building safety, building codes and the officials who maintain them.
Spread the word about Building Safety Month by engaging with your followers on social media. Use the official Building Safety Month hashtag #ICCBSM18 on all your posts to join the global conversation. We have a free Steps to Success guide you can download.
Show how code officials impact residential homes, backyard safety tips and more using the Building Safety Month interactive digital posters. Hover over buttons throughout the posters and uncover information that highlights the importance of building safety.