Exchanging Lessons on Off-Site Construction
HUD is organizing a series of educational exchanges with off-site construction leaders to foster greater learning opportunities within the industry.
Off-site construction is not a new idea – some examples can be found as far back as the early 1900s. Despite this long history, the maturity of the industry varies globally.
Apart from manufactured housing, off-site construction in the United States has progressed slowly as compared to Europe and Japan, where there is a well-established off-site construction culture.
Taking Initiative in Expanding Off-Site Construction
The U.S. Department of Housing and Urban Development (HUD) recognizes the opportunities of off-site construction and the lessons to be learned from international entities that have expanded their markets.
As part of its research and strategy development process, HUD, with the assistance of the National Institute of Building Sciences and MOD X, is organizing a series of educational exchanges with off-site construction leaders from the United States, United Kingdom, Japan and Sweden to foster greater learning opportunities within the industry.
The International Code Council and ICC-NTA were invited to collaborate and share knowledge on the regulatory and verification processes supporting the off-site construction industry.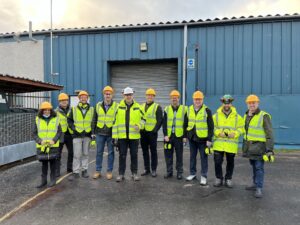 Exchanging Ideas: Dispatch to

Scotland

and

England
The first exchange of off-site construction lessons was to Scotland and England from Dec. 4-9, 2022. Ryan Colker, Code Council Vice President of Innovation, and David Tompos, ICC-NTA President, attended alongside U.S. representatives from HUD, RMI, Synergy Inc., Ivory Homes, Port of Portland, UC Berkeley, Entekra, Volumetric Building Companies and Saint-Gobain/CertainTeed. The exchange was supported by Homes England and the Built Environment – Smarter Transformation (BE-ST) Center (Scotland).
Site visits from this exchange included a custom home builder delivering highly-efficient panelized homes to an automated wood I-joist factory, volumetric module factories delivering single-family and apartments, a government-supported research and innovation center, a cross-laminated timber (CLT) wellness center under construction and the tallest modular construction project in the UK (50 stories).
MAKAR, James Jones & Sons Ltd, CCG (Scotland) Ltd, Fettes College, Legal & General Modular Homes, ilke Homes, Vision Modular Systems, Tide Construction Limited and Stora Enso participated in off-site factories and project sites.
This first exchange culminated in a discussion with off-site leaders from Scotland and England on opportunities to advance off-site construction and capture lessons learned from each country's perspective.
Colker shared the U.S. approach to the off-site construction plan review process and in-factory inspections as well as the important role of ICC/MBI Standards 1200 and 1205 in driving towards efficiency in the off-site construction process. Outcomes from the discussions and site visits will help inform future standards development and new solutions to help the industry progress.
In addition to the educational exchanges, HUD will host a workshop in early 2024 to help formulate a strategic plan to advance the use of off-site construction as a mechanism to achieve housing and other building industry goals.
For more information on off-site construction and available solutions like the ICC/MBI standards, click here.