Wildfires in California: Latest on coverage, containment and evacuations
October 30 Update: Santa Ana winds raise threat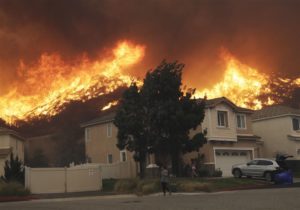 Millions of Californians are on "red alert" as historic wind-whipped fires rage in Los Angeles and Sonoma County. The Santa Ana winds have the power to breathe dangerous life into the fires and complicate efforts to contain them. The red flag warnings indicate bone-dry conditions and strong winds that can create large areas at high risk for dangerous wildfires. Damaging wind gusts between 50 and 70 mph, as well as isolated gusts that could hit 80 mph and extremely low humidity, have been predicted. The record-strong Santa Ana winds are expected to last through at least Thursday morning.
The Storm Prediction Center warned again of "extremely critical fire weather" throughout Southern California, and parts of Northern California, including the North Bay mountains, were expected to see "widespread critical fire weather conditions."
The National Weather Service issued its first-ever "extreme red flag warning" for much of Ventura and Los Angeles counties. National Weather Service meteorologist Tom Fisher told the Los Angeles Times that the Santa Ana winds could be the worst the region had seen since 2007 when dangerous weather fueled the sixth most destructive fire in California history.
Latest updates:
Kincade Fire: 76,825 acres burned; 30% contained
Taboose Fire: 10,296 acres burned; 75% contained
Saddle Ridge Fire: 8799 acres burned; 97% contained
South Fire: 5,332 acres burned; 75% contained
Tick Fire: 4,615 acres burned; 94% contained
Burris Fire: 703 acres burned; 85% contained
Getty Fire: 656 acres burned; 15% contained
Old Water Fire: 145 acres; 85% contained
Oak Fire: 859 acres burned; 10% contained
Palisades Fire: 42 acres burned; 75% contained
Johnson Fire: 75 acres burned; 90% contained
Caples Fire: 3,435 acres burned; 90% contained
---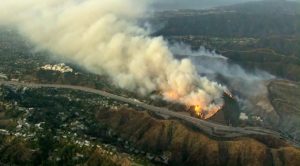 Wildfires are nothing new to California's 40 million residents. But in the past two years, the state has experienced the deadliest and most destructive wildfires in its history, according to the California Department of Forestry and Fire Protection (CAL FIRE). In 2017, wildfires ravaged more than 1.5 million acres, killing 44 people and burning more than 11,000 structures. Last year, more than 1.6 million acres were burned, over 23,000 structures damaged or destroyed and 93 people died, CAL FIRE reported. Eighty-five of them were killed when the Camp Fire devastated northern portions of the state. It was the deadliest blaze in the state's history.
California has seen an estimated 170,857 acres of burned land in wildfires this year, a fraction of the amount that had burned by this time last year, according to CAL FIRE. However, September and October are the worst two months historically every year in California for wildfires as the Santa Ana and Diablo winds pick up. Nine of California's 10 most destructive wildfires on record started in the last four months of the year, including the most recent Camp Fire and Woolsey Fire in November 2018, the Thomas Fire in December 2017, and the Nuns Fire and Tubbs Fire in October 2017.
There are currently 17 active wildfires in the state, with seven large fires displacing more than 200,000 evacuees. A significant wind event struck California beginning on Oct. 23, 2019, resulting in nearly statewide red flag warnings due to hazardous fire weather conditions, which have been unprecedented due to the scale, scope, wind speed and dry fuel conditions. At present, at least 43 of California's 58 counties are experiencing red flag warnings, according to Governor Gavin Newsom's emergency declaration. "We are deploying every resource available and are coordinating with numerous agencies as we continue to respond to these fires," he said in a statewide emergency declaration. "It is critical that people in evacuation zones heed the warnings from officials and first responders."
---
At a glance
To date, there have been 5,981 fire incidents in California with an estimated 170,857 acres burned.
The Getty Fire, which began Monday morning, has burned 400 acres.
The fast-growing Kincade Fire pushed near the outskirts of Santa Rosa, California.
More than 180,000 people have been forced out of their homes in Northern California.
Gov. Newsom declared a state of emergency because of the fires.
---
Not every wildfire is under CAL FIRE jurisdiction. Many of the fires are burning in national parks under the supervision of the U.S. Forest Service. These are the largest wildfires burning in California right now.
The Kincade Fire
Size: 66,231 acres
Percent of perimeter contained: 5%
Location: Sonoma County
Start date: October 23, 2019
Cause: unknown
The Kincade Fire in Sonoma County has forced nearly 200,000 people out of their homes, scorched more than 66,000 acres and destroyed nearly 100 structures. Two firefighters have been injured fighting the fire. It was only five percent contained late Sunday, down from 10 percent over the weekend. Driven by hurricane-force winds, the fire grew at a rate of one football field every three seconds when it first ignited. The largest wildfire evacuation in the history of the Sonoma County Sheriff's Office, evacuation orders are still in place with more than 80,000 structures still threatened.
The Taboose Fire
Size: 10,400 acres
Percent of perimeter contained: 75%
Location: Inyo County, southwest of Big Pine
Start date: September 4, 2019
Cause: Lightning/natural
The Taboose Fire continues to burn in the Inyo National Forest between Big Pine and Aberdeen. As of most recent reporting, the fire is at 75% containment and is expected to burn out naturally. There are a few acres of active fire at a high elevation and an area of unburned fuels on the northern side of the active fire, which will necessitate fire crews to monitor and patrol in areas where the fire is active.
Saddle Ridge Fire
Size: 8,799 acres
Percent of perimeter contained: 97%
Location: San Fernando Valley
Start date: October 10, 2019
Cause: unknown
The Saddle Ridge Fire is a currently active wildfire near the San Fernando Valley of Los Angeles County, California. It is still undetermined as to how it started but it is believed that the blaze started beneath a high voltage transmission tower. The fire has resulted in one civilian death, eight first responder injuries, 88 structures damaged and 19 structures destroyed.
The Briceburg Fire
Size: 5,563 acres
Percent of perimeter contained: 70%
Location: near Yosemite National Park
Start date: October 6, 2019
Cause: Under investigation
Almost 1,400 firefighters and support personnel are in Mariposa County fighting the Briceburg fire. The equipment being used to combat the blaze includes 113 engines, nine helicopters and 37 dozers. It is burning 10 miles west of Yosemite National Park. The park and each of its entrances remain open.
The South Fire
Size: 5,332 acres
Percent of perimeter contained: 75%
Location: Southeast of Tomhead Mountain, west of Red Bluff
Start date: September 5, 2019
Cause: Lightning
The fire is burning in a remote and rugged area of Shasta-Trinity National Forest, the largest national forest in California, and in about 700 acres that fall under CAL FIRE's responsibility. Two miles west of the fire, a contingency line has been completed along Sanford Ridge to contain the fire, should it to move west, according to fire managers.
The Tick Fire
Size: 4,615 acres
Percent of perimeter contained: 70%
Location: Near Santa Clarita
Start date: October 24, 2019
Cause: unknown
The Tick Fire, near Santa Clarita in the southern portion of the state, has destroyed 24 residences and damaged another 36, the Los Angeles County Fire Department said, adding the fire was 70 percent contained. At its height, nearly 50,000 residents were ordered to evacuate.
The Caples Fire
Size: 3,434 acres
Percent of perimeter contained: 87%
Location: El Dorado County near Kirkwood
Start date: September 30, 2019
Cause: Controlled burn
The fire, part of the Caples Ecological Restoration Project, started as a controlled burn in a snow-covered area.
The Cow Fire
Size: 1,975 acres
Percent of perimeter contained: 30%
Location: Inyo National Forest
Start date: July 25, 2019
Cause: Lightning
The fire is burning in the Golden Trout Wilderness, a remote, high-elevation area of the Inyo National Forest. Because of its low intensity and remoteness, firefighters focused on confining and containing the blaze by reinforcing natural barriers, such as granite ridges and wet meadows. They're now monitoring the fire to ensure it remains within the control lines.
The Getty Fire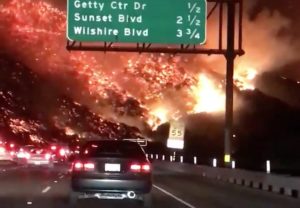 Size: 618 acres
Percent of perimeter contained: 0%
Location: Los Angeles, north of the Getty Center
Start date: October 28, 2019
Cause: unknown
A dynamic wildfire that is moving in a westward direction driven by high winds, the Getty Fire broke out on the west side of the 405 Freeway in the Sherman Oaks neighborhood, an influential area known for its celebrities and high-value homes, including Bel Air, Westwood and Brentwood. NBA star LeBron James and former California Governor Arnold Schwarzenegger were among those forced to evacuate overnight. There are over 10,000 structures (both residential and commercial) in the mandatory evacuation zone. The fire has consumed 500 acres and at least eight homes have already been damaged. Los Angeles landmarks the Getty Center and Getty Villa are safe but many homes are ablaze and southbound lanes of the 405 freeway, the busiest highway in the country, are now closed.
---
Other Southern California wildfires
Burris Fire (Mendocino): 350 acres burned, 20% contained.
Glencove Fire (Solano): 200 acres, 85% contained.
Sky Fire (Contra Costa): 150 acres burned, 90% contained.
Old Water Fire (San Bernardino): 145 acres burned, 55% contained.
Oak Fire (San Diego): 140 acres burned, 77% contained.
Sawday Fire (San Diego): 97 acres burned, 98% contained.
Johnson Fire (Riverside County): 75 acres burned, 90% contained.
Forest Fire (Contra Costa): 50 acres burned, forward progress stopped.
Palisades Fire (Los Angeles County): 45 acres burned, 55% contained.
Cypress Complex Fire (Contra Costa County): 40 acres burned, 95% contained.
---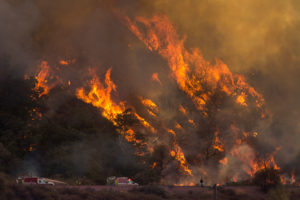 Throughout the next few days, wind conditions will again reach extremely dangerous levels in Southern California and will be exceptionally dangerous for fire growth. Wind gusts have already reached 66 to 75 mph in the Los Angeles area. Extreme Santa Ana and Diablo winds coupled with tinder-dry vegetation and low single-digit humidity and drought can cause an existing fire to behave erratically and any spark could quickly increase the risk for fast-moving wildfires.
While wildfires are a part of California's landscape, the fire season in California and across the West is starting earlier and ending later each year. Warmer spring and summer temperatures, reduced snowpack, and earlier spring snowmelt create longer and more intense dry seasons that increase moisture stress on vegetation and make forests more susceptible to severe wildfire. The length of the fire season is estimated to have increased by 75 days across the Sierras and seems to correspond with an increase in the extent of forest fires across the state.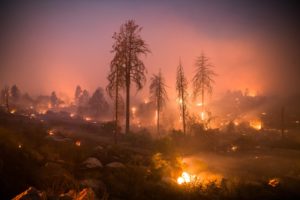 Critical fire weather conditions of this level occur in California once every five to 10 years, according to meteorologist Liz Leitman of the Storm Prediction Center. What's different is that there are more Californians living in areas that are particularly vulnerable to wind-driven fires than in decades and centuries past.
There are 220 million acres of land — known as the wildland-urban interface — that are at risk for fires because of their proximity to 46 million single-family homes, several hundred thousand businesses and more than 120 million people. Firefighters and civilians perish each year in these fires, many of which occur in areas that do not have any construction codes and standards pertaining to the wildland-urban interface. What can you do? The International Code Council strongly recommends officials in at-risk communities adopt codes such as the International Wildland-Urban Interface Code and help educate residents and businesses about what they can do to stay safe and prevent wildfires.
Wildfires result in mounting costs that have enormous economic and environmental impacts on the nation's communities and businesses. Wildfires also have devastating impacts on the environment and damage forests, rangelands, watersheds and wildlife. However, as wildfires spread throughout California, the Code Council has Wildfire Information and Resources to help you protect lives and property at home and in your community.