Henry Green receives NIBS' highest honor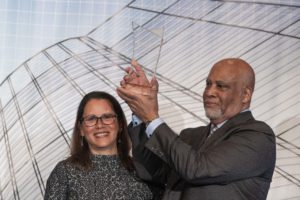 In recognition of his extraordinary contributions to the National Institute of Building Sciences (NIBS) over decades of service, President Emeritus Henry L. Green, Hon. AIA, was awarded the prestigious Mortimer M. Marshall Lifetime Achievement Award, the Institute's highest honor. Established in 2011 and named after the organization's first member who passed away in 2018, the award is bestowed upon someone who has demonstrated a lifetime of dedication to the mission and goals of the Institute and who exhibits the passion upon which NIBS is founded.
"It's been exhilarating; it's been challenging; it's been the pinnacle of my career," said Green. "So many of you are a part of it… I look across the expanse of this room and I can say that there are markers along the way. Every one of you have assisted and helped me to get where I am at today. As my dad said to me a long time ago, 'Leave a mark, not a blot.' I pray that I've left a mark."
A nationally recognized leader of top industry organizations, Green is a founding member of the International Code Council Board of Directors — he completed a term as president in 2006 and also served as president of the Code Council's legacy organization Building Officials and Code Administrators International. His contributions and accomplishments have been widely recognized by numerous awards and honors from a host of building industry organizations, including the Code Council's 2013 Bobby J. Fowler Award.
Green joins other notable Code Council members who have received the Mortimer M. Marshall Lifetime Achievement Award. In 2017, the award went to James "Tim" T. Ryan, CBO, retired code administrator for the city of Overland Park, Kan. Ryan served on the Code Council Board of Directors from 1999–2009. Throughout his career, he has served on many ICC committees and has been an active participant in the code development process. In 2016, Gerald H. Jones, P.E., received the award. The International Code Council Gerald H. Jones Code Official of the Year Award is given in honor of Jones. Emory R. Rodgers received the award in 2015. To commemorate Rodgers' everlasting influence as a mentor and adviser and honor his lifelong commitment to the code profession, the Code Council recently created the Emory R. Rodgers Leadership in Building Safety Fellowship, which will enable deserving Code Council members to advance their leadership skills by attending a nationally recognized executive development program.
Click here to view past recipients of the Mortimer M. Marshall Lifetime Achievement Award.