ICC to attend PMI Conference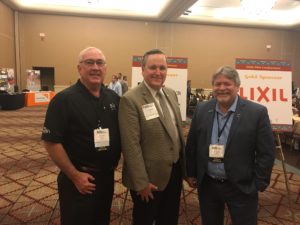 International Code Council Senior Director of Plumbing, Mechanical and Fuel Gas Resources Lee Clifton and Government Relations Vice President of Technical Resources Neil A. Burning, CBO, will attend the 2018 PMI Conference being held Nov. 5-8, 2018, in Litchfield Park, Ariz. The ICC Evaluation Service — a subsidiary of the ICC Family of Companies — is a gold-level sponsor of this year's PMI Conference. Featuring the latest updates on important plumbing manufacturing industry issues, Clifton and Burning will attend sessions covering the following:
The keynote address by author and global futurist Jack Uldrich on technology, change management and leadership. Uldrich's work is based upon the transformational principles of unlearning, or freeing oneself from obsolete knowledge and assumptions as a strategy to survive and thrive.
A keynote presentation by Legionella expert Joseph Cotruvo on how this waterborne pathogen can be better controlled and why water system managers should make Legionella prevention a priority.
The latest update on the voluntary WaterSense program that promotes water-efficient and high-performing plumbing products, and which recently received strong support from the U.S. Congress.
An expert panel that will discuss the impact of politics and regulation on the global plumbing manufacturing marketplace.

Panel discussion on Commerce/Trade. The panelists were Salim Bhabhrawala, SR International trade specialist with the U.S. Department of Commerce; Yvonne Orgill, chief executive of the Bathroom Manufacturers Association UK; and Marisa Walker, SR vice president Infrastructure for the AZ Commerce Authority.

The latest expert updates on the legislative and regulatory activity in California and Washington, D.C., pertaining to plumbing manufacturers as well as water shortages in other states.
A discussion by Tara Lohan of the Center for Biological Diversity on water-related challenges facing the nation. A panel discussion will discuss the media, provide input about PMI's future objectives and discuss the workforce-related challenges facing the plumbing manufacturing industry.
An expert discussion on issues relating to codes, standards and regulations, including recycled water, potentially hazardous materials or chemicals, packaging, and product certification and labeling requirements.
A home builders panel with Bob Flaherty of Toll Brothers, Phillippe Lord of Meritage Homes, David Viger of Richmond American Homes, Andy Warren of Maracay Homes, and Connie Wilhelm of the Home Builders Association of Central Arizona.
---
Related:
ICC participates in PMI Fly-In
---
The International Code Council and Plumbing Manufacturers International (PMI), a not-for-profit international industry association of manufacturers of plumbing products, regularly participate in "Fly-Ins" hosted by PMI. As a participating organization, the Code Council attends PMI meetings each year to gain insights into economic trends from expert presenters; to strategize about how to further their interests within the current political environment; and to educate lawmakers about the importance of the plumbing manufacturing industry, their critical role in water issues and how PMI members are the key sources on these matters.
"The Fly-In provides a forum for PMI members to examine priority issues within our industry, gain new insights and develop a collective vision of how to move the industry forward," explained International Code Council Senior Director of Plumbing, Mechanical and Fuel Gas Resources and PMI member Lee Clifton. "It is important to highlight key industry changes so those in the plumbing, mechanical and fuel gas construction industry can stay ahead."