Phillips, NEMA honored for commitments to safety in the built environment
Awards presented during ICC's Building Safety Month reception in Washington, D.C.
During the annual Building Safety Month reception at the International Code Council's (ICC) office in Washington, D.C., one individual and an association were honored for their efforts to educate citizens on the importance of building safe, affordable and sustainable structures, and the need for a strong and efficient system of code adoption and application to make communities more resilient.
Tom Phillips of Target Corporation received ICC's "Raising the Profile Award" for his wide-ranging work in promoting education and the need for code enforcement through consistent application of building codes and standards.
The Coalition for Current Safety Codes (CCSC), of which ICC is a co-founder, honored one of its first members, the National Electrical Manufacturers Association (NEMA) — an ICC Preferred Education Provider — with its first Certificate of Appreciation for NEMA's dedication to the ongoing development of codes and standards and to the adoption of the most up-to-date versions across the United States. NEMA also has been a longtime sponsor of ICC's Building Safety Month.
With this year's theme, "Building Codes: Driving Growth through Innovation, Resilience and Safety," many ICC members and stakeholders conducted special events and held proclamation signings to help raise awareness of Building Safety Month in their states and communities. By the end of May, well over 400 proclamations, resolutions and letters had been signed by state and local officials.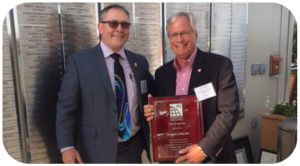 President Obama declared May as National Building Safety Month in order to recognize and pay tribute to the code officials who ensure the safety and resilience of the nation's buildings, and to reaffirm the U.S. commitment to upholding and abiding by strong and effective building safety standards.
Corresponding with the national observance, ICC supported and participated in the White House Conference on Resilient Building Codes. The conference highlighted the critical role of building codes in furthering community resilience and the importance of incorporating the future impacts of climate change into the code and standards development process.
President Obama also signed an executive order requiring all buildings above 5,000 square feet located on federal lands to be in compliance with ICC's 2015 International Wildland-Urban Interface Code. The Obama administration announced the executive order at the White House Roundtable on Wildfires in the Wildland-Urban Interface, which was attended by Georgia State Fire Marshal Dwayne Garriss, who serves as Vice President of the ICC Board of Directors. This marks the latest in a series of White House support for resilient building codes and standards to address the impact of climate change and natural disasters.