ICC chapters help Habitat for Humanity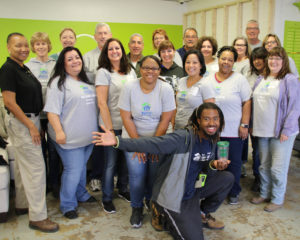 This year marked the fifth annual Habitat for Humanity work day for the Women in Code Enforcement and Development (WICED) chapter as members donated their time while in Richmond, Va. Members from WICED of Virginia (WICED-VA) and the PermitTechNation (PTN) chapter of the International Code Council also contributed to the volunteer day.
Due to rainy weather preventing work on the Habitat for Humanity build, the group of volunteers worked at local area Habitat for Humanity ReStores this year. The Habitat ReStores are independently owned, non-profit, home improvement stores and donation centers operated by local Habitat for Humanity organizations that sell new and gently used furniture, appliances, home accessories, building materials and more to the public at a fraction of the retail price. The proceeds support Habitat for Humanity's efforts to help build strength, stability, self-reliance and shelter in local communities and around the world.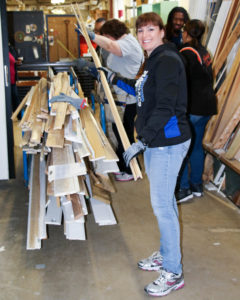 One ReStore was in Richmond where volunteers worked two shifts. A few volunteers worked at the Chesterfield ReStore. The groups spent their time cleaning up donated items, unloading freight trucks, and sorting and pricing trim molding, windows, doors, shutters, furniture and knickknacks. Volunteers from WICED included Eirene Knott, Kecia Lara and Sandi Morris. Volunteers from WICED-VA included Patricia Carrington, Carolyn Chavis, Michelle Coward and Christina Jackson. PermitTechNation volunteers included Carey Frazier, Tamara Hagerman, Bobbi Kaufman, Susan Mealey, Michele Miller, Dawn Neil, April Shrader, Brenda Sirkis and Cindi Somers. In addition, there were also volunteers from the Metropolitan Kansas City Chapter (Dave Byl and Robert McKay), Region III and the North Dakota Building Officials Association (Christine Rose), the Rhode Island Building Officials Association (Wayne Pimental and Alfred DeCorte), and the International Code Council (staff member Lizette Chagolla with Sherri Bryant, wife of new Code Council Board President Bill Bryant).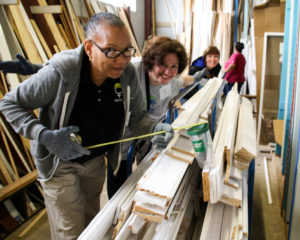 The members of these chapters are known for putting on their hard hats and work gloves and coming together to work on renovating a home for those in need through Habitat for Humanity. During the 2014 ICC Annual Conference in Fort Lauderdale, Fla., the women worked in humid 90-degree weather to repair a roof, tear up floorboards and haul debris out to large dumpsters. In 2015, the groups took on installing a yard irrigation system and cutting linoleum rolls during the Habitat for Humanity Build Day in Santa Ana, Calif. The chapter's 2016 Habitat Build Day in Kansas City, Kan., included work on a new house under construction where the front porch needed sanding, priming and painting; construction of a deck on the back of the house; and installation of new doors and trim.
Last year, the group worked at the Mid-Ohio East ReStore for the 2017 Habitat Day that took place on Sept. 9 in Columbus, Ohio, unpacking and un-branding of a wide variety of goods that had been donated by a national design chain. The group handled more than 3,000 household items that would have taken Habitat for Humanity ReStore staff more than two months to sort through.
---
Related:
Chapter profile: WICED of Virginia
WICED and PermitTechNation receive ICC Community Service Award
PermitTechNation pitches in to break up Hurricane Harvey rebuild backlog
---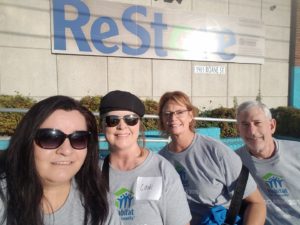 Both WICED and PTN welcome others to join their volunteer efforts with Habitat for Humanity through either working or contributing financially. The chapters are already planning their efforts to help the Las Vegas Habitat for Humanity on Saturday, Oct. 19, 2019, in conjunction with the 2019 International Code Council Annual Conference in Las Vegas, Nev. The Habitat Build Day is a perfect opportunity for Code Council chapter members to get involved and make a difference. Although Building Safety Month is celebrated each May, the roles code officials play in maximizing resiliency and minimizing risks is a year-round effort benefiting the jurisdictions and communities we serve.
If you are interested in volunteering or donating, visit WICED's website for more information. You can also connect with WICED on Facebook.

WICED is a non-profit organization and Code Council chapter that promotes the value and recognition of women in code enforcement and development. The chapter was formed in 2007 to provide mentoring, advocacy and education to women. It is the first national professional Code Council chapter, with representatives from all over the United States representing municipal jurisdictions and private industries.
PermitTechNation was founded in 2016 by permit technicians from across the United States to promote the value and recognition of permit technicians as well as provide mentoring, advocacy and education for those in this position. The group started through the Permit Tech Ad Hoc Committee and works to mentor permit techs towards establishing an ICC Permit Technician chapter in their respective states.
The Women in Code Enforcement and Development of Virginia (WICED of VA) chapter is a professional organization promoting the value, recognition and professional development of women in code enforcement and development within the Commonwealth of Virginia through mentoring, education, networking and collaboration.