ICC President's Award presented to members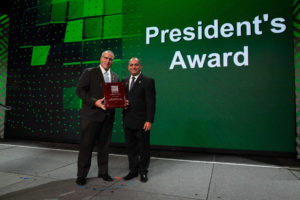 Each year, the International Code Council recognizes peers and colleagues who are a reflection of what the association stands for: dedication to developing model codes and standards used in the design, build and compliance process to construct safe, sustainable, affordable and resilient structures. The Code Council honored several outstanding individuals and organizations for their accomplishments and contributions to building safety and resiliency in their communities during the 2018 Annual Conference in Richmond, Va.
The ICC President's Award honors an individual or group that makes an exceptional contribution to the goals, vision and mission of the association. It is based on the selection by the ICC board president of a recipient worthy of special recognition for service to the Code Council. On behalf of each and every one of the Code Council's 64,000 members, ICC Board of Directors Immediate Past President Jay Elbettar presented his 2018 President's Award to the members of ICC during the Annual Banquet on Oct. 23, 2018, in Richmond.
Elbettar's presidential theme — Founded by the Members to Serve the Members — focused on the members as the key to the continued success of the International Code Council. "The past year has only served to strengthen my belief that you are the most important assets of the Code Council," said Elbettar. "Your commitment to our building safety mission makes the International Code Council everything it is today."
International Code Council Board Director Tom Peterson, assistant building official for the state of Utah, accepted the award on behalf of the association's membership. "Thank you to the members of the International Code Council," said Peterson. "President Elbettar had a precise and esteemed focus to ensure that ICC works diligently for its members. The board of directors concentrated on making decisions to help our membership achieve more and we strived to be more transparent and to reach out regularly for input from our members. On behalf of your president and the entire board of directors, I want to say thank you. Thank you for your professionalism, thank you for your dedication to protecting the built environment, and thank you for the service you provide to your communities and the International Code Council."
The International Code Council congratulates the members of the association as its 2018 President's Award recipients.
Click here to view past award recipients.