Tonya Hoover honored with Fire Service Award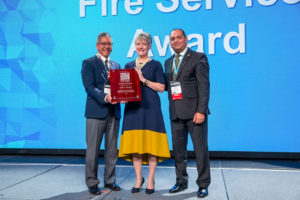 Each year, the International Code Council recognizes peers and colleagues who are a reflection of what the association stands for: dedication to developing model codes and standards used in the design, build and compliance process to construct safe, sustainable, affordable and resilient structures.
The Fire Service Award is given to a member whose professional abilities and leadership serve as an example to all fire prevention and fire protection professionals. It is presented in honor of Robert W. Gain, a founder of the Uniform Fire Code and prominent member of the organizations that created the International Fire Code. Fire Chief Tonya Hoover, superintendent of the U.S. Fire Administration's National Fire Academy received the 2018 ICC Fire Service Award during the Members Luncheon on Oct. 23, 2018, at the 2018 Annual Conference in Richmond, Va.
A tireless advocate for fire and life safety, Chief Hoover served as California State Fire Marshal from 2009 to 2016 where she was responsible for statewide fire prevention, fire service training and fire code development. She advocated for the inclusion of residential fire sprinklers in the model codes and the California State Residential Code. She also led national efforts to establish ignition-resistant construction designs in wildland urban interface areas, regulations for photovoltaic installation and design, and new smoke alarm technologies.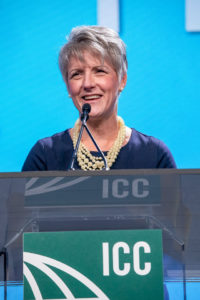 Her lifelong commitment to fire and building code inspector training propelled her to become the superintendent of the U.S. Fire Administration's National Fire Academy in May 2017, where she is responsible for advancing the professional development of the nation's fire service. In addition to her dedication on the job, Chief Hoover volunteers her time to fire safety efforts on the national and international levels. She is a member of the board of directors for the National Fire Protection Association and the International Fire Service Training Association. She is also an active ICC member, having served on the International Fire Code Development Committee, the Fire Service Membership Council Governing Committee and the Nominating Committee.
Chief Hoover is recognized across the building safety community as a leader in her field. She is a past recipient of the California Fire Chiefs Association's Charlie Gray Award and William Fox Award. In 2014, she received the Excellence in Fire and Life Safety Award, presented by the Code Council and the International Association of Fire Chiefs. Her passion and dedication have inspired many, and she embodies the true spirit of the fire service.
"I want to thank ICC… you all have played a really important role in my career," said Hoover as she accepted the award. "As I progressed in my career, I had an opportunity to work with awesome people throughout the country, but more importantly, I had an opportunity to work with awesome people in the state of California who gave me incredible experiences. I thank you for this award. I thank you for the opportunities you have given me and I am looking forward to going to Region VII from Richmond and sharing everything that I have learned. Thank you so very much."
The International Code Council congratulates Tonya Hoover as its 2018 ICC Fire Service Award recipient.
Click here to view past award recipients.