Alex Olszowy presented with Bobby J. Fowler Award

Each year, the International Code Council recognizes peers and colleagues who are a reflection of what the association stands for: dedication to developing model codes and standards used in the design, build and compliance process to construct safe, sustainable, affordable and resilient structures. The Code Council honored several outstanding individuals and organizations for their accomplishments and contributions to building safety and resiliency in their communities during the 2019 Annual Conference in Las Vegas, Nev.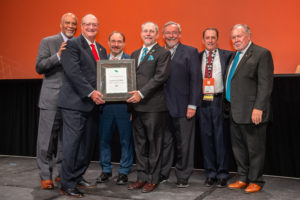 The Bobby J. Fowler Award is the most prestigious award presented by the Code Council. It honors the memory of the first chairman of the Code Council Board of Directors who led the charge to consolidate three regional model code organizations into one association. This award is presented to a leader who demonstrates integrity, professionalism and compassion in furthering the noble cause of the Code Council. This year's Fowler Award was presented to Alex "Cash" Olszowy, director of code enforcement for Lexington-Fayette Urban County Government, during the Annual Banquet on Tuesday, Oct. 22, 2019, during the Code Council's 2019 Annual Conference in Las Vegas, Nev.
Olszowy personifies the spirit and essence of the Bobby J. Fowler Award. His lifelong contribution to the building safety industry and the International Code Council has helped to advance the built environment. He has cultivated a broader understanding of the importance of modern building codes nationally and locally among code officials, home builders and other building safety professionals.
"In retrospect, I realized that I may be the first recipient of the Bob Fowler award that never actually met Bob Fowler," said Olszowy upon accepting the award. "It made me think about all the work we've done to bring in the next generation and that we need to remind them of how significant Bobby Fowler was. There is going to be a time when there are more people that may not remember Bobby than there are that do."
Olszowy began his career as a family dwelling inspector and contractor, which taught him the practical impact and the enormous importance of building codes, the building safety profession and our communities. With more than three decades of industry experience, he has served as a building inspector, inspection manager, director of code enforcement for Lexington-Fayette Urban County Government, and president of the Code Administrators Association of Kentucky. As a director of code enforcement for Lexington-Fayette Urban County he consistently exercises his passion for the building safety industry by ensuring the health, safety and welfare of his community.
He also served as Code Council Board Director for seven years. As a director, he focused on supporting the members, engaging the next generation and positioning the association for success in the future. Due to his tireless efforts and forethought, Olszowy was chosen as Code Council President in 2015 to lead the association into a new era.
Under his leadership, the Code Council launched the Safety 2.0 initiative — a remarkably successful program that welcomes a new generation of members and leaders into the building safety profession — and which sparked the ICC Board Shadow Program and Emerging Leaders Membership Council. The Safety 2.0 initiative continues to introduce diverse groups to the building industry and facilitates mentorship opportunities. "I want to thank the staff of the Code Council that bought into Safety 2.0," said Olszowy. "When Safety 2.0 became the theme of that year, I realized that Dominic had already started it at the corporate level, and it was time for us to do it at the membership level."
Olszowy's focus on mentoring has inspired seasoned members to seek out and take on new members under their wing, ensuring that the Code Council's building safety mission will continue to be delivered for generations to come. "To the Emerging Leaders Membership Council and to all the shadows, thank you," added Olszowy. "We opened the door but you had to walk through it. You embraced it. You've taken it and run with it and I'm pretty sure that if Safety 2.0 had not been as successful as it was I wouldn't be standing here in front of you today."
"There were a lot of things about Bob Fowler. He was called an amazing individual. He was called bigger than life," recalled Olszowy. "And I think about remarkable individuals and a lot of us know or have heard of remarkable individuals, but how many of us have actually met a remarkable individual? By all accounts that was Bob Fowler. In that sense, for me to be considered in the likeness of Bob Fowler is an honor. I am humbled by it, I appreciate it and I hope I live up to those expectations for the rest of my life. Thank you."
Olszowy is a respected leader, advocate and Code Council member. We are thankful for his support and dedication to the association and its mission.
View past award recipients.