Bob Schutz presented Educator of the Year Award
Each year, the International Code Council recognizes peers and colleagues who are a reflection of what the association stands for: dedication to developing model codes and standards used in the design, build and compliance process to construct safe, sustainable, affordable and resilient structures. The Code Council honored several outstanding individuals and organizations for their accomplishments and contributions to building safety and resiliency in their communities during the 2019 Annual Conference in Las Vegas, Nev.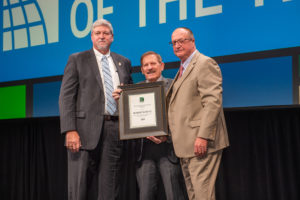 The ICC Educator of the Year Award recognizes the excellence of an individual or organization in promoting professional development and the educational advancement of the building safety profession. The award is given in memory of Brent Snyder, a renowned Code Council educator and Past Presiding Officer, for his calm and inspiring leadership and his many contributions to Code Council members to further their educational pursuits, professional development and leadership. Robert J. Schutz, P.E., P.S., CBO, retired building code official for the city of Columbus, Ohio, received the 2019 Educator of the Year Award during the Members Luncheon on Oct. 22, 2019, in Las Vegas, Nev.
For more than 20 years, Schutz supported his community in many different roles, including a mechanical inspector, master plans examiner, chief building official, public services director and chief engineer. He is experienced in facilities engineering and project management as well as having been a plumber, sheet metal worker and brick mason. A registered professional engineer and professional surveyor and certified chief building official, Schutz has served as an assistant architect administrator with the Ohio Board of Building Standards, as a chief building official for the city of Powell, and as chief engineer for the Ohio Department of Health. He holds a degree in civil engineering from Ohio Northern University, and post-graduate studies at the University of Southern California and Ohio State University in environmental law, land-use planning and public administration.
Schutz also served as a senior staff engineer for the Code Council and as an instructor since 2005, teaching structural and non-structural seminars on the International Building Code, subjects dealing with the International Residential Code, topics regarding the International Mechanical, Plumbing and Fuel Gas Codes, and various administrative topics. He managed the selection, oversight and quality of the Code Council's cadre of staff and contract instructors as well.
Experienced in combat construction, he served as an Army Corps of Engineers officer. His military background has helped many veterans to understand the exciting opportunities for careers in building safety.
His unique educational style and commitment to public health, safety, and welfare have benefitted our industry for over 45 years. The International Code Council congratulates Bob Schutz as its 2019 Educator of the Year.
View past award recipients.