Emerging Leaders Profile: Jason Pryor
To help facilitate inclusive, collaborative relationships between seasoned code professionals and emerging industry leaders, the International Code Council created its Board Shadow Program — part of its successful Safety 2.0 initiative — which provides an opportunity for emerging code professionals to "shadow" the Code Council Board of Directors at the ICC Annual Conference, to intercept and absorb information and experience real-time leadership as they observe their board mentors.
Now in its fourth year, the program provides an opportunity for the ICC board to connect to diverse emerging professionals from different socio-demographic backgrounds and enables senior leaders to hear a different level of thinking to real-time issues facing young code professionals today. The board gets a much broader range of views on strategic, complex and critical issues, and a feedback loop of challenge, solution, development and learning is created. The program demonstrates the benefits of investing in future code development leaders and helps create a diverse pipeline of "ready-to-go" leaders who understand and are already contributing to the construction industry.
Continuing our Emerging Leaders series is an interview with Jason Pryor.
---
Building a stronger industry with Jason Pryor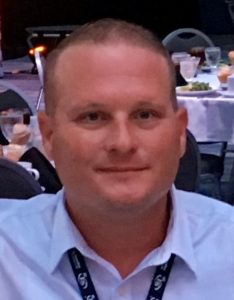 The "K Word" is how the locals of Gulfport, Miss., refer to the one of the worst natural disasters the town had ever faced — Hurricane Katrina, a storm that almost wiped the entire town off the map. Commercial/Residential Building Inspector Jason Pryor's home and roots are in Gulfport. He, his family and many friends were all directly affected by Katrina but he believes there was a positive that came from this experience in his life.
As early as Pryor can remember, he worked on various construction sites with his grandfather, father and uncles. He enjoyed being on a site with family members who taught him the tools of the trade. He'd work on weekends and holiday breaks from school doing clean up, toting boards, swinging hammers and cutting wood. He realizes that through this period of his life, it was his family role models that helped him to build an ever-growing passion that he has for the building business.
Because of his on-the-job training, Gene Whitney, a friend's father, offered him a part-time position as construction foremen for the Gene Whitney Construction Company while he was still in high school. Pryor learned a great deal from Whitney and received some of the best advice from him: "Be a perfectionist and do every job to the best of your ability." Pryor took that advice to heart and within the next nine years he worked his way up to a position as project manager.
In 2005, Hurricane Katrina hit and devastated the town of Gulfport. The entire community he knew and loved had been affected by the catastrophic event. Whitney decided to close his business and go in a different direction and it was then that Pryor decided to start his own construction company to help his community recover. He wanted to help the people he knew — his family, his friends, fellow co-workers and the community — to rebuild their lives.
As the city slowly became more like a community again, the city of Gulfport hired Jason as the code enforcement officer and he was tasked with property inspections to help rebuild the city. There are historical parts of Gulfport that will never be the same, but in the wake of Hurricane Katrina, it brought a community together to rebuild what they could restore to make it a better and stronger town.
Within eight months working for the city of Gulfport, Pryor was promoted to building inspector and currently serves as the commercial/residential building inspector.
During the rebuilding period, he was lead inspector on various projects and watched historical hotels come back to life. Just recently, the 100-year-old veterans affairs facility was completely renovated and had its grand opening.
During the period Pryor worked for Whitney, he learned about the International Code Council and codes and standards. He started working on some of his certifications and became involved with his local Code Council chapter — the Mississippi Gulf Coast Building Officials Association Chapter — where he serves as the president. He is also the vice president of the ICC Gulf Coast Region IX and serves on the board of directors of the Building Officials Association of Mississippi.
While he was attending the Building Official's State Summer Conference in Mississippi, Pryor expressed his interest in the Code Council's Board Shadow Program to Code Council Board Secretary/Treasurer Michael Wich, who was then the Code Council board liaison for Mississippi. At the time, Pryor was not the local chapter president and didn't qualify for funding to attend the ICC Annual Conference, but with Wich's assistance, Pryor became his shadow during the 2017 ICC Annual Conference in Columbus, Ohio.
When Pryor first arrived at the conference he was nervous because he didn't know what to expect. Wich introduced him to fellow Code Council board members and many people in the industry, took him along to some meetings, gave him guidance on the best events to attend and showed him the "behind-the-scenes" operation. Pryor started to grasp how things work. When he attended the Emerging Leaders Membership Council meeting — one of the many events that Wich advised him to attend — he was greatly surprised and inspired to realize that there were many young professionals from all over the country just like him. "There is nothing else like it in this profession to give someone a true experience of what goes on in this business and how the big wheel turns to fit things together", said Pryor.
For Jason, the ICC Board Shadow Program gave him a wonderful opportunity to see the path of how people evolve in the code and construction industry, and it helped him to form new relationships. "What I gained from the in-depth experience of the Shadow Program was priceless," Pryor added. "I am very grateful for this program and to Michael Wich for supporting me in my efforts. If it had not been for Michael and the city of Gulfport, none of this would have been possible."
Pryor was so inspired by his shadowing experience that he decided to pay it forward and spearhead a mentorship program for the Building Officials Association of Mississippi, of which he is the board director and chair of the Emerging Leaders Committee. "It was just so inspiring to me," Pryor said of his shadowing experience at the ICC Annual Conference. "I brag on that every opportunity I get."
Additionally, Pryor is a member of both the Emerging Leaders Membership Council Member and the Building Membership Council and serves on the Building Membership Council's Governing Council "Raising the Profile" Sub-Committee.
In the near future, Pryor would like to become a Certified Building Official and obtain the Code Council's prestigious Master Code Professional designation. "I believe you can accomplish whatever you put your mind to do."
Gary Anderson, building official for the city of Gulfport's and Pryor's supervisor, tells him that he is the future of the department and that he must set an example. With Pryor's passion for his community and the building industry, his "we can" attitude, and his continued path of learning, there is no doubt he is the future of Gulfport.