ICC Members: Shaping the safety of the world around us — Michael Davis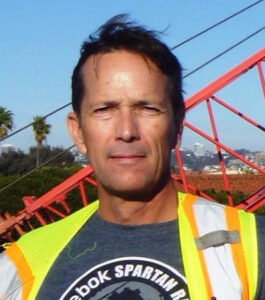 Code professionals ensure building safety today, for a stronger tomorrow. As the individuals behind modern codes and standards, these professionals are responsible for ensuring the safety and compliance of codes and standards, shaping the safety of the world around us, and serve as the safety foundation for our buildings. They don't just ensure that buildings are constructed to withstand the stress of everyday use, they are behind the security and stability of every building. They specialize in preventative measures to help communities weather unforeseen natural disasters and ensure that first responders have less to worry about and can do their jobs safely. Code professionals are an essential piece in the building and construction puzzle and are engaged in the building process from the initial building plan to the finished product.
The International Code Council is a member-focused association with over 64,000 members dedicated to developing model codes and standards used in the design, build and compliance process to construct safe, sustainable, affordable and resilient structures. They protect the public through their commitment to building safety; enforce code compliance to empower and educate stakeholders across the built environment to embrace and integrate safety standards in their work; support economic development by making our buildings sturdier, and therefore longer lasting. Their knowledge, skills, and abilities impact every building, in every community.
The Code Council recognizes the importance of continuing to grow awareness of the important work that code professionals do and the impact they have, in the hopes of encouraging aspiring building safety professionals to join in on the building safety movement. In this exclusive feature for the Building Safety Journal, we asked Michael Davis to share his experience in the industry, highlights of his professional career, and any insights or advice he has concerning the industry and the future of building safety.
Michael Davis
Quality Control Manager/Site Safety and Health Officer
La Carta Construction Services, LLC
Fredericksburg, Virginia, United States
International Code Council member for 17 years
BSJ: What was the path to your career — how and why did you pursue a profession in building safety?
Davis: I have been in and out of the trades since 1978 starting out as a Combination Technician with Mountain Bell Telephone in Gillette, Wyoming, back when most rural households still had party lines. I served four years in the U.S. Army as an interior electrician in combat engineer battalions in Darmstadt, Germany and Ft. Belvoir, Virginia. After the army, I worked my way through college working as a boiler operator at the university heating and cooling plant. I found that the construction industry was a fairly reliable means for providing for my wife and family. After several years of working as a trim carpenter, lead carpenter and supervisor, I applied for and was hired as a Title II Construction Manager at a large military housing privatization project at Kirtland Air Force Base in Albuquerque, New Mexico. That was my "foot in the project" and from that point to today I have seldom needed to find work, the work found me. I have been fortunate to work in the Horn of Africa, Afghanistan (twice), Baghdad, Japan, Alaska, Mississippi after Hurricane Katrina and Virginia. Several companies have encouraged me to earn and maintain OSHA 30 accreditation and paid for me to take several safety classes. This helped me succeed because safety is paramount on Government construction sites and these certifications are often required.
BSJ: What three things do you need to be successful in this industry and in your profession?
Davis: Technical aptitude, a team player attitude, and the ability to get right back up after getting knocked down.
BSJ: What role have mentors, advisors or your network played in your career?
Davis: I wouldn't be who I am and where I am without the benefit of several mentors and advisors. Over the years I have learned to glean the best from these folks and leave the rest behind.
BSJ: What led you to become an ICC member?
Davis: My first big military housing project required that we follow the City of Albuquerque Building Codes so that led me to the International Code Council.
BSJ: Are you involved in any ICC committees or councils? Do you have any ICC certifications?
Davis: I have the following certifications: Coastal & Floodplain Construction Inspector, Fire Inspector I, Mechanical Inspector, Building Inspector and Plumbing Inspector.
BSJ: How long have you been in the industry?
Davis: 42 years
BSJ: What major changes have you seen?
Davis: When I was a regular trim carpenter, I admired those above me that were provided with walkie talkie radios. Although they seldom worked correctly and conversations between radios were strained and often incomprehensible, I was sure I wanted to be in that position. Not long after that, I was promoted and assigned a radio. Then pagers came along. I saw others wearing pagers, getting beeped, then frantically searching for a payphone so they could make the connection. Then came mobile phones. These were the huge Motorola Brick Phones that required the use of a large holster and an even wider belt to carry them around. Like the walkie talkies, these phones were almost useless. Then came the Blackberry that incorporated both phone and radio capabilities. These phones were significantly better and communication was enhanced. Now we have iPhones and iPads that can be equipped with software like Procore where drawings, submittals, RFIs, photos and the like can be immediately accessed in the field.
BSJ: What excites you about the future of your industry?
Davis: Buildings are becoming more complex so, in order to succeed, those involved in the industry will need to keep up with the technology and the changes. Old School guys like me can still contribute based on years of experience but we also need to incorporate a lot more education to stay trending.
BSJ: What is one piece of advice that you would give to those starting out in the industry?
Davis: Do not give up. Learn to withstand the weather, the dirt and dust so that when the building is built and the occupants start moving in, you can proudly say to yourself, "I helped build that."
BSJ: What do you see as most surprising about the work that you do?
Davis: There was a time when craftspeople took a lot of pride in their work. We used to sign and date framing members before the wall was covered up "Built with Pride by Michael Davis, April 1986" and so on. Today I don't see that same level of pride. Somehow we need to get it back.
BSJ: What would you like to do next in your professional/personal life?
Davis: Volunteer renovating churches and shelters for women and children. There is a great need for this work and these organizations often do not have the resources to make necessary repairs to their facilities.
BSJ: What do you enjoy doing in your leisure time?
Davis: Right now I am volunteering to completely renovate the Knights of Columbus Council Hall 4034 in Fredericksburg, Virginia. The scope of work includes new VCT, ACT, light fixtures, supply and return diffusers, trim, doors, and appliances in addition to new electrical devices.
If someone wrote a biography about you, what do you think the title would be?
Davis: Perseverance
There's a world of opportunity in being a member of the International Code Council. Membership provides the tools to get the most out of each workday: from discounts on essential International Codes and other publications to the best prices on top-quality training and ICC certification renewals, Code Council membership helps budgets go further. Exclusive member benefits include code advice from expert technical staff as well as access to member-exclusive news and articles at the Building Safety Journal news portal. Plus, only Code Council members vote in the ICC code development process. An online Career Center allows job postings and searches for new job opportunities — all at no additional charge.
The Code Council offers numerous councils, committees, and resources to help code professionals grow and network with colleagues. Six discipline-specific Membership Councils offer members a place to come together and be a more powerful force in shaping your association, your industry, your career, and your future. Code Development Committees are an instrumental part of the ICC code development process and are responsible for the review and evaluation of code change proposals submitted to the International Codes. Professional Development Committees serve to better align the ICC education programs and certification programs to ensure that quality training is available to meet the needs of all members, customers and certification holders. Finally, the Value of the Code Official toolkit helps members to heighten awareness of the importance of code officials to their communities and to highlight the code official's role as a helpful advocate for community safety, health and welfare, and economic development.
To learn more about ICC membership, click here, or contact ICC Member Services by email or 888-ICC-SAFE (888-422-7233) ext. 33804.