Inaugural Emory Rodgers Fellowship winner Chris Landreth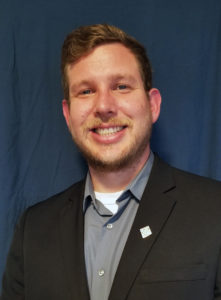 The first time Chris Landreth knew for certain what he wanted to do with his life was the night he watched a fire burn down the bar where he was working.
"The bar caught fire and we had to evacuate," recalled Landreth, who was tending the bar that day. "As I stood there on the street watching the firefighters battle and toil and I felt the heat on my face, it ignited a passion within me."
"The very next day I went to the local fire department and began my career as a volunteer firefighter," said Landreth. "I jumped in with both feet and never looked back."
Jumping in with both feet is a fundamental character trait displayed by Landreth, the recipient of the first annual Emory R. Rodgers Leadership in Building Safety Fellowship awarded by the International Code Council. As the first Rodgers Fellow, Landreth will be using his award to attend a two-week intensive program at the Massachusetts Institute of Technology's prestigious Sloan School of Management to obtain an executive certificate in management and leadership.
"I've always thought that I had an upward trajectory, so I keep looking for opportunities to improve my chances of continuing that upward trajectory," Landreth said of why he applied for the fellowship. "I've only been in the building safety industry for about five years now. I have been trying to take every opportunity I can to improve myself and where my career is heading."
While working as a fire apparatus engineer with the city of Colusa, Calif., his newlywed wife steered him in a different career direction and a new upward trajectory. "After being together for about a year, my wife looked at the profession of firefighting and became concerned for my well-being," Landreth recalled. "She said, 'I'd prefer if you found something safer to do than run into burning buildings for a career.'"
With that in mind, Landreth decided to throw himself into a new career as a building and fire inspector with the city of Tracy, two hours south of Colusa. The city's development services department covered both building and fire safety, so Landreth persuaded his interviewers that his eight years of firefighting experience would be a valuable asset to them.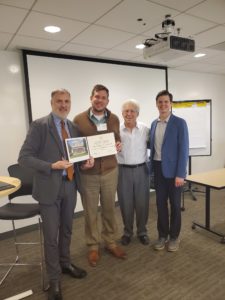 "The city of Tracy hired Chris even though he had no prior experience as a building or fire inspector," recalled Kevin Jorgensen, the city's chief building official. "Chris not only quickly absorbed the breadth of code knowledge required for the job but he had an intrinsic ability and desire to understand the intent and application of such codes with a depth that is rarely seen even among seasoned veterans."
Landreth has brought the same passion to his career as a code official as he had to being a firefighter, quickly earning an impressive six Code Council certifications as well as participating in leadership academies of both the California Building Officials and Alameda County. That's on top of working toward getting his bachelor's degree in occupational safety and health — not surprisingly, with a concentration in fire science — which he hopes to complete this year.
Landreth has also impressed Jorgensen with his willingness to go above and beyond when it comes to being a teacher. For example, when Jorgensen asked Landreth to attend a seminar on the National Fire Protection Association's Hydrogen Technologies Code and then brief the staff on what he had learned, Landreth went one step further. He obtained a copy of the PowerPoint slides, taught the entire seminar and was even able to answer complex technical questions asked by the participants.
"It was an amazing experience," Jorgensen recalled.
After two years of conducting residential, commercial and industrial inspections for the town, Landreth applied for a position as supervising building and fire inspector, and according to Jorgensen he was a clear choice — despite being younger than the people he now supervises. His promotion also puts him in line to become Tracy's next chief building official.
"I will retire in less than three years," Jorgensen said. "I have delegated many significant projects to Chris over the course of time to test his mettle but also to give him needed leadership experience."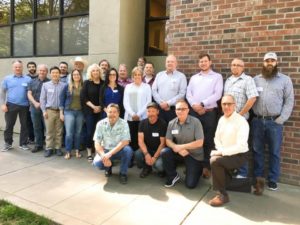 As the supervising building inspector (the city's fire department recently reacquired the responsibility for conducting fire inspections), Landreth oversees a staff of seven building inspectors. He said his department handles an average of 3,500 permits per year.
Landreth said that he's not worried about leaving his team in charge of things while he is away on the other side of the continent for his two-week course.
"My staff is a very proficient group of guys," Landreth said. "They know the code very well, and they're very capable of working on their own without too much interference from me."
"I've good support above as well as below," Landreth added. "I'm very fortunate that the city of Tracy is proactive when it comes to improving its employees. When opportunities like this come up, they're definitely on board. They're not afraid to take these chances to ensure that their employees are the best trained that they can be."
The respect is clearly mutual. "Chris has dedicated himself to enhancing the perception of the building safety profession and has used that dedication to become a valuable resource to not only the citizens that he serves but to other city employees," said Bill Dean, the assistant director of development services for the city of Tracy.
"I wish there were hundreds more like him," said Code Council Board Director Stuart Tom who has gotten to know Landreth through attendance at conferences and meetings in Sacramento and elsewhere. "His vision, focus and dedication are exactly what our profession needs."
The Code Council's Professional Development Council oversees the administration of the Emory R. Rodgers Leadership in Building Safety Fellowship, named in honor of Emory R. Rodgers, who devoted himself to the building safety profession for over four decades and was instrumental in the creation and ongoing development of the International Codes. The fellowship is awarded annually to a building safety professional who has embarked upon an executive-level career path and wants to further develop his or her leadership skills by participating in an eligible executive development program. Fellows receive up to $20,000 to cover the cost of the educational program as well as travel to and from the program.
Landreth said he is grateful for the opportunity afforded by the fellowship to continue his career development in a highly technical profession.
"We focus on knowing the codes and being very technically proficient in the job, but there's a whole other side of it as you move up," Landreth explained. "It's not enough to just be technically proficient; you also need to be able to be a good leader for your team and be a good manager for your city."
"I think that this fellowship is going to provide me with that opportunity to grow those managerial skills that I need to improve on," he said.