Jeff Shapiro honored with Fire Service Award
Each year, the International Code Council recognizes peers and colleagues who are a reflection of what the association stands for: dedication to developing model codes and standards used in the design, build and compliance process to construct safe, sustainable, affordable and resilient structures. The Code Council honored several outstanding individuals and organizations for their accomplishments and contributions to building safety and resiliency in their communities during the 2019 Annual Conference in Las Vegas, Nev.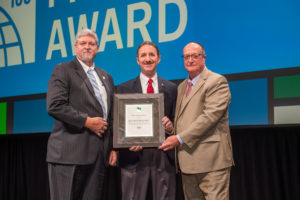 The ICC Fire Service Award is given to a member whose professional abilities and leadership serve as an example to all fire prevention and fire protection professionals. It is presented in honor of Robert W. Gain, a founder of the Uniform Fire Code and a prominent member of the organizations that created the International Fire Code. Jeffrey M. Shapiro, P.E., FSFPE, president of the International Code Consultants, received the 2019 ICC Fire Service Award during the Members Luncheon on Oct. 22, 2019, in Las Vegas, Nev.
As president of International Code Consultants — a consulting fire- and life-safety engineering firm based in Austin, Texas, that specializes in building and fire code development and application with particular emphasis on hazardous materials and hazardous occupancies — Shapiro is recognized as one of the nation's leading fire code experts. He is nationally recognized as an expert instructor and lecturer in fire and building safety specializing in the development and application of building and fire codes with a particular emphasis on hazardous materials. A registered professional engineer and a master fire inspector and fire service instructor, he is a fellow and past chapter president of the Society of Fire Protection Engineers and a member of the International Code Council, also serving as a member of the Council's Industry Advisory Council.
Shapiro started his career in public safety as a firefighter in 1977 in Rockville, Md. After graduating from the University of Maryland with a degree in fire protection engineering, he went to work for the fire marshal's office in Fort Worth, Texas, where he focused on fire prevention and building safety.
His experience includes serving as chief executive and chief engineer of the International Fire Code Institute (IFCI); a senior manager of fire- and life-safety for embassy construction under contract with the U.S. Department of State; a major fires investigator for the United States Fire Administration; an adjunct faculty member with the U.S. National Fire Academy; and a fire code coordinator with the International Conference of Building Officials, a legacy organization of the International Code Council. Shapiro also proudly follows in the footsteps of Robert Gain as the fourth Uniform Fire Code Coordinator for the Western Fire Chiefs Association.
A recognized author, he has authored numerous magazine articles in nationally prominent magazines, including the American Fire Journal, Building Standards, Fire Command, Fire Code Journal, Fire Engineering and IFCI Fire Code Journal magazines.
His knowledge and dedication to the science of fire safety have truly made the world a safer place. The International Code Council congratulates Jeff Shapiro as its 2019 ICC Fire Service Award recipient.
View past award recipients.