Leadership spotlight: Donny Phipps

The International Code Council Board of Directors are responsible for steering the association and its family of solutions towards a sustainable future while adhering to the stated mission of building safety. To carry out this charge, the board meets multiple times a year to provide oversight and strategic direction, ensure adequate financial and program resources, and oversee and evaluate the chief executive officer.
The board is comprised of four officers, eight at-large directors and six sectional directors who all serve the interests of code professionals in the building safety industry through advocacy, education and research. They act as the voice of the association's 64,000 members across the country and around the world.
"We are very grateful to have a board of directors with such extensive expertise in the building safety industry," said International Code Council Chief Executive Officer Dominic Sims, CBO. "These officers and directors volunteer their time to make our buildings safer and our communities more resilient. We thank them for their leadership."
---
Director at Large
Donny Phipps, CBO, CFM
Building Official
Inman, South Carolina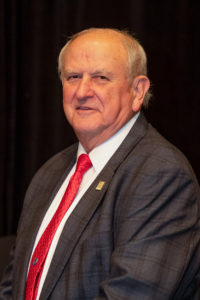 Donny Phipps's fondness for construction dates back to his childhood, as he remembers. "My dad was a builder," he said. "When I was eight or nine, I used to take pictures of the guys on his crew who weren't working. Or that's what he told me, as I don't remember."
He also worked with crews as he got older, laying out homes with his father or older brother, digging footings, framing and insulation work. Clean-up was always his responsibility on job sites as well. When he was 10 or 12, Phipps was helping on a lumber yard his father managed. "I was stacking 1×4 lumber as they came off the planer and out on a skid to be stacked," he said. "Later, as they called out pay to the employees, they called my name. I was paid a dollar for about an hour of work." Later, when he was 18 and 19, he worked the summer driving delivery and logging trucks, stacking slabs, using a cat hook to turn logs for the debarker, and other tasks as needed.
After an honorable discharge from the United States military, Phipps went into hotel management for a few years. But he was drawn back into the fold when his father-in-law — who was business license manager for the city of Columbia, S.C. — told him there was a job opening for a housing inspector. So Phipps began his career in 1975 with that job, and retired 29 years later as the director of inspections. He remembers the first person he called when he got the director's job — after his mother — was his uncle, Fred Phipps, who was the first building official for the city of Columbia from 1950 to 1951.
Today Phipps, a certified building official and floodplain manager, is building official for the city of Inman, S.C., and business development manager at Code Consulting and Inspection Services LLC. He sees his election to the International Code Council Board of Directors as another opportunity and challenge to provide service. Phipps has served the Code Council on the ICC Evaluation Service (ICC-ES) Committee, the Council of American Building Officials, the Board of International Professional Standards and the ICC-ES Board of Managers. He is active in the Building Officials Association of South Carolina and has served on its board as well as president. He served on the South Carolina Building Codes Council as vice-chair and on the board of directors of the Code Council legacy organization the Southern Building Codes Congress International.
Phipps said he wants to provide better knowledge and information about what the Code Council has to offer, especially promoting cdpACCESS, the Preferred Provider Program and the Code Council's Assessment Center (certifications). He also wants to make sure that information about committees are available to members.
---
Related:
Code Council board winter meeting highlights
Code Council board summer meeting highlights
Code Council board spring meeting highlights
Code Council voting members elect 2019–2020 board officers, directors
---
Phipps said he continually keeps an eye out for young talent who can help the Code Council in its mission. "I look around to see who wants to get involved; who wants to grow?" And he'll often bring a couple of younger co-workers with him to state or national code meetings.
Phipps knows it is crucial to bring more young people into the business. Working with high school students and colleges is one way to do that. He and his staff hand out CODiE and CODEette activity books to youngsters from booths at home shows and talk to others about careers in code enforcement. He feels we also need to look at military personnel who are leaving or retiring and have a construction background. The opportunity to bring trained craftsmen to the code industry through the military could be a valuable resource. He hopes to develop a plan with resources from Ft. Jackson, McIntyre or Shaw that are close to Columbia.
Outside of work, Phipps had to give up basketball a few years back under the threat of knee replacement. He still enjoys dancing, walking and a round of golf with friends. He also enjoys spending time with family. Most of them, like Phipps, haven't ventured too far from their roots in Columbia. He has a fourth and fifth grandchild on the way soon.
But what he really misses now that he is in administration is sitting down to a good code debate. "People aren't always going to agree with you. You can discuss the reality that codes are written for their safety. You just have to be firm but fair."