Leadership spotlight: Jim Sayers

The International Code Council Board of Directors are responsible for steering the association and its family of solutions towards a sustainable future while adhering to the stated mission of building safety. To carry out this charge, the board meets multiple times a year to provide oversight and strategic direction, ensure adequate financial and program resources, and oversee and evaluate the chief executive officer.
The board is comprised of four officers, eight at-large directors and six sectional directors who all serve the interests of code professionals in the building safety industry through advocacy, education and research. They act as the voice of the association's 64,000 members across the country and around the world.
"We are very grateful to have a board of directors with such extensive expertise in the building safety industry," said International Code Council Chief Executive Officer Dominic Sims, CBO. "These officers and directors volunteer their time to make our buildings safer and our communities more resilient. We thank them for their leadership."
---
Director at Large
Jim Sayers
Commercial Plans Examiner
Clackamas County, Oregon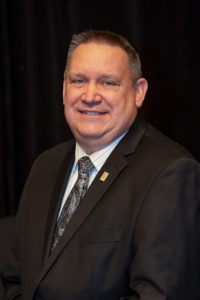 As a young 9th grade high school student in Ontario, Ore., Jim Sayers knew he had a future in the built environment. After discovering his passion in his freshman architectural drafting class, nearly four decades of experience later, Sayers serves as the commercial plans examiner in Clackamas County, Ore. Having served as a building designer, building inspector, building official and plans examiner, Sayers has been an influential member of the codes community.
An architectural drafting and design graduate of Arizona Automotive Institute in Glendale, Ariz., Sayers' initial post-college professional movements were focused in architecture. He returned to Oregon and worked in drafting and building design at Alan Mitchell Architect. In 1985, Sayers formed his own firm, Sayers Designs. An owner and building designer, Sayers wore many hats as he led the design and specification of custom homes and commercial buildings, contracted drafting for engineering and architectural firms, performed a number of home inspections, and consulted with government agencies regarding historic renovations and accessibility upgrades.
When the pressure of the declining economy started to impact his business, Sayers sought practical solutions. His previous experience in inspections led him to the local building department where Sayers successfully presented his case for them to hire him as their new plans examiner. "My business was hired 20 hours a week and that's how I got started and I thought this is a pretty good gig," said Sayers. He would later be hired for a full-time position in the state of Washington.
Following another return to Oregon in 2003, Sayers' career in code enforcement was on the rise. He became more involved and expanded his knowledge and credentials through earned certifications. In 2011, when he met Gilbert Gonzales, former International Code Council board director and chief building official of Murray City, Utah, he started to give more thought to committee work and service on the Code Council board. "Gilbert was one of those guys that was willing to help anybody. He didn't know me from Adam, but somehow we connected and he said to me 'just stick with me and I'll show you around.'" From that moment, a strong bond of mentorship and friendship between Gonzales and Sayers had formed.
Sayers has benefited from a wealth of mentors throughout his career. In addition to his relationship with Gonzales, Sayers credits building official Mike DeLack for advising him to earn more certifications in order to advance his career. Other mentors include former Code Council Board Director John Darnell and former Code Council Board President William Dupler.
He pays it forward by remaining a reliable resource for those seeking further insight on a career in the built environment. Sayers has taught several classes as an adjunct professor of commercial building codes at Portland Community College. His advice to new professionals: "Don't stop. If you have an interest, ask questions. There is no such thing as a stupid question. Do not be afraid to approach successful people and ask questions."
---
Related:
Code Council board winter meeting highlights
Code Council board summer meeting highlights
Code Council board spring meeting highlights
Code Council voting members elect 2019–2020 board officers, directors
---
Sayers has been recognized for his contributions to the codes community on several occasions. He is the recipient of the 2013 Bling Award for Outstanding Service awarded by the City of Tualatin; 2016-17 Plans Examiner of the Year awarded by OBOA; and the ICC Region II 2017 Dedication & Service award. Under his leadership, the ICC Region II Chapter received the 2017 ICC Spotlight Region of the Year Award.
Looking forward to his time on the Board of Directors, Sayers plans to "play it out as long as it take me – hopefully though the chairs." Regardless of his position, he is committed to staying involved with the Code Council and furthering his opportunities to mentor.
In his spare time Sayers enjoys spending quality time with his two granddaughters and family. He also appreciates outdoor activities such as hunting and camping. Loyal to his home state, Sayers remain a proud Oregon State Beaver football season ticket holder.