Leadership spotlight: Michael Savage

The International Code Council Board of Directors are responsible for steering the association and its family of solutions towards a sustainable future while adhering to the stated mission of building safety. To carry out this charge, the board meets multiple times a year to provide oversight and strategic direction, ensure adequate financial and program resources, and oversee and evaluate the chief executive officer.
The board is comprised of four officers, eight at-large directors and six sectional directors who all serve the interests of code professionals in the building safety industry through advocacy, education and research. They act as the voice of the association's 64,000 members across the country and around the world.
"We are very grateful to have a board of directors with such extensive expertise in the building safety industry," said International Code Council Chief Executive Officer Dominic Sims, CBO. "These officers and directors volunteer their time to make our buildings safer and our communities more resilient. We thank them for their leadership."
---
Director at Large
Michael Savage
Building Official and the Director of Building Safety
Marion County, Florida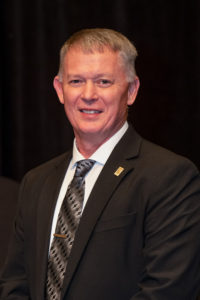 Born into a family heavily involved in construction, Michael Savage was destined for a career in the building industry. Originally from Worcester County, Md., his grandfather owned a local contracting company that employed relatives, including his father and uncle. Unfortunately, at only eight months old, Savage lost his father in a construction accident; however, this did not disturb what would be a life-long connection to the built environment.
Throughout his adolescence and young adulthood, Savage tried to remain involved with his family's business, recognizing that "construction is one of those industries where sometimes you just need a laborer to do the work." Therefore, he stepped in where he was needed. This experience came in handy when he later joined the United States Army. Savage recalls that after the Army learned about his family's construction history, he was immediately assigned to work with the director of engineering and housing. There, he managed property book work orders and repair and utilities.
During his three years of active duty and six years on reserve, Savage received on-the-job training as an electrician and plumbing and mechanical technician. "I figured, since I'm being pulled back into the family business, I might as well just keep this ball rolling. And that's what I did."
After the Army, Savage remained in construction and began working as a mason. However, after a long year of rain made it too difficult to earn a living, he decided to transition to electrical and plumbing work for a company that specialized in the medical field. When he grew tired of his electrical and plumbing position, he revisited his contracting construction past working on residential and commercial construction.
Although his previous jobs served as a great experience that helped him achieve the professional status he enjoys today, Jan. 2, 1995, marks the beginning of Savage's esteemed career when he became a building inspector for Middle Department Inspection Agency, Inc., in Easton, Md. Savage worked at the Agency for 19 years, serving as chief inspector, supervising inspector, chief building official and zoning administrator. During his tenure at the agency, Savage also served for four years as the Queenstown, Md., fire marshal.
In January 2014, Savage moved his family to New Mexico for a new experience. After four years of serving as the chief building official for the city of Rio Rancho, N.M., it was time to move back to the East Coast, but this time to warm weather all year round in sunny Florida. Since March 2018, Savage has worked as a building official and the director of building safety for Marion County, Fla.
Recognizing that he's had the unique opportunity to expand and diversify his technical knowledge as a result of the different jurisdictions that he has served, Savage says it has made him a more well-rounded building official. "There are lessons learned in every jurisdiction you work. In Maryland, I learned about snow and wind loads; in New Mexico, I learned about seismic activity and stucco; and in Florida, I've learned all about hurricanes," he says. With each varying experience, he gained even more of an understanding and explanation for "how all the systems are supposed to work, why the codes are so important and how the requirements in the codes impact and help the structure."
---
Related:
Code Council board winter meeting highlights
Code Council board summer meeting highlights
Code Council board spring meeting highlights
Code Council voting members elect 2019–2020 board officers, directors
---
In addition to the wide range of experiences, Savage is also grateful for the mentors he's had along the way. The two individuals that made the most impact on his career were former Director of Building Inspections for Frederick County, Md., John Gibson and Code Council Immediate Past President Bill Bryant. Having met both men during his time in the Maryland Building Officials Association (MBOA), Savage is thankful for Gibson's mentorship during his tenure on the MBOA Board of Directors, and he credits Bryant for encouraging him to become involved in the first place.
"Bill told me if you want to get involved in the industry, then you need to start serving on boards and committees," he recalls. "He told me about the open call for board members of the Maryland Building Officials Association back in 1996. I applied and was selected. I haven't stopped yet." In fact, Savage's induction to the Code Council Board in October 2019 is when it all came full circle as Immediate Past President Bryant pinned the director pin on his lapel after being sworn in — "It was a major highlight of my career."
Having experienced a challenging, yet exciting career, Savage advises newcomers to the building industry to never give up. He says, even on the most challenging days when the job feels unproductive, it is important to remember that "I am making a difference in people's lives. I am making sure people are safe." He also encourages students and young professionals to ask many questions and to rid themselves of the fear of failure. "People are always so afraid to fail, but that's how you learn," he says.
Excited for his new position on the board, Savage intends to serve the Code Council membership the best way he can. "It is all about the membership — we need to do what is right for our members."