Masters of Code: Chris Arthur achieves the gold standard of code certification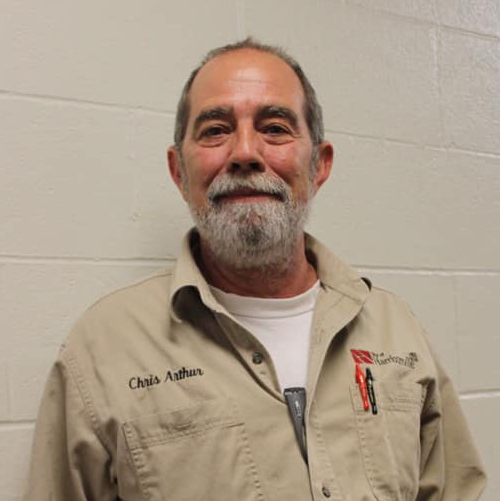 It's considered the Ph.D. of building safety codes certification. The Master Code Professional (MCP) is the highest level of designation the International Code Council offers and is the "gold standard" for demonstrating proficiency in the code profession. The Code Council has certified thousands of individuals, but only a small select number have attained this high level of achievement: just over 900 MCP professionals worldwide. Their achievements are a benefit to the code enforcement profession as well as their communities.
To obtain this level of certification requires and demonstrates a commitment to the profession, diverse knowledge of codes and a high level of self-initiative. Chris Arthur, building official, city of Harrisonville, Mo., is the latest to join the elite group of Master Code Professionals. In this exclusive feature for the Building Safety Journal, we asked Chris to share his experience on obtaining the MCP designation, highlights of his professional career and any insights or advice he has concerning the industry.
---
Chris Arthur
Building Official
Building Division 
Harrisonville, MO
International Code Council member for 7 years
KC Metro Chapter
BSJ: What led you to pursue and obtain MCP certification?
Arthur: After a 30-year career in the residential, commercial and industrial construction industry — as both a tradesman and a contracting company owner — I took a few years off and then made the decision to stay involved in the industry. I felt that my experience background would be well-suited to moving into the jurisdictional side of the industry. I also felt that my background would bring a unique viewpoint to work on the jurisdictional side of the industry.
BSJ: How did you study and prepare for the many exams you took as a part of your MCP designation?
Arthur: I would say the first thing was my experience background and licensing as a Master Mechanical Contractor and Master Plumbing Contractor. When I started my path to MCP certification I really just committed my time and energy, much as one might commit to any educational certification path, to increase my knowledge base and experience base. Having the ability to develop my own codes-based library was a big help. Working in both very large jurisdictions and small jurisdictions gave a broad view of the scope of this type of work. Research time that went along with inspector jobs at a few jurisdictions also helped. Reading the code multiple times, using study guides and just devoting the time were all instrumental in the process. Of course, my background was probably the main thing that facilitated my path to completion in the timeline I had set for myself.
BSJ: What does achieving the prestigious MCP status mean to you?
Arthur: The MCP designation means a lot to me. Not to say I'm not still learning something new every day and I hope that never ends, but I feel I have achieved a level of expertise equivalent to my prior career in the industry and this will help me in my career of government service in both mentoring coworkers and serving the public.
BSJ: How would you describe the value or benefits that have come with the recognition of your MCP status?
Arthur: I would describe this as a very positive thing. This has enabled me to grow as an individual and continue to contribute to the industry in a positive way. Whether working with the public, working with coworkers and other stakeholders, or my time with our local high school career center for construction technologies, I find a lot of satisfaction from this career path.
BSJ: What advice would you offer to those who are considering pursuing an MCP designation?
Arthur: I would say go for it. Plan your path and the steps along that path. Enlist the help of mentors and your jurisdiction's support, if you're already in the field. Don't hesitate to include contractors in your group of mentors, most have a wealth of knowledge and are more than willing to share. If a traditional educational path is your plan, dedicate the time and effort needed and then add as much practical experience to that base as you possibly can. You will be rewarded through all your relationships with others, respect from others and personal satisfaction.
BSJ: How long have you been in the industry?
Arthur: 42 years.
BSJ: What major changes have you seen?
Arthur: Construction technologies, in totality, would be high on the list. Information management technologies go without saying. A growing shortage of people entering the jurisdictional side of the industry. When I am mentoring at the high school career center, I make this shortage and the benefits of this side of construction technologies a large part of my interaction with the students. Unfortunately, a decline in skilled tradespersons. Technology can sometimes lead to task-orientated training.
BSJ: What excites you about the future of your industry?
Arthur: Continued growth of green technology and advances in materials and methods. Vision and dedication of young people who are getting involved in the industry.
BSJ: What is one piece of advice that you would give to those starting out in the industry?
Arthur: Knowledge, experience and empathy = success.
BSJ: Building safety is the focal point of our mission here at the Code Council. What is the importance of building safety to you? How has ICC helped you in your career and commitment to public safety?
Arthur: The importance of building and fire safety cannot be understated. The continuing development of the International Code Council code family is probably the biggest thing that has, and will continue to, influence my industry involvement.
BSJ: Obtaining all those ICC certifications is quite an accomplishment. What are you going to do now that you have achieved this goal?
Arthur: Continue trying to help others on their career paths and continue to seek a balance between the needs of all stakeholders in the industry.
BSJ: Thank you, Chris, and congratulations. You have definitely been an encouragement to us all in your pursuit of excellence.
---
To earn the Code Council's elite MCP designation, a candidate must first pass 10 core Code Council exams plus a number of elective Code Council exams. Typical Master Code Professionals hold 17 or more Code Council certifications. The Master Code Professional designation requires certified individuals to complete an additional 60 hours of Continuing Education Units every three years to maintain active status.
"The Master Code Professional certification is the pinnacle of all Code Council certifications, representing a level of effort, knowledge, and dedication that elevates not only the individual achieving it but the code official profession as a whole," said Code Council Chief Executive Officer Dominic Sims, CBO.
Master Code Professionals are typically responsible for all technical and management aspects of code enforcement with duties that range from the management of a code enforcement department to the supervision of inspectors and plan reviewers.
"Congratulations to Chris on achieving this important and significant accomplishment," said Autumn Saylor, program services manager of the Code Council's Assessment Center. "I challenge and encourage all code professionals to strive for this level of achievement, and I look forward to congratulating more Master Code Professionals in the future."
To learn more about how you can join this elite group and let us help you open the door to increased professional challenges and career advancement, click here.