Master Code Professional Designation
The Master Code Professional (MCP™) is the highest level of designation the Code Council offers. The Code Council has certified thousands of individuals, but only a small select number have attained this high level of achievement: just over 800 individuals.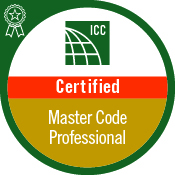 This special group is awarded an MCP™ Certificate recognizing this outstanding achievement. To obtain this level of certification requires and demonstrates commitment to the profession, diverse knowledge of codes, and a high level of self-initiative.
Master Code Professionals are typically responsible for all technical and management aspects of code enforcement.
Ready to Apply for Master Code Professional?
You've worked hard and obtained all the credits.
Apply for your Master Code Professional designation today!
Requests may take up to 10 business days for processing and verification of candidate records.