Fire-Resistant Construction in the Wildland‑Urban Interface
Where Nature Meets the Built Environment: Wildfire Codes and Standards Protect Property and Help Save Lives
Today's wildland fires are more frequent, larger and more intense than in the past. And while many people believe that wildfires are a western states issue, in truth, more than 46 million residences located in 70,000 communities throughout the United States are at risk from wildland fire – fires happening in what's known as the Wildland-Urban Interface (WUI). These areas pose tremendous challenges and put millions of people and their homes in danger.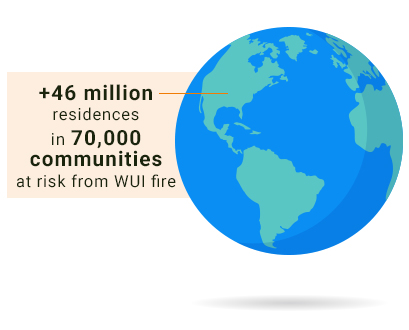 Listen to ICC Pulse Podcast Episode 47


Living with Fire: How Wildland-Urban Interface Fires Impact Everyone

Through a series of interviews with Code Council experts and U.S. fire service professionals, this episode explores wildfires in the wildland-urban interface, or in short, the WUI. We'll define the WUI, debunk common misconceptions about wildfires, address the challenges of getting communities who are at risk to become more fire-adapted and outline the steps we can do now to prevent major impact of wildfire damage and casualties, which includes planning and preparedness on a community level and building to modern codes and standards for prevention and mitigation.
According to the Federal Emergency Management Agency (FEMA), the adoption and effective implementation of up-to-date building codes is the most effective community mitigation measure. In its 2019 Natural Hazard Mitigation Saves Report, the Congressionally established National Institute of Building Science (NIBS) found that adopting and implementing the International Code Council's 2015 International Wildland Urban Interface Code (IWUIC) saved $4 for every $1 invested and that retrofitting structures to the IWUIC could provide as much as $8 in mitigation benefits for each $1 invested. These benefits represent avoided casualties, property damage, business interruptions, and insurance costs and are enjoyed by all building stakeholders including developers, titleholders, lenders, tenants, and communities.
The International Code Council works with governments at all levels to advocate for fire-resistant construction in communities at-risk for wildland fire. You can help too, by learning more about our wildland fire codes and standards that help increase a community's resilience to wildland fire.
2021 ranked as the 6th highest year on record for both acres burned and number of fires in the U.S. over the past decade, accounting for 58,985 wildfires that burned a total of 7,125,643 acres.
What is the Wildland-Urban Interface?
The WUI is the zone of transition between unoccupied land and human development. It is the line, area or zone where structures and other human development meet or intermingle with undeveloped wildland or vegetative fuels. In the United States, the WUI continues to grow by approximately 2 million acres per year.
2021 was one of the most destructive wildland fire seasons in the WUI, consuming over 7 million acres nationally and destroying nearly 6,000 structures. Of those, 4,000 were residences with more than 1,000 lost in a single day during the Marshall Fire in Colorado. During the previous 15 years, wildland fires have destroyed more than 89,000 structures in the U.S., including homes and businesses, with 62% of those losses occurring since 2017. Long-duration dry conditions have contributed to the increasing number and intensity of fires in the WUI.
More than 46 million residences in 70,000 communities in the United States are at risk for WUI fires.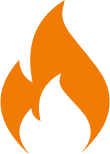 Between 2002 and 2016, an average of over 3,000 structures per year were lost to WUI fires in the United States.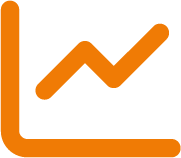 The WUI area continues to grow by approximately 2 million acres per year.
Learn More About Mitigating Fire Risk in the Wildland-Urban Interface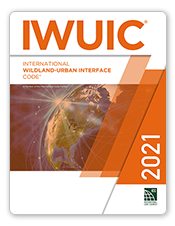 What is the International Wildland-Urban Interface Code (IWUIC)?  
The IWUIC establishes requirements for land use and the built environment within designated wildland-urban interface areas using prescriptive and performance provisions.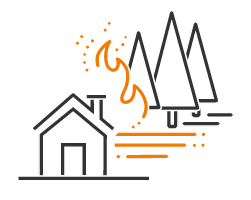 Which Areas Are Most at Risk for Wildfires?
To mitigate their risk to wildfires, communities must develop and update Community Wildfire Protection Plans to ensure the planning and implementation of resilient construction and landscapes.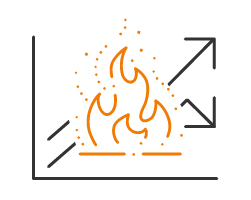 Resources for Calculating Wildfire Risk in Your Area
There are various resources that measure wildfire risk, allowing communities to analyze and understand their risk to guide their preparedness, including interactive maps and charts.
Learn more about Wildland-Urban Interface Code Adoption