Masters of Code: Michael Iarossi achieves the gold standard of code certification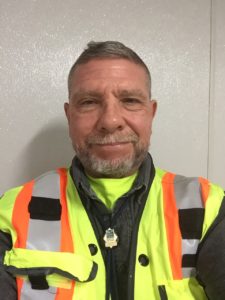 It's considered the Ph.D. of building safety codes certification. The Master Code Professional (MCP) is the highest level of designation the International Code Council offers and is the "gold standard" for demonstrating proficiency in the code profession. The Code Council has certified thousands of individuals, but only a small select number have attained this high level of achievement: just over 900 MCP professionals worldwide. Their achievements are a benefit to the code enforcement profession as well as their communities.
To obtain this level of certification requires and demonstrates a commitment to the profession, diverse knowledge of codes and a high level of self-initiative. Michael Iarossi, construction inspector at Los Angeles International Airport's (LAX) Construction Inspection Division, is the latest to join the elite group of Master Code Professionals. In this exclusive feature for the Building Safety Journal, we asked Michael to share his experience on obtaining the MCP designation, highlights of his professional career and any insights or advice he has concerning the industry.
---
Michael Iarossi
Construction Inspector
LAX Construction Inspection Division
Los Angeles, California, United States
International Code Council member for 20-plus years
BSJ: What led you to pursue and obtain MCP certification?
Iarossi: Originally I started acquiring specific certifications for the knowledge of the subject, to be a better contractor. As I began the in-depth study of code and how building codes came into being, I became really drawn to the inspection field and I soon realized that to be a good inspector would require in-depth knowledge and a commitment to higher analytical education.
BSJ: How did you study and prepare for the many exams you took as a part of your MCP designation?
Iarossi: I discovered right away that the Code Council tests were difficult and not something to be taken lightly or casual. A considerable amount of thought and preparation had gone into the conception and creation of those code tests and if I was to pass them it was going to require a disciplined committed effort. I began by starting from the point of how successful people learn information; I studied newer learning techniques as well as past proven learning and memory strategies. I learned that each certification test is created using different test building and presentation processes. Each of those codes had to be analyzed, studied and mastered if I was going to be able to accumulate certifications. There is no substitute for hard work, commitment, learning what works and what doesn't, and applying that education to the goal.
BSJ: What does achieving the prestigious MCP status mean to you?
Iarossi: Currently, it is the pinnacle of my career aspirations, and since it took everything I could muster to achieve it, it means the world to me career-wise. In terms of setting a nearly impossible goal and working every day in the direction of its achievement. The setbacks and challenges show up all along the way designed to derail the pursuit of its achievement but all those things are the stepping stones to leap across, speed bumps to slow down and pass over, fences to climb, hurdles to jump, a disappointment to endure and victory's to achieve all along the way. The MCP will not give up its secrets easily but they are there for the learning if you are willing, determined, and never-never give up.
BSJ: How would you describe the value or benefits that have come with the recognition of your MCP status?
Iarossi: Interestingly enough along the way, lots of people judged me as foolish, or wasting my time. One city inspector even questioned me as to why anyone would willingly pursue so much additional knowledge when a typical job title would only require a couple of certifications, I told him I thought it was a good idea to be as knowledgeable as possible to be able to provide the best inspection service available to the public, the employer and the business of inspection as an industry. We raise the level of respect for our industry by what we are willing to do to raise the level of respect for ourselves as individuals. Having received the MCP certification designation, I have experienced a noticeable level of respect among my peers and supervisors. I have received many new job offers for higher-level positions and continue to receive opportunities of new horizons the MCP has opened up in my career.
BSJ: What advice would you offer to those who are considering pursuing an MCP designation?
Iarossi: Be prepared to learn as you have never learned before. Be prepared to grow in ways you are not aware of right now. Embrace change! In order to have something we never had, we must become someone we never were, so the changes will seem strange. The changes become us, all along the way. When we do finally receive the MCP, it not because we have suddenly become MCP, we became MCP somewhere along the way, somewhere near the goal. The certification is the recognition by others that we have arrived at a destination. MCP is not the end but a new and significant plateau, a place to rest temporarily on the way to where we will continue to go and grow.
BSJ: How long have you been in the industry?
Iarossi: I have been in construction for a total of 40 years, with inspection as a career for the last 25 years. I intend to continue actively in the inspection field for the next 10 years and then, semi-retire but stay involved in the Code Council and the inspection process.
BSJ: What major changes have you seen?
Iarossi: Certification has become the industry standard, and rightfully so. Real-world job experience is indispensable, however, by itself, it generally lacks the academic calculable qualification that lets others know that we are qualified by standards. Certainly, academic education by itself without real field experience is not sufficient to perform efficiently and effectively the responsibility of building inspection. When these areas are joined together they form the consummate inspection ability to perform at the highest level to protect the public and builders, as well as the government and private agencies and investors to whom we have a responsibility.
BSJ: What excites you about the future of your industry?
Iarossi: Because of the work, service, dedication and commitment of organizations like the Code Council, I have seen the level of respect and indispensability of certified individuals be validated over the years and as a result, ICC-certified inspection has become an industry standard. Everyone benefits from this.
BSJ: What is one piece of advice that you would give to those starting out in the industry?
Iarossi: In order to get anywhere you have to 'Get Started!' Find the aspect of the industry you are drawn to intrinsically and go to work there. 'Do what you would love to do even if you weren't getting paid for it' and go in that direction. The construction field and construction inspection specifically, is as big as you can imagine. Study the history of the codes, study the code change process, learn about past methods, and the individuals who blazed the trails and built the paths for us to walk today. Be fascinated by the journey and never, never give up on your dream.

BSJ: Building safety is the focal point of our mission here at the Code Council. What is the importance of building safety to you? How has ICC helped you in your career and commitment to public safety?
Iarossi: Studying the history of the codes is a wonderful teaching tool, filled with stories of engineering feats of amazing structures and tragic stories of mishandled environments, not well-understood fire and structural concepts, and the catastrophes that accompanied shoddy construction, financial short cuts and lazy detached inspection services, poorly implemented safety protocols, and the results of poorly investigated or not well-understood building materials. As an ICC-certified inspector, I have been given the opportunity to expand my learning into areas of how building materials are qualified, why certain codes exist and how to interpret their benefit, their intended use and installation to achieve their designed intent.
BSJ: Obtaining all those ICC certifications is quite an accomplishment. What are you going to do now that you have achieved this goal?
Iarossi: I am a committed lifelong learner. I have 27 Code Council certifications, an ACI Concrete field test tech certification, and two Los Angeles City Deputy Building Licenses. Of those, the MCP is the most significant accomplishment to date and it is fun to have it and the prestige of it. Having said that, I already have two more certifications that I am going to pursue and have a couple more behind that of interest. I spent so much time learning to learn, I'm going to keep going! There's a world full of building and new building technologies every year, I want to be part of that.
BSJ: Thank you, Michael, and congratulations. You have definitely been an encouragement to us all in your pursuit of excellence.
---
To earn the Code Council's elite MCP designation, a candidate must first pass 10 core Code Council exams plus a number of elective Code Council exams. Typical Master Code Professionals hold 17 or more Code Council certifications. The Master Code Professional designation requires certified individuals to complete an additional 60 hours of Continuing Education Units every three years to maintain active status.
"The Master Code Professional certification is the pinnacle of all Code Council certifications, representing a level of effort, knowledge, and dedication that elevates not only the individual achieving it but the code official profession as a whole," said Code Council Chief Executive Officer Dominic Sims, CBO.
Master Code Professionals are typically responsible for all technical and management aspects of code enforcement with duties that range from the management of a code enforcement department to the supervision of inspectors and plan reviewers.
"Congratulations to Michael on achieving this important and significant accomplishment," said Autumn Saylor, program services manager of the Code Council's Assessment Center. "I challenge and encourage all code professionals to strive for this level of achievement, and I look forward to congratulating more Master Code Professionals in the future."
To learn more about how you can join this elite group and let us help you open the door to increased professional challenges and career advancement, click here.