Masters of Code: Thomas Nabors achieves the gold standard of code certification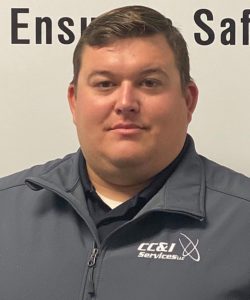 It's considered the Ph.D. of building safety codes certification. The Master Code Professional (MCP) is the highest level of designation the International Code Council offers and is the "gold standard" for demonstrating proficiency in the code profession. The Code Council has certified thousands of individuals, but only a small select number have attained this high level of achievement: just over 900 MCP professionals worldwide. Their achievements are a benefit to the code enforcement profession as well as their communities.
To obtain this level of certification requires and demonstrates a commitment to the profession, diverse knowledge of codes and a high level of self-initiative. Thomas Nabors, project manager/lead inspector for CC&I Services LLC in Lexington, S.C., is the latest to join the elite group of Master Code Professionals. In this exclusive feature for the Building Safety Journal, we asked Thomas to share his experience on obtaining the MCP designation, highlights of his professional career and any insights or advice he has concerning the industry.
---
Thomas Nabors
Project Manager/Lead Inspector
CC&I Services LLC
Lexington, South Carolina, United States
International Code Council member for 13 years
BOASC and USCEA of South Carolina
BSJ: What led you to pursue and obtain MCP certification?
Nabors: To continue to grow and learn in an ever-changing construction industry and to ensure public safety and accessibility is first priority. My daughter is special needs and seeing her daily struggles has inspired me to better my knowledge so everyone with a disability has a level playing field.
BSJ: How did you study and prepare for the many exams you took as a part of your MCP designation?
Nabors: Mostly from field applications and great help from my mentors (Wayne Willis and Ward Braswell). My work family played a huge role in me achieving my goals — by giving me the proper tools and advice. A great company such as CC&I Services is the key to success.
BSJ: What does achieving the prestigious MCP status mean to you?
Nabors: A true sense of accomplishment and that the sky is the limit if you buckle down and set your eyes on the prize. With God all things are possible.
BSJ: How would you describe the value or benefits that have come with the recognition of your MCP status?
Nabors: The value of obtaining MCP status is invaluable. To achieve the most prestigious honor and join an elite group of individuals to help gain knowledge from one another is a brotherhood like no other. The greatest benefit to me is being able to apply my knowledge to help the future.
BSJ: What advice would you offer to those who are considering pursuing an MCP designation?
Nabors: Hard work, studying and staying focused on the goal to achieve MCP status not only rewards you with accomplishment but gives the individual a sense of honor. With today's fast-growing society, the MCP designation can ensure job security and personal success.
BSJ: How long have you been in the industry?
Nabors: 12 years.
BSJ: What major changes have you seen?
Nabors: Fire preparedness safety and a plethora of new building products.
BSJ: What excites you about the future of your industry?
Nabors: That the industry will always be there so I can have comfort in providing for my family. Codes are ever-changing to modify for new products. Seeing the future of buildings and new built environments always excites me.
BSJ: What is one piece of advice that you would give to those starting out in the industry?
Nabors: Pay attention to, and take to heart, the advice your mentors are giving you and learn from others' experiences. Instead of always applying your opinions, hear out others and look at their side of things.
BSJ: Building safety is the focal point of our mission here at the Code Council. What is the importance of building safety to you? How has ICC helped you in your career and commitment to public safety?
Nabors: For example, I was the PM/inspector on a school my children and family will be attending in our local community. To adhere to strict safety policies put forth by the Code Council gives me assurance that they will arrive home safely every day.
BSJ: Obtaining all those ICC certifications is quite an accomplishment. What are you going to do now that you have achieved this goal?
Nabors: I would like to finish obtaining my electrical and plumbing plans examiner to finish out those trades specialties. I would like to join a committee, such as testing, to help out my fellow code professionals.
BSJ: Thank you, Thomas, and congratulations. You have definitely been an encouragement to us all in your pursuit of excellence.
---
To earn the Code Council's elite MCP designation, a candidate must first pass 10 core Code Council exams plus a number of elective Code Council exams. Typical Master Code Professionals hold 17 or more Code Council certifications. The Master Code Professional designation requires certified individuals to complete an additional 60 hours of Continuing Education Units every three years to maintain active status.
"The Master Code Professional certification is the pinnacle of all Code Council certifications, representing a level of effort, knowledge, and dedication that elevates not only the individual achieving it but the code official profession as a whole," said Code Council Chief Executive Officer Dominic Sims, CBO.
Master Code Professionals are typically responsible for all technical and management aspects of code enforcement with duties that range from the management of a code enforcement department to the supervision of inspectors and plan reviewers.
"Congratulations to Thomas on achieving this important and significant accomplishment," said Autumn Saylor, program services manager of the Code Council's Assessment Center. "I challenge and encourage all code professionals to strive for this level of achievement, and I look forward to congratulating more Master Code Professionals in the future."
To learn more about how you can join this elite group and let us help you open the door to increased professional challenges and career advancement, click here.