National Leadership in Sustainability and Energy Efficiency Award: Kimberly Cheslak
Kimberly Cheslak recognized for her outstanding contributions to advancing the principles of the Code Council's Sustainability Membership Council in the field of energy efficiency and sustainability in the built environment
Each year, the International Code Council recognizes peers and colleagues who are a reflection of what the association stands for: dedication to developing model codes and standards used in the design, build and compliance process to construct safe, sustainable, affordable and resilient structures. The Code Council and its Membership Councils honored several outstanding individuals and organizations for their accomplishments and contributions to building safety and resiliency in their communities during the 2022 Annual Conference in Louisville, Kentucky.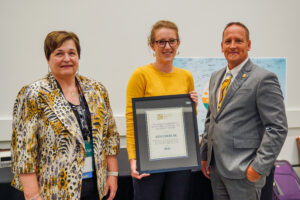 The National Leadership in Sustainability and Energy Efficiency Award recognizes outstanding contributions to the growth and enhancement of codes or public policy embracing the principles of the Code Council's Sustainability Membership Council (SMC). The award honors states, cities, towns and individuals who go above and beyond to raise compliance with building energy codes — and by doing so, help unlock billions of dollars in savings and improve the efficiency of new and existing buildings and homes using cost-effective, practical, and innovative strategies. This year's recipient of the 2022 National Leadership in Sustainability and Energy Efficiency Award is Kimberly Cheslak, director of codes for New Buildings Institute (NBI), a non-profit organization based in Portland, Oregon.
Kim Cheslak already was working on master's degrees in architecture and urban design at Washington University in St. Louis when something began eating at her. "I was working on these large-scale projects that were beautiful and efficient, but I began wondering about the people who would use the buildings," she explained. "How would these designs affect their daily lives?"
That question led her to add a third master's program, one in social work. She didn't know it then, but looking at building design from a personal perspective would help guide her career from that point on. Cheslak and her team at NBI have worked in the areas of energy innovation and sustainability, leading jurisdictions to improve their energy efficiency policies and expand their usage of zero-based-carbon codes to meet climate goals.
An advocate for smarter buildings, Cheslak was a lead author of NBI's Building Decarbonization Code, a ground-breaking tool aiming to deliver carbon-neutral performance in new construction. This code language serves as a building decarbonization overlay to the 2021 International Energy Conservation Code (IECC).
At the time a code official, Cheslak also was instrumental in the formation of Washington, D.C.'s, Green Building Division and was deeply involved as a code reviewer for the residential and commercial provisions of the IECC as well as the International Green Construction Code (IgCC).
Cheslak, who admits her mission to spread the word on climate change and sustainability was not always easy, said she was really happy when notified about the award. "Not so much for myself, but for the hard work my team has done," she said. "Acknowledgement by the ICC is so important in continuing the conversation on sustainability."
Others in the industry are aware of her major contributions to sustainability, including Aaron Gary, chief administrative officer at Tempo Partners in Irving, Texas, and chair of the SMC awards subcommittee. Gary notes in the council's selection that Cheslak earned the Code Council's sustainability award because of her leadership in developing and adopting codes, and the attention regarding energy conservation and sustainability she has brought to the industry. "Kim is a building energy codes leader and content matter expert that guides the future of building energy codes throughout the United States," he said. "Her work includes assisting leading jurisdictions to improve their use of zero based-carbon codes and energy efficiency policies to meet their climate goals. Her broad range of expertise in buildings and urban planning, including experience in code inspection, lend to her ability to see the big picture in her jurisdictional work and the intricacies of how those codes will work in application."
Cheslak said there was no immediate epiphany after graduating from her master's program. "We didn't study weatherization and energy efficiency in school," she said. "But after a few years, I began to see how building design could affect energy efficiency, and how we could account for and address climate change. When I got into the business, that was the time LEED was developing and people were starting to look at energy savings."
For 25 years, the New Buildings Institute has worked collaboratively with industry market players — governments, utilities, energy efficiency advocates and building professionals — to promote advanced design practices, innovative technologies, public policies and programs that improve energy efficiency at the highest levels and decarbonize the built environment. Its efforts help create a future where the built environment represents an effective use of resources, a positive force against climate change, and a driver for local economies that creates jobs and saves money for homeowners and business on energy costs.
As the institute's director of codes since 2019, Cheslak leads the codes and policy team in reach / stretch / all-electric policy roadmaps and both code and policy development for multiple U.S. cities and states; building performance standards creation and implementation; and building code training and education for codes officials, building industry professionals, and other governmental representatives. She also works with coalition partners to improve the energy efficiency of national model codes, including the IECC and IgCC.
Cheslak has noticed a greater acceptance of the IECC and IgCC in recent years, as the topics of climate change and sustainability have become increasingly relevant. "It's not just about decarbonization; people want to save money on the cost of energy, no matter how it's produced." More people also are seeing the results of climate change, she said, through floods, wildfires and droughts. "Not every area approaches climate change in the same way. We're fortunate to be working in an environment now when people see the benefit if you make some changes in design. And other areas — large cities and small towns — become aware of what they can do."
That is why the 2022 Sustainability Award means a lot, she said. "Hopefully, it will help bring awareness to what my team at New Buildings Institute is trying to do to help people through safe and environmentally sound design."
The International Code Council congratulates Kimberly Cheslak as the recipient of its 2022 National Leadership in Sustainability and Energy Efficiency Award.
View past recipients of the National Leadership in Sustainability and Energy Efficiency Award.
---
Membership Councils make a difference
The Membership Councils of the International Code Council offer members a place to come together and be a more powerful force shaping your association, your industry, your career and your future. The Code Council Board of Directors offers six discipline-specific Membership Councils — the Building Membership Council, Fire Service Membership Council, PMG Membership Council, Sustainability Membership Council, ICC Global Membership Council, and Emerging Leaders Membership Council — that each serve to take your membership and profession to the next level. Share your expertise, voice and vision with your peers.
Learn more about International Code Council Membership Councils.