Pleasant Hill's Chief Building Official Geoff Simmons Receives 2022 Innovation in Code Administration Award
The Code Council's Innovation in Code Administration Award recognizes fire and building departments that implement innovative code administration delivery to one or more jurisdictions.

Each year, the International Code Council recognizes peers and colleagues who are a reflection of what the association stands for: dedication to developing model codes and standards used in the design, build and compliance process to construct safe, sustainable, affordable and resilient structures. The Code Council and its Membership Councils honored several outstanding individuals and organizations for their accomplishments and contributions to building safety and resiliency in their communities during the 2022 Annual Conference in Louisville, Kentucky.
In September, the International Code Council presented the Innovation in Code Administration Award during its annual conference in Louisville, Kentucky. This nationally–recognized award was established in 2016 by the Code Council in collaboration with the International Association of Fire Chiefs Fire and Life Safety Section, and the National Association of State Fire Marshals.  Geoff Simmons, Pleasant Hill, California's Chief Building Official, received the 2022 honor in recognition of his development and implementation of innovative practices within his community. 
Community

Fire

Risk Reduction Starts with

Innovative

,

Fire and Building Safety Codes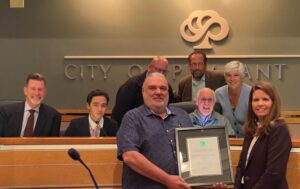 Fire and building codes are one of the five pillars of community risk reduction that establish the minimum level of risk a region is willing to accept for its built environment. The U.S. Department of Commerce outlines the "Five E's" of reducing fire risks: enforcement, engineering, emergency response, economic incentives, and education.  
The Code Council's Innovation in Code Administration Award recognizes fire and building departments that implement innovative code administration delivery to one or more jurisdictions. Organizations such as Code Council chapters, fire marshal offices, government councils or similar public sector groups must demonstrate the implementation of unique practices or programs that demonstrate a positive impact on public and firefighter safety.  
Career Building Safety Official Cites Importance of

Innovation in

Education, Recruitment

and

Training
Simmons began his public service career almost 14 years ago in Stockton, California, as a building inspector, followed by a position as a building safety program coordinator in Modesto. "I have built my career on being an educator and mentor," he said. "I believe the future of building safety lies with how well we recruit and train the next generation of building safety professionals."  
Simmons has previously served as Yosemite Code Council Chapter President and is currently East Bay Code Council Chapter President. He is concurrently serving a two-year term on the Outreach and Communications, as well as Alternative Housing committees for the California Building Officials group (CALBO), which is the Code Council's largest chapter. Simmons holds 12 Code Council certifications, including Certified Building Official, Building Plans Examiner, Electrical Plans Examiner, and others.
Award-Winning Inspector Helms New

Online Permit

Innovations During COVID-19 Shutdowns
In 2007, Simmons started as an electrical inspector who focused on providing code interpretation services while also looking for ways to streamline processes. He received a CALBO Letter of Recognition for creating a virtual career event during the COVID-19 pandemic to reach out and encourage the next generation of building safety officials. Simmons also received the 2016 Accela Trendsetter of the Year Award for his work on the federal government's SunShot initiative to reduce solar energy costs by 75% and make it competitive with existing energy programs without relying on subsidies. The award gifted $18,000 to the City of Stockton.  
In Modesto, Simmons co-created the "Plan Check With Us" program, which was the recipient of the Innovation in Code Administration Award last year. He was also the first jurisdictional member of the SolarAPP+ team in Modesto, and in Pleasant Hill he issued the first SolarAPP+ permit in the nation, which was recognized by U.S. Secretary of Energy Jennifer Granholm. 
Simmons' team was recently awarded $40,000 through the CalAPP program from the California Energy Commission. They will be transitioning to the new EnerGov permitting system, and will use the award to work with Tyler Technology to help tie in the SolarAPP+ process they've used since 2020. "The National Renewable Energy Lab will assist with this as it has not been done before," Simmons said. "Our hope is that this will help facilitate other jurisdictions also transitioning to EnerGov."
Support

ing

Building

Code Innovations
"The COVID-19 pandemic challenged the City of Pleasant Hill to discover new ways to continue to meet the needs of residents, as well as contractors exploring and pursuing approval on various home improvement projects," Simmons said. The number of homeowners pursuing building and remodeling projects grew substantially during the pandemic, as most people were quarantined for months, and many started working from home full-time.  
City staff workload increased as local contractors and household decision-makers required current information, forms and applications for a multitude of project types. But restricted access to City Hall complicated the staff's ability to provide accurate information and the necessary documentation to process those project requests.
New Interactive Permit Guide Facilitated Code Administration During Lockdown
After taking almost four months to engineer, Pleasant Hill's online Interactive Permit Guide was launched on December 1, 2020. The new process improves code administration and enhances customer experiences by providing touchless, 24/7 access to a variety of residential construction forms, collected into one interactive website. Implementing specific details and locations, the site creates a customized guide to complete residential projects. "We have seen a rise in interest with various accessory dwelling units to help with local housing," Simmons said. ADUs are smaller, independent residences located on the same lot as detached homes, often called coach houses, granny flats or mother-in-law suites.  
The building, planning and engineering divisions collaborated to gather the appropriate bulletins and documents for common residential projects such as tree removals, structural additions, interior alterations, plus electrical, mechanical and plumbing upgrades. "As users refine the scope of their projects by answering online questions, they can access information pertinent to each project," Simmons said. After selecting from 11 main categories, users will find 53 website sub-categories, including new garages and carports, patio covers and gazebos, decks and platforms, and much more.
I

nnovative and I

nteractive Permit Guide Improves Customer Service and Staff Time Allocation
The Pleasant Hill permitting website has already served over 2,000 visitors, and a third have accessed permitting and construction information outside of the city's business hours. Simmons noted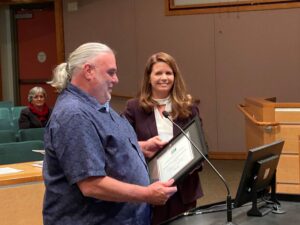 that "this represents a community service expansion for when we are not in the office." The improved virtual access also saves the team's time, which can then be allocated to other pressing projects. Online clients spent an average of 30 minutes per search, equaling 677 business hours and 326 off-business hours. 
"This Interactive Permit Guide serves our team well now, as well as into the future," Simmons added. "The tool is flexible enough to easily make adjustments to codes, regulations, statutes and ordinance changes." The guide, which is supported by the city manager, mayor and town council, allows customers to be educated at their convenience and on their own time.  
Simmons plans to continually review the guide to reflect new code changes. His team is also looking into additional project types and commercial project expansions. They are currently working on streamlining heat pump water heater permits, as well as other projects that will expand decarbonization.  
"Looking back, it seems amazing that we pulled everything together during the worst of the pandemic," Simmons said. "Our team did an incredible job during a difficult time. I look forward to what we can accomplish next."