Robert W. Gain Fire Prevention Leadership Award: Kara Gerczynski
Kara Gerczynski recognized for her professional abilities and leadership that serve as an example to all fire prevention and fire protection professionals
Each year, the International Code Council recognizes peers and colleagues who are a reflection of what the association stands for: dedication to developing model codes and standards used in the design, build and compliance process to construct safe, sustainable, affordable and resilient structures. The Code Council honored several outstanding individuals and organizations for their accomplishments and contributions to building safety and resiliency in their communities during the 2022 Annual Conference in Louisville, Kentucky.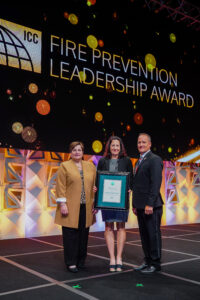 The Robert W. Gain Fire Prevention Leadership Award (formerly the ICC Fire Service Award) is given to a member whose professional abilities and leadership serve as an example to all fire prevention and fire protection professionals. It is presented in honor of Robert W. Gain, a founder of the Uniform Fire Code and a prominent member of the organizations that created the International Fire Code. Kara Gerczynski, division chief of administration and prevention for the Elizabeth Fire Protection District in Elizabeth, Colorado, is the recipient of the 2022 Robert W. Gain Fire Prevention Leadership Award.
When Chief Gerczynski learned that she had been named this year's recipient of the Robert W. Gain Fire Prevention Leadership Award, she describes her initial reaction as shock — not because she didn't think she had earned it (with more than 30 years of experience as a fire protection engineer and fire marshal, Gerczynski has certainly earned the prestigious honor), but because of geography.
"Most of the people who have gotten this award usually come from larger fire districts," said Gerczynski, noting her fire protection district in Elizabeth, Colorado. "They don't come from small rural agencies like mine."
The 111-square-mile Elizabeth Fire Protection District, located about an hour southeast of Denver, Colorado, has around 14,000 residents. Gerczynski is the de-facto fire marshal, overseeing a department of 22 full-time firefighters and command staff, and a broadly equal number of volunteers who handle an average of 1,400 calls per year. Her firefighters are also trained in maintenance inspections. When Gerczynski isn't handling the district's finances, IT needs and public affairs, she's also the lead fire investigator.
"We are getting to a point that I'm definitely going to need to hire some more help soon," Gerczynski said with a laugh. "On the other hand, I think that this experience has made me very well rounded!"
It's precisely that well-roundedness that made Gerczynski stand out to her peers who nominated her for this year's Robert W. Gain Fire Prevention Leadership Award.
Recognizing a Pioneer in Fire Prevention
The Robert W. Gain Fire Prevention Leadership Award was first presented in 1982 by the Western Fire Chiefs Association and honors Chief Gain's memory and his place in history as the "father of the Uniform Fire Code."
As a Code Council legacy organization staff member from the 1950s to the 1970s, Chief Gain was well known as a visionary and respected leader among fire service professionals. He recognized and advocated for the importance of fire codes and fire prevention in reducing the loss of life and property due to fire. In 1971, he championed the decade-long effort that created the Uniform Fire Code, a predecessor to the International Fire Code.
The Robert W. Gain Award serves as the highest honor the International Code Council can bestow on individuals who have demonstrated exceptional leadership and longstanding dedication in support of fire codes and fire prevention. And Gerczynski certainly fits that description. From an early age, fire protection was a central part of Gerczynski's life — her father owned a large fire protection firm in northern New Jersey. "I just had a passion for what fire sprinklers did and how they protected lives and buildings," she said. "And that's where it all started."
Gerczynski obtained her bachelor's degree in fire protection engineering from the University of Maryland and worked in the private sector as a lead fire protection engineer before bringing her skills to the public sector, accepting a position as fire inspector/investigator with the Elizabeth Fire Protection District in 2003. She earned a promotion to fire marshal in 2009, and then to division chief in 2019.
Always on the lookout for opportunities to improve collaboration between code officials and fire chiefs, Gerczynski participates in multiple code committees, offers educational guidance to other code officials at the state and national level, and also provides plan review assistance to surrounding agencies. She has also lectured and presented courses for over a decade to the members of several organizations across Colorado, including the Fire Marshal Association of Colorado and the Colorado Chapter of the International Code Council Educational Institute.
Rural Fire Safety Poses Challenges, Opportunities for Fire Chiefs
While it's natural for people to focus on her many accomplishments, Gerczynski hopes to use her award as an opportunity to educate her building safety colleagues about the unique issues facing fire safety professionals in rural areas.
Gerczynski explained that water supply is a big issue for rural communities, especially those that, like Elizabeth, are experiencing population growth due to their proximity to a sprawling metropolitan area — in this case, Denver. Local governments have an incentive to encourage growth because they rely on the property tax revenue generated by special development districts, but they must also ensure the fire safety infrastructure can keep pace with the growth. At the same time, residential and business developers are often reluctant to move into rural areas if the existing water supply is inadequate to meet their needs. It's a logistical Catch-22 that requires considerable finesse to resolve.
"There's a really fine line when you're dealing with a community that wants to grow but is having problems doing so because they don't have the infrastructure for that growth," Gerczynski said. "It's a delicate balance."
Relationships Are Key to Fire Safety Awareness
Gerczynski's years of experience working with elected officials, developers, and local residents and businesses to find and achieve those delicate balances has taught her that success often depends on the ability of a code official to cultivate trusting relationships with community stakeholders.
You can't build relationships if people don't understand what you do, however. "When I first started working here almost 20 years ago, I developed relationships with the school districts, with the planning and zoning departments, and with town commissioners and trustees," Gerczynski said. "I tried to show them that we're here to support the community. And through that, I was able to close some crucial gaps in code enforcement."
One of those gaps, for example, was school security. To reduce the risk of violence against students and staff, school administrators wanted to install safety features such as doorstops that would violate the fire safety code. "I worked closely with our school leadership and school safety teams to come up with alternatives that they could implement that would still meet the intent of the fire code," Gerczynski explained.
For Gerczynski, this particular issue wasn't just professional. "Because I live in this community, and my girls were attending those schools at the time, I had a vested interest in making sure that I understood the balance we were trying to achieve too."
In a rural community, that kind of personal investment is a crucial asset for building trust and relationships. "You do end up becoming the face of the fire district," Gerczynski said. "Whether you're picking up your kids or attending an event, people expect you to be there to answer questions, even to just say hello. And I'm always happy to do that. It's not just part of my job; I really do enjoy it."
Gerczynski offers this advice for developing relationships in your community: the worst time to start a relationship is in a time of turmoil. "Most people wait until there's friction between the local government or planning department and the fire district, but I think it's important to get in there first," she said. "Building relationships on the common ground of what's best for the community will help them flourish."
Education is Crucial for Overcoming Misconceptions About Fire Safety
As an educator, Gerczynski seeks to change common misconceptions about fire safety. "A lot of people think that fire safety is the fire department's problem," she said. "They don't see it as the community's problem, or the local government's problem, or the schools' problem."
To change her community's perception of what fire safety actually is, Gerczynski emphasizes the industry's "five E's:" education, engineering, economic incentive, enforcement, and emergency response. "Obviously codes are a big part of the fire safety and community risk reduction puzzle, but it's important for us to remember that they're only one of the pieces. All of the pieces have to come together for the community to truly benefit from a risk reduction strategy."
A key to helping people understand and respect codes, for instance, is to educate them on the reasons why codes are in place. "The general public doesn't remember events like the Our Lady of the Angels School fire [of 1958, in Chicago], the Cedar Fire [of 2003, near San Diego], or the Station nightclub fire [also of 2003, in West Warwick, Rhode Island]. But we in the fire service and in code enforcement understand that the fire codes are built on the blood of others. If we can educate people about that history, I think people will stop seeing codes as a burden and start embracing them as a way to keep our community safe." Gerczynski knows from her own experience that this educational strategy works.
Seek Mentors and Peers to Grow as a Professional
Gerczynski's passion for education and teaching extends beyond her community. She also motivates her peers to continue their professional development and assists in that pursuit by sharing her knowledge — an example of exceptional leadership in the world of fire codes and fire prevention.
"Most people in the industry are here to help other people," she said. "We know we're not going to be here forever, and we have a lot of knowledge that we're happy to share with new people coming into the profession."
A great way to share and gain knowledge is to participate in your state's code organization or one of the nearly 400 local International Code Council chapters, Gerczynski said.
Gerczynski's award is a way for all those she has educated and mentored along the way to thank her publicly. "That my peers picked me for this award is amazing," she said. "Teaching a roomful of people who don't know anything about codes — that's easy. But teaching to a group of your peers, I think, is really hard. Just knowing that the work I've been doing throughout my 18 years in Colorado has resonated with my peers and community leaders makes everything that I've done throughout my career worthwhile. I can't thank them enough."
Gerczynski sums it up this way: "I enjoy what I do, and I think that's why I've been successful."
The International Code Council congratulates Kara Gerczynski as the recipient of its 2022 Robert W. Gain Fire Prevention Leadership Award.
View past recipients of the Robert W. Gain Fire Prevention Leadership Award.