Shining a light on emerging code professionals


Organizations that stay curious, seek challenge and practice thought diversity are often the ones which thrive. As companies increasingly rely on the diverse capabilities of women and men, people of different cultural heritage, and younger and older workers, we're seeing a rise in inclusive leadership — leadership that initiates and embraces change by tapping into the talents and motivations of workers, which in turn creates an atmosphere of respectful interaction, confidence and inspiration among these seasoned and emerging professionals.
To help facilitate these collaborative relationships, the International Code Council created its Board Shadow Program — part of its successful Safety 2.0 initiative — which provides an opportunity for potential leaders to shadow the Code Council Board of Directors at the ICC Annual Conference, to experience real-time leadership as they observe their board mentors.
The real ingenuity of the Board Shadow Program is that it connects the ICC board to diverse emerging professionals from different socio-demographic backgrounds and enables senior leaders to really hear a different level of thinking to real-time issues facing young code professionals today. The board gets a much broader range of views on strategic, complex and critical issues, and a feedback loop of challenge, solution, development and learning is created. The program demonstrates the benefits of investing in future code development leaders and helps create a diverse pipeline of "ready-to-go" leaders who understand and are already contributing to the construction industry.
Each month, the Code Council will highlight two individuals who have participated in the Board Shadow Program, and will share their experiences and perspectives on the program, their career and the construction industry.
---
Building a stronger industry with John Hudgison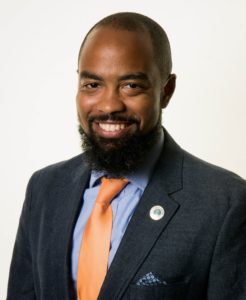 The ICC Board Shadow Program casts a bright, illuminating light on the talents and potential of emerging code professionals. Now in its fourth year, the program provides an opportunity for potential leaders under the age of 35 — or with less than 10 years of experience in the industry — to shadow one of the board directors at the ICC Annual Conference. These board "shadows" experience real-time leadership as they observe their board mentors representing the members at conference. In essence, the shadow is a novice emerging as an industry leader, intercepting and absorbing information from a seasoned professional.
A candidate not only has a list of prerequisites to complete before consideration to become a shadow, but there is also a level of passion involved in wanting to learn more about their craft. You can mark the passion of a person for the job they do by the enthusiasm one has in their voice when asked, "What do you do for a living?" That enthusiastic passion came right through with John C. Hudgison, CBO, Assoc. AIA, director of the Building Inspections & Code Enforcement Department for the city of Columbus, Ga.
Hudgison first studied architecture the University of Tennessee in 2006 and received a bachelor's degree in architecture. During his college years, he participated in an intern program with John I Rivers Associates as an architect, where he soon discovered that his designs leaned more towards the technical side as he was more concerned with the safety of a design and if the building would be sound, rather than how attractive it looked.
Switching towards a more technical side of the industry, he went to work for Columbus Consolidated Government in November 2009 as a project administrator, which soon led to becoming the project manager. He managed more than 90 construction projects for the city totaling more than $42 million.
The Building Codes & Inspections Department in Columbus was in search of a new director, and was very interested in Hudgison filling that position, but required that he receive a Certified Building Official (CBO) certification. He passed all of the required tests on the first attempt and made his transition to the Building Codes & Inspections Department in December 2015 as the interim director of the department and officially became the director in April 2016.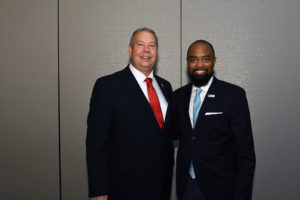 As Hudgison realized that being the director required a large amount of responsibility, he wanted to learn as much as he could. He wanted to see how other city officials handled issues and concerns and he contacted various city officials asking questions. Through those contacts he became involved with the local Code Council chapter where he connected with past Code Council Board of Directors President Dwayne Garriss. Hudgison discovered they both had similar backgrounds, as they both were University of Tennessee alums and studied architecture.
In 2016, Hudgison attended his first ICC Annual Conference in Kansas City, Mo., not really knowing what to expect. As he phased it, he was a bit "shell shocked". There was a small group of first-time attendees that he came to know and shared experiences with during the conference. Although they were guided on various classes to attend, and received packets of information, it was a bit of an overwhelming, but rewarding experience.
The following year, Hudgison had heard of the ICC Board Shadow Program, but the application filing deadline had past. When he heard that Garriss was one of the mentors that year, he pursued the possibility. Garriss already had a shadow scheduled, but Hudgison called and continued his mission and as he put it, "haggled" Garriss to be his board mentor. "We had a lot of similarities and I really wanted to be his shadow, because I felt I could learn so much from him," Hudgison said. A few calls later, his determination landed him as Garriss' second shadow during the 2017 ICC Annual Conference in Columbus, Ohio.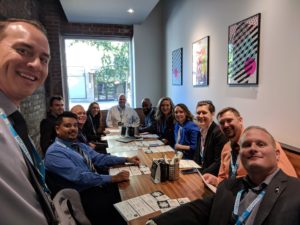 Hudgison's experience from the 2016 to the 2017 conference was light years apart. Being an official board shadow with Garriss that second year gave him the opportunity to meet many people that were dealing with some of the same issues he was, and it was comforting to know that he was not in this alone. Spending time with Garriss also served as good future experience in talking with someone who was further along in their career. He gained insights and knowledge that may have taken longer to obtain, and he made many connections that has helped him build relationships to network with fellow Code Council members. According to Hudgison, one of the best take-a-ways was, "you could ask silly questions and not feel bad about it," and that Garriss was just as enthusiastic about Hudgison's career; he knows that if he has a question, he can pick up the phone and Garriss will be there.
Hudgison's third ICC Annual Conference was in Richmond, Va., and this time he decided to stay for the code hearings. He networked and participated in the live voting, which helped him to understand the whole process. Wanting a safer environment and an improved quality of life to ensure that people are safe in their homes and the buildings they visit, he is passionate about his role in the industry and plans on attending this year's conference in Las Vegas.
Although John is still rather young in this business — he's only 35 — we asked him what advice would he give to young people just starting out in this business that would help them to be successful. "You've got to be flexible and have empathy and understanding that there is more than one way to do things," he said. "Understand where the contractor is coming from and communicate as to why you did things a certain way. Explain the meaning of a code and have the knowledge of those codes so you can answer the questions. And if you don't know the answer, assure them that you will do your research to find it."
John Hudgison and International Code Council Board of Directors Past President Dwayne Garriss discuss the value of mentoring and their shared experiences as Tennessee Vols and architecture majors who found their way to the building safety profession.