Strengthening the IECC with energy efficiency & renewable energy
As we prepare for the International Code Council's Committee Action Hearings for the 2021 International Energy Conservation Code (IECC), we can expect spirited debate regarding how renewable energy systems — especially solar photovoltaic (PV) systems — are integral to the IECC.
Some stakeholders will argue that all available efficiency measures must be exhausted before considering renewable energy generation. Some might argue that only building envelope measures should matter in the IECC, despite renewable energy's inclusion in both definitions and charging language.
In 2018, stakeholders began to coalesce around zero net energy (ZNE) or zero carbon emissions as long-term goals for energy codes. We agree more than we disagree. Zero emissions or ZNE can only be achieved by renewable energy and energy efficiency together.
We agree on the importance of energy efficiency; yet there is more to improve, and renewables will directly help
The U.S. Energy Information Administration's (EIA) data shows that building envelope measures have already made a substantial difference in saving energy. Recent data also shows that space heating and space cooling loads account for a diminishing portion of both household energy consumption and household energy expenditures.
We have done a good job of reducing regulated loads (space heating, space cooling, water heating). Congratulations! Next, we should acknowledge that unregulated loads (lighting and appliance loads, plug loads, etc.) are now larger in aggregate than regulated loads. Even if we could drive space heating and space cooling loads to zero, building envelope measures still have no influence over most of a home's energy footprint.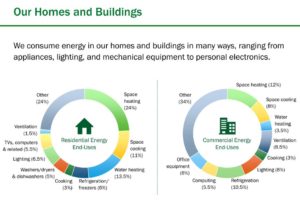 Strengthening the IECC by solving 100 percent of the problem
We already know how to solve 100 percent of the problem, because builders are doing it right now; ZNE homes and communities exist today. In a fully electrified building, renewable energy systems such as PV can offset 100 percent of all energy end uses, including all regulated and unregulated loads.
Energy storage systems (ESS) — such as batteries — can help with the self-utilization of power generated with PV; ESS can also help utilities manage the grid. By charging electric vehicles at home with sunlight, PV can even offset transportation-related emissions.
California clearly recognizes the value of renewables in its 2019 Building Energy Efficiency Standards (BEES) by requiring PV systems on almost all new low-rise residential buildings, effective Jan. 1, 2020. Several California communities like San Francisco and Santa Monica became early adopters through local ordinances, and South Miami followed in 2017. California adds flexibility through an off-site compliance option — community-shared solar — where on-site PV is not practical or economical owing to shade or limited roof space.
The Energy Rating Index compliance alternative
The Energy Rating Index (ERI) compliance alternative was first introduced in the 2015 IECC. With target scores similar in form to Home Energy Rating System (HERS) ratings and California's new Energy Design Rating (EDR), this method is critical to future IECC development. The ERI scores are easy for consumers to understand, and therefore can serve as a valuable marketing tool for new homes.
In the 2015 IECC, the ERI language is silent on renewable energy. The general interpretation of the International Codes is "allowed if not disallowed," so most IECC users agree that renewable energy is part of the 2015 ERI method. Some stakeholders continue to argue that renewable energy is not allowed in the 2015 ERI method, but those arguments are without substantiation.
In his 2015 report entitled, The Impact of Photovoltaic Arrays on the HERS Index, author Brett Dillon estimated reductions in HERS scores for a 4kW PV system in multiple climate zones, using REM/Rate software. Dillon reported these ranges of reduction by climate zone, using representative cities. Examples of reduction ranges varied from 21 to 26 HERS points for Baltimore, to 31 to 39 points for Albuquerque. (The California Energy Commission has determined statewide average minimum qualifying PV capacity is approximately 2.5kW for new homes under the 2019 BEES.)
Rather than credit the PV industry for these remarkable reductions in net energy use and carbon pollution, some stakeholders use the findings to represent PV systems as a threat to building energy efficiency. They often characterize PV "trade-offs" as a direct threat to building envelope measures. However, these claims are inflated and overlook the 2015 IECC Section 406.2 requirement for the 2009 IECC envelope backstop for all buildings using the ERI method (a level playing field).
For the 2018 IECC, a successful public comment modified the ERI method by adding Footnote "a" to Table R406.4, thereby eliminating the level playing field. Footnote "a" imposes the more-stringent 2015 IECC envelope backstop for homes with PV, while homes without PV can continue to use the 2009 IECC envelope backstop. This sends a signal to builders that they can build a less efficient home if they don't include a PV system, making PV systems less attractive as a compliance option and discouraging better energy outcomes.
The difference between the 2009 and 2015 envelope backstops can be a substantial incremental cost increase for a minimal incremental reduction in energy use. If that incremental improvement or much better can be achieved with PV at lower cost, then builders should be allowed to do so within the ERI method.
Looking forward: What is the best performance metric?
With California's 2019 BEES, users will see that the public domain residential modeling software CBECC-Res displays the compliance results in terms of a new EDR. The EDR is similar in scale to a HERS rating but is based on California's Time-Dependent Valuation of Energy. Users of CBECC-Res will also see a display of carbon equivalent for each compliance model. This information will assist users in identifying the best carbon-reducing compliance options and is a precursor to the California Energy Commission's planned transition to a carbon metric for future editions of the BEES.
The California Energy Commission has already concluded that residential PV systems are cost-effective in all California climate zones and are critically important in reducing carbon emissions, especially when paired with batteries. As we encounter the perennial debate on which performance-path compliance metrics should or should not be allowed in the IECC and other energy codes, consider that a carbon metric might be the best path forward to meet our long-term future goals.
Moving forward together
Many U.S. states and territories are pushing for more clean, renewable energy. Hawaii, California, New Mexico, Puerto Rico and Washington, D.C., have all committed to 100-percent renewable energy through their legislative process. New Jersey, New York, Washington, Colorado, Illinois, Minnesota and Wisconsin are all considering similar renewable energy targets. Zero energy and/or zero carbon buildings are in our future. Change is coming.
We can move closer to these goals when we grow beyond debates of energy efficiency versus renewable energy and move forward to developing full integration of energy efficiency plus renewable energy in energy and green codes. In a holistic, whole-building approach, a PV system is just as much a part of the building as envelope measures, a furnace, air-conditioning system or water heating system. The whole is stronger than the sum of the parts. The IECC will be stronger when fully integrated.
Committee members and governmental voting members have an opportunity to bring all those strengths to the IECC. Builders should get credit for what they do, and they should be allowed flexibility to achieve the most cost-effective means of reducing energy use and consumer energy bills for their projects, based on their own suppliers, labor and regional differences.