The practicality of the I-joist as a ceiling joist
The engineered wood joist, more commonly known as an I-joist, is a product designed to eliminate span limits that often occur with conventional wood joists. Invented in 1969, the I-joist has great strength in relation to its size and weight.
I-joists allow framers to create larger indoor spaces without walls and columns. To produce I-joists, workers and machines process sawdust or wood scraps, form them into panels with adhesive, and then laminate them to a top and bottom cord under pressure, using more glue. These engineered sandwiches result in less shrinkage, twist and other lumber-drying quirks along with quieter, flatter and longer surfaces. I say hurray for this innovation. (In my early building days, each and every one of us on the business end of a broom had to have said, 'Maybe one of these days someone will use this sawdust for something besides landfill.')
Despite the advantages of I-joists, when used as ceiling joists, they need some help. I've authored a half-dozen or so wood framing articles, so the practicality of the I-joist as a ceiling joist sometimes nibbles at my few remaining brain cells. As I see it, the ceiling joist acts as a tension member. My May 2018 Building Safety Journal article on rafter and ceiling joist framing explains this.
One day, I decided to go to the crux of the matter and find the answer to the question, 'Will I-joists work as ceiling joists?'
Out of the starting gate, I looked to the fabricators. After all, shouldn't the contractors use all materials and assemblies as per the manufacturer's specs? Building inspectors know the answer is yes.
---
Related:
Rafter and ceiling joist framing
---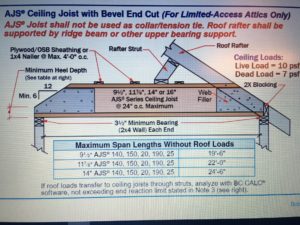 Boise-Cascade and Weyerhaeuser, two of the largest companies, provide plenty of data on I-joists. Boise-Cascade says they are not meant for service as a ceiling joist (tension tie) without special engineering. This clearly appears on the company's installation guide in bold, red print.
As for Weyerhaeuser, Product Support Engineer Jason Shumaker, P.E., , agreed with his company's literature in an email, "…when the ceiling joists are being used as tension ties to keep the rafters from spreading… the connection from the I-joist to the rafter… would need to be designed by the EOR/AOR [engineer of record/architect of record]."
Most of the other I-joist makers also supply the same online information. An inspector can usually locate this on a company website. Once upon a time, I would tell the contractor to get me a copy of the guidelines, but I found I got faster, easier outcomes if I went directly to these websites. (And nothing gets lost in the translation.)
To complete my education, I spoke with Lars Jensen, P.E., a structural engineer based in Cape Cod who presents regularly to inspector groups in Massachusetts, who hammered home the final nail for me. "I-joists are generally not a good member to use for tension ties," he said, "because the force typically comes into the member through the thin web, and they (manufacturers) are probably and rightfully worried about proper load entry, even if the web is fully packed."
Thin web? I hurried through my notes. I noticed that Shumaker had also told me that in this configuration, laminated veneer lumber works better than I-joists as the connection capacity is easier to achieve. Both engineers had mentioned the need for a professional engineer's review.
When I heard from Jensen and then looked at my notes, I knew I had passed the finish line.
These days, before I sign off on a framing inspection, all the I-joists used in a rafter-tension tie assembly require an installation as shown in the manufacturer's guidelines, along with the stamp of a registered professional engineer.