West Coast wildfires continue to rampage through 10 states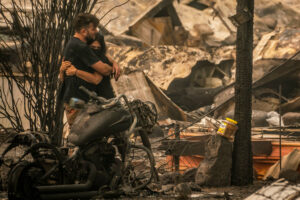 Wildfires are currently scorching the West Coast of the United States at unprecedented levels. At least 35 people have been killed so far (with dozens more listed missing), hundreds of thousands have been displaced or forced to evacuate, and more than 17,000 firefighters have been deployed to battle blazes that have spread at never-before-seen rates. The worst wildfires to be seen in 18 years, nearly 8,000 homes and other structures have been destroyed, old growth redwoods have been burned, and to date more than four million acres have burned — an area larger than the state of Connecticut. The U.S. National Interagency Fire Center reported that at least 87 wildfires were burning in 11 states, the largest in California, Oregon, Washington and Colorado.
Five of the largest wildfires in California history have occurred this year. The August Complex Fire in Northern California, in the Mendocino National Forest, is now the largest on record in history; it is less than 30 percent contained. The other largest fires include the SCU Lightning Complex outside the Bay Area, the LNU Lightning Complex in Napa and Sonoma Counties, the North Complex near Oroville, and the Creek Fire near Fresno.
In Oregon, 36 active fires are burning more than one million acres up and down the western coast of the state. To the south, the Obenchain and Alameda fires devastated whole towns. The Riverside Fire in Clackamas County, near Portland, and the Beachie Creek Fire in Marion County are burning within a mile of each other but are no longer expected to merge. Because the fires are located near the state's most populated areas, they have the potential to do more damage to personal property and to cause more loss of life than any fire in the state's history.
Dozens of fires are burning in Washington State on both sides of the Cascade mountains, scorching 480,000 acres already. Officials are bracing for a supermassive smoke plume in Seattle, caused by fires burning in the south of the state and traveling north.
According to data from Europe's Copernicus Atmosphere Monitoring Service (CAMS), which is part of the European Centre for Medium-Range Weather Forecasts, this year's U.S. wildfire activity has been tens to hundreds of times more intense than the average from 2003 to 2019 across the country as a whole, as well as in several affected states. Additionally, AccuWeather founder and CEO Dr. Joel N. Myers said his company estimated that damage to infrastructure, homes and businesses, coupled with economic losses, will result in the country facing economic losses of between $130 billion and $150 billion.
Hazardous smoke smothers the West Coast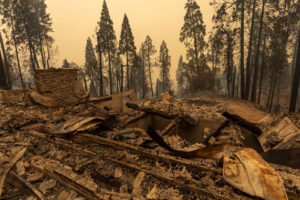 The wildfires devastating parts of the western U.S. are the worst in 18 years, turning day into night, filling the region's skies with vast amounts of thick smoke and ash, and changing the region into a "hellscape" with extremely dangerous and unhealthy air quality affecting millions. Haze and ash from the mega-sized wildfires have drifted across large areas of North America — noticeable as far away as New York City and Washington, D.C. — and even reaching Northern Europe and Africa.
The simultaneous fires have stretched the resources of western states to their limit and pushed firefighters beyond exhaustion. The U.S. Centers for Disease Control and Prevention cautions people to stay inside, close windows and doors, and keep the fresh-air intake on air conditioners closed and the filter clean to prevent outdoor smoke from getting inside homes and businesses.
A growing body of research paints a bleak picture of the effects of wildfire smoke on the human body. Wildfire smoke can affect the health almost immediately — irritating the lungs, causing inflammation, affecting the immune system and increasing the possibility of lung infections, including the virus that causes COVID-19. The particles from wildfires are dangerously small, less than a micron wide, or 10 to 30 times smaller than the diameter of a human hair. Their size lets them slip past the body's usual defenses and lodge deep inside the lungs, passing into the bloodstream and reaching the heart and the brain. The smoke is a complex mixture of volatile organic chemicals, ozone, nitrogen oxides and trace minerals, but it is the particulates less than 2.5 microns in size that are the most worrisome. Exposure can lead to immediate problems such as headaches, coughing and wheezing, and a person can become short of breath and experience a racing heartbeat. The dense smoke is a bigger danger for anyone with a respiratory ailment such as chronic obstructive pulmonary disease or asthma, and long-term exposure can contribute to heart attacks, strokes, and even depression and anxiety. Environmental health research reports that within an hour of fire smoke descending upon an area during wildfire season, the number of ambulance calls for asthma, chronic lung disease and cardiac events increase by 10 percent. And cloth face coverings used for COVID-19 do not protect against wildfire smoke or inhaling wildfire smoke particulates.
Twin disasters: Wildfires raise COVID-19 pandemic risks
After struggling for months to bring down coronavirus infection rates, Western states are now seeing that progress threatened by the wildfires engulfing the region. Heavy smoke from the fires has forced many COVID-19 testing sites to close across the coast, while poor air quality warnings are pushing more people indoors, where the virus spreads more easily. Food deliveries and other social services implemented during the pandemic have been canceled, though many people continue to work outside in dangerous conditions. Wildfire evacuations also complicate efforts to maintain social distancing. Thousands of people are sleeping on cots — without masks — in close proximity at evacuation shelters and smoke irritates COVID-19 patients' respiratory systems, causing them to cough more often, which releases the virus into the air.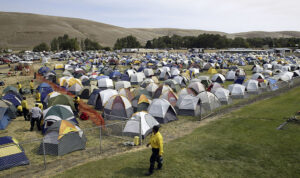 Healthy individuals may also be more susceptible to contracting COVID-19 since irritation in the lining of the throat can make it easier for the virus to land and take hold. West Coast officials are concerned that many won't distinguish between symptoms from exposure to wildfire smoke and COVID-19. State public health departments have issued guidelines for how to distinguish between the symptoms and measures to protect against smoke and COVID-19. And while N95 respirators do provide protection from wildfire smoke, they are in short supply as front-line health care workers use them during the pandemic.
Infectious disease specialists are also particularly concerned about the wildland firefighters caught between battling the blazes and staying safe from the coronavirus. Emerging research suggests that the smoke firefighters breathe on the front lines of wildfires is putting them at greater risk from developing severe COVID-19 symptoms, with potentially lethal effects. Firefighters exposed to wood smoke 24 hours before being exposed to a pathogen ended up with more pathogen in their lungs. The smoke exposure decreases the ability of the lung's macrophages to combat respiratory infection and long-term exposure may make the virus particularly deadly. At the same time, firefighting conditions make precautions such as social distancing and hand-washing difficult, increasing the chance that, once the virus enters a fire camp, it could quickly spread. To make matters worse, lingering heart and lung damage have been found in some COVID-19 patients, raising additional concerns for people in physically demanding jobs like firefighting.
The risk of the virus spreading probably doesn't surprise seasoned firefighters. They're already familiar with "camp crud," a combined upper and lower respiratory illness accompanied by cough and fatigue that has become common in firefighting camps. The illness seems to ramp up at the end of the season, which is in line with the idea that repeated exposure to smoke may suppress the immune system and make the body more vulnerable to infection.
Air hazards pause construction jobs
As wildfires continue to produce choking air, extreme heat, darkened orange skies and material contamination across the West, construction sites across California, Oregon and Washington are pausing work on projects and shutting down as the air quality index creeps higher and higher. In Oregon, where the air quality index (AQI) is still above 500 — the limit for what's considered hazardous by the U.S. Environmental Protection Agency (EPA) — construction sites are only closing voluntarily. There's no law or state order requiring that construction sites halt work at these levels. And while California lacks an upper air quality cutoff, N95 masks must be provided once the AQI hits 151 (Unhealthy for Sensitive Groups), although their usage isn't mandatory until the AQI hits 500 (Hazardous). There are no stop-work orders or regulations requiring that outdoor work cease after that, although the proximity of job sites to the actual fires themselves is prompting shutdowns as well.
Importantly, without a top-down shutdown order, contractors reportedly feel pressured to keep working. This year has been especially hard on the construction industry — the coronavirus pandemic has dampened construction productivity by about 18 percent, sent material costs soaring, cut into profits, and led to the establishment of new disinfection and distancing protocols at sites across the country. It's clear why companies might be reluctant to shut their job sites down, but they're keeping them open at the likely expense of their workers' safety. However, some contractors might not have a choice — concrete and paint tainted with ash, and lowered temperatures from the blocked sun (leading to longer curing times for concrete) have forced some sites to close anyways.
The effect of climate change on wildfires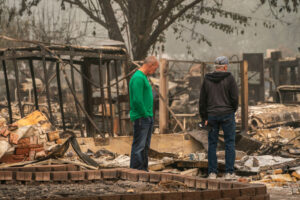 In recent years, scientists have linked an increase and intensity of wildfires to climate change, and residents of Western states are grappling with the fear that severe fire seasons are the new normal. However, even the environmentalists, scientists and policymakers who have been sounding the alarm about the threat of the climate crisis for years are stunned by the acceleration and impact of this year's fire season. Almost the same number of "megafires" — defined as having destroyed 100,000 acres or more — were burning last week compared to those that have occurred during the entire last century.
Many scientists agree that these fires are a product of the cascade effect of multiple runaway climate extremes that trigger and amplify one another — carbon dioxide is increasing the temperature, the temperature accelerates the evaporation of water, the evaporation of water leads to drought that in turn leads to heat waves and wildfires. Add an unusually dry season combined with record heat and strong winds and you have the perfect conditions for infernos that are nearly impossible to contain. What's more, the fires are spawning their own environmental hazards, including not just toxic air but chemicals leaching into water supplies.
While wildfires are all but inevitable, the main drivers are plants and trees drying out due to climate change and more people living closer to areas that burn. Forest thinning and controlled burns are solutions, and millions of dollars are spent on tree thinning and brush clearing every year in Western states. However, it's the wildfire paradox — for much of the past century, the U.S. Forest Service and other government agencies have generally tried to suppress wildfires; at first to protect timber assets, and later as more people moved to the West, to protect homes and communities. But forests are also dependent on fire; a healthy forest needs periodic fires to regenerate and the U.S. has intentionally been suppressing wildfires and allowing forests and brush lands to become unnaturally and dangerously overgrown. Additionally, as more people move into rural areas, prescribed burning has proven challenging to implement on the scale needed to combat wildfire threats and is less of an option. In particular, in some parts of California, people are moving into high-risk urban-wildland interface areas because it's the only place they can afford. These new subdivisions, and whole towns, are becoming the fuel increasing the severity and intensity of these wildfires. In this era of climate change, wildfire experts say the country and policymakers need to start thinking of wildfires as an urban problem, not just a wildland forest fire problem.
Learn more about living safely with wildfires
There are 220 million acres of land — known as the wildland-urban interface — that are at risk for fires because of their proximity to 46 million single-family homes, several hundred thousand businesses and more than 120 million people. Wildfires result in mounting costs that have enormous economic and environmental impacts on the nation's communities and businesses, and also have devastating impacts on the environment and damage forests, rangelands, watersheds and wildlife. Firefighters and civilians perish each year in these fires, many of which occur in areas that do not have any construction codes and standards pertaining to the wildland-urban interface. What can you do? The Code Council has Wildfire Information and Resources to help you protect lives and property at home and in your community and it strongly recommends officials in at-risk communities adopt codes such as the International Wildland-Urban Interface Code and help educate residents and businesses about what they can do to stay safe and prevent wildfires.
Just seven years ago, Austin ranked third on a list of residential cities most at risk for wildfire-related structure losses. Earlier this year, Austin became the first major city in Texas to adopt a Wildland-Urban Interface (WUI) code — its ordinance is based on the International Wildland-Urban Interface Code published by the International Code Council. The code helps ensure that those communities situated against wildland areas are ready for, and protected from, the next major wildfire.
Adoption of a WUI code can greatly reduce the risk of fire damage to compliant structures. Similar codes are already in place in California, which was devastated last year by the Camp Fire, a 153,336-acre blaze that destroyed more than 14,000 structures, killed 88 people and has been called the deadliest and most destructive wildfire in that state's history. Data shows that 51 percent of the homes built under the updated WUI code implemented in 2008 were much more resistant to damage and saved from the fire, compared with 18 percent of those homes built before the code was in place. Additionally, a 2018 report by the National Institute of Building Sciences states that investing in a WUI code has an average overall hazard benefit-cost ratio of four-to-one.
"Disasters are only expected to increase in frequency and severity, so as an industry we need to work collaboratively on how to adapt the built environment to face even greater challenges," said Code Council Chief Executive Officer Dominic Sims, CBO.