SkillsUSA hosts the 2022 National Leadership and Skills Conference to showcase career and technical education students
Competing students worked against the clock and one another to prove their expertise in several skilled service occupations
Students compete to prove their expertise in trade, technical and skilled service occupations
Career and technical education students from around the nation traveled to Atlanta, Georgia to compete in the annual SkillsUSA National Leadership and Skills Conference (NLSC). The conference was held from June 20-24, 2022, to showcase over 6,500 state contest-winning students as they competed in 107 different trade, technical and leadership fields. Competing students worked against the clock and one another to prove their expertise in several skilled service occupations. The competitions were run with the help of industry, trade associations and labor organizations and the contests are based on industry standards
Joel Rodriquez, board member of the Building Officials Association of Georgia (BOAG), was contacted to help judge the SkillsUSA national championship for HVAC students. Competing students participated in several projects involving calculating airflow, electrical controls, refrigeration systems, gas furnaces and brazing or refrigerant piping. "These state champions, both male and female, were well prepared. It was my first time serving as a judge and I had a lot of fun doing so; I enjoyed meeting with a few of the many highly dedicated volunteers. We had limited time to plan for this year's national event, but we hope to expand involvement next year with the local, state and national SkillsUSA events. I would encourage all Code Council chapters to consider these Skills USA opportunities," says Rodriquez.
"Most young people are unaware of the various career opportunities available within building departments. These public events provide students an opportunity to experience specific trades in action while exposing students to additional (very well-paying) career options. At the NLSC, it was very encouraging to note that about 30% of the touring students were female. In addition, the local chapter of the National Association of Women in Construction (NAWIC) also had a booth promoting careers within the many skilled trades," says Rodriquez.
The International Code Council supports initiatives to teach students trade and technical skills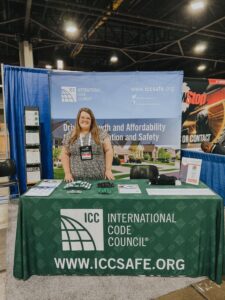 The Code Council team attended this year's NLSC Conference and sponsored the SkillsUSA TeamWorks and Architectural Drafting competitions: donating awards to the winners of each event. The TeamWorks competition featured teams of four students, working together over the course of three days, to build a construction project based on a detailed blueprint and competition-specified building codes. The secondary and postsecondary winners of the TeamWorks competition received complimentary vouchers for the B1 Residential Building Inspector certification exam.
The Architectural Drafting Competition prepares students to apply technical knowledge and skills to develop working drawings and electronic simulations for architectural and related construction projects. Contestants used their drafting skills to solve an Architectural problem comprised of a written test, hand sketch and drawings. Winners of the Architectural Drafting competition received complimentary copies of Building Codes Illustrated.
The Code Council team also presented information at the conference to high school, college and trade school instructors about the Code Council's Technical Training Program (TTP) and the recent launch of the TTP portal.  The TTP is one part of Safety 2.0's initiative to welcome the next generation of leaders to the building safety profession. This program works in tandem with existing construction trades, construction technology and engineering programs to encourage colleges and trade schools to teach students about codes and standards.
"SkillsUSA provides incredible opportunities for young people to learn about trades that can lead to successful and fulfilling careers.  High schools that participate in the Code Council's TTP bring an enhanced understanding of the importance of building codes to SkillsUSA construction-related competitions.  The Code Council and Safety 2.0 programs were proud to sponsor the SkillsUSA Teamworks and Architectural Drafting competitions this year," said Ron Piester, vice president of Membership/Certification at the Code Council.
The importance of helping the next generation to create a skilled workforce through trade and technical education
Not all students thrive in a lecture setting, some students have a passion for careers outside the classroom and typical school curriculum. Giving students the opportunity to explore trade careers while still in high school can significantly help them to develop their interests and find careers they are passionate about. For those interested in technical careers, some employers may even pick up any business-related college education costs. This can help offset student loan debt.
The construction industry holds a vast amount of career specializations that require different skills and work environments; fostering a wide variety of options for students to explore. Currently, there is high demand for skilled and trained professionals in the construction industry making it a great time to consider this path.
Organizations like SkillsUSA and the Code Council Safety 2.0 Programs encourage students to practice relevant skills and get true hands-on experience that puts careers within reach.