Board Shadow Program participant Lauren Wood
Encouraging and inspiring tomorrow's leaders: Board Shadow Program participant Lauren Wood
Lauren Wood's career path is reminiscent of the beloved fairy tale Goldilocks and the Three Bears. Before landing in her current role as a residential building inspector for the Lexington-Fayette Urban County Government in Lexington, Kentucky, Wood explored a few different career paths before finding her perfect fit.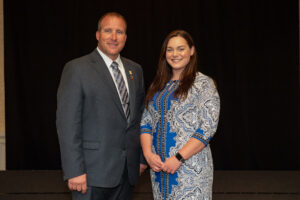 As a freshman at the University of Kentucky, Wood studied vocal performance with an emphasis on opera music. After a conversation with a well-intentioned friend, however, she reconsidered her musical aspirations.
"My friend said, 'Oh my goodness, you're going to be starving for the rest of your life.' That scared me out of it," Wood said. "So, I went into accounting." After leaving music and the arts for a future filled with numbers and steady office work, Wood reconsidered her career path yet again after completing an internship at a local accounting firm.
"I'm so thankful for that internship because it was the most boring work I've ever done in my life," Wood recalled. She realized that in seeking something more stable than music, perhaps she had gone a little too far in the opposite direction. "I didn't want to do something so 'artsy' that I would be starving for the rest of my life. But I also didn't want something so secure and boring that I just had no passion for it." She continued her search for something in the middle.
"I like problem-solving and thinking things out and being creative but in a way that's more pragmatic," Wood explained, reflecting on a conversation that led to her switching her major again. This time to architecture. While it felt like a better fit than accounting, when Wood graduated from the University of Kentucky in 2018 with her bachelor's degree in architecture, she still didn't know what she wanted to do with it.
On the night of her graduation, Wood was celebrating with friends at a bar when she met a contractor who restored historic windows and doors. At the end of the conversation, he gave her his card. Wood called him the following week and he offered her a job.
"He said, 'You can do this while you figure out what you want to do.'" She spent the summer painting doors and installing storm windows, eventually working her way up to a project management role and increased responsibility. While she learned a lot from the experience and enjoyed the work, she was still on her parent's health insurance and needed to find a steady job with benefits.
Around that time, a friend from college who was working as a code enforcement officer for Fayette County told her about an opening and encouraged Wood to apply. She did and was hired. After working in code enforcement for a little over a year, a position in building inspection opened up. Once again, she applied and was hired. She finally felt like she had found her place.
"As many jobs as I've had in my career and with all the switches that I've made, this really feels like home," she said.
Growing and learning through the Board Shadow Program
Wood is excited about the direction she is heading and seeks out new learning opportunities. She has earned her Residential Building Inspector certification and Residential Mechanical Inspector certification through the International Code Council. She is also part of the Code Council's prestigious Board Shadow Program, serving under Code Council Board Director Tom Peterson.
"I think they saw that I enjoy this," Wood said of being nominated for the Board Shadow Program. "I am going to be one of those code nerds for sure."
As part of her participation in the Board Shadow Program, Wood attended the 2021 ICC Annual Conference in Pittsburgh. One of the highlights for her was being a part of the code hearings. She said it's rare in department meetings or in conversations with contractors for someone to ask why a code exists – it just does. But the code hearings provided new insight.
"Seeing it firsthand was pretty interesting," she said. "It makes a little more sense now. Going to the code hearings, you get a better understanding of why the codes are the way they are."
Another highlight for Wood was meeting other code enforcement and building safety professionals. She enjoyed getting to know her fellow board shadows and discovering that they all face some of the same issues and situations no matter where they live in the country. She also appreciated the regional breakout sessions where she connected with others from her home state.
"There are names that I recognized from emails, but being able to meet them was a cool experience," she said. "To be able to say, 'This is our group. This is our little community. We represent Kentucky.'" Wood is grateful to have had the opportunity to attend the conference and said she would absolutely recommend the Board Shadow Program to other young professionals.
"It's definitely good for young people to see how this works," she said. "It's not just the Wizard of Oz, the man behind the curtain. This is something real that you can get involved with and make a difference." Her other advice for young professionals is to ask questions.
Developing a system for growing professionally
"As silly as you think your questions are, ask them anyway," she said. "Because if you're unsure about something and go forward with what you think it is, and you're wrong, it makes you look worse. And then you've practiced something that isn't true. But when you ask a question and get the correct response, then you can go forward and implement something that is correct. If you don't ask, you don't know."
Wood loves the learning aspect of her job and has developed a system for finding answers. First, she looks in her codebook. If she can't find the answer there, or if it seems vague, she goes to her peers. If they don't know, she then goes to her supervisor.
"I like being asked questions about things I don't know and having to find out," she said. "Being self-reliant and able to use your codebook, and understand your codebook, I would say that's also really important."
Wood lights up when she talks about her work. It's easy to imagine her as a college student trying out different paths to find one that felt right. She would like to see building safety and code enforcement introduced to high school students so they know it's a career option earlier than she did.
"At my high school, it was either you go out and get a job or you go to college, because what else is there to do? I think having that exposure at the high school level would help. If you have another option, I think more people would choose that option, or at least try it out. Even if they find out that it's not for them."
It took trying out different career paths for her to find the perfect fit, but Wood said this is the industry for her and she's glad she found it.
"I like being outside, and dealing with a real, physical world as opposed to a spreadsheet or a digital document. I feel like this is definitely that somewhere in between," she said, reflecting on her search to find a career that utilized her strengths and interests. "This feels like home."
And does the once-aspiring opera singer still sing? "Yes," she said with a laugh. "I sing in the car when I'm driving to inspections."
To help facilitate inclusive, collaborative relationships between seasoned code professionals and emerging industry leaders, the International Code Council created its Board Shadow Program — part of its successful Safety 2.0 initiative — which provides an opportunity for emerging code professionals to "shadow" the Code Council Board of Directors at its annual conference and public comment hearings, to intercept and absorb information and experience real-time leadership as they observe their board mentors.

Now in its fifth year, the program provides an opportunity for the Code Council board to connect to diverse emerging professionals from different socio-demographic backgrounds and enables senior leaders to hear a different level of thinking to real-time issues facing young code professionals today. The board gets a much broader range of views on strategic, complex and critical issues, and a feedback loop of challenge, solution, development and learning is created. The program demonstrates the benefits of investing in future code development leaders and helps create a diverse pipeline of "ready-to-go" leaders who understand and are already contributing to the construction industry.