Chapter Merit Award: Sacramento Valley Association of Building Officials
The Sacramento Valley Association of Building Officials was honored for its extraordinary performance, advocacy and commitment to code safety during 2022
Each year, the International Code Council recognizes chapters that are a reflection of what the association stands for and that promote its mission and goals. The Code Council honored two outstanding chapters for their accomplishments and contributions at the Chapter Presidents Meeting on Monday, Sept. 12, 2022, during the ICC Annual Conference in Louisville, Kentucky.
The Sacramento Valley Association of Building Officials (SVABO) was recognized by its peers and presented with the prestigious Chapter Merit Award, which recognizes a chapter that distinguishes itself through activities demonstrating the Code Council's goals and objectives.
Knowing that communities need safe, consistent building codes and enforcement, the SVABO chapter has dedicated itself to providing continued training for anyone in the building industry who wants it — from permit technicians to building officials, plan reviewers and inspectors. Even a global pandemic was not going to derail the chapter's mission to deliver training. In fact, due to SVBO's flexibility and the knowledge and experience of its instructors, the organization managed to grow during and after the pandemic restrictions. Its extraordinary efforts led to it being recognized this year by the Code Council.
"The Sacramento Valley Association of Building Officials set the bar high this year for professional development opportunities," said International Code Council Board Director Steve McDaniel, who served as the chair of the 2022 ICC Awards Committee, on presenting the award. "They enjoyed a 25-percent increase in their membership in 2022 and saw a 25-percent increase in members holding at least one ICC certification. From providing mentors for those looking to further their career in the code profession to training over 1,460 students through their digital training classes, the Sacramento Valley Association of Building Officials has actively sought out ways to support others in the industry."
Nick Henderson, CBO, North state area manager of 4Leaf in California and SVABO president, said the group is immensely honored to receive the award. "We have the best permit techs, plan reviewers, building officials and inspectors in our organization," he said. "They have worked so hard. They really earned this award."
The chapter's members and partners have lauded the group for its continued efforts to bring in new building safety workers throughout the region and to ensure that they have the best training opportunities. "SVABO's education program, in my opinion, is the best in the region," said Joseph Cuffe, principal project manager with Willdan, in a letter of recommendation for the award. "It has allowed hundreds of code professionals to earn [continuing education units] in person and remotely during the pandemic. The Education Committee, chaired by Terry Knox with Shums Coda Associates and Steve Burger of Bureau Veritas, has grown this event into the premier education event in California. The [chapter's] Code Development Committee is very active and involved in the entire code development process and partners with our colleagues in other chapters to discuss ideas and bring forward new ideas to the code hearings. And the Community Outreach Committee actively helps our communities with much-needed improvements. For example, volunteering to make much-needed improvements toward the safety and quality of life for those in need. SVABO has been a leader in promoting effective building codes, uniformity and creating a safer built environment."
Cuffe and Greg Anderson, chief building official for the city of Citrus Heights in California, in particular noted SVABO's multiple training opportunities throughout the year, via monthly webinars and an annual training institute, which Henderson said they nicknamed, "Minstitute" (short for mini institute), now called the SVABO Education Institute. The institute offers four days of in-person training based in the Sacramento Valley on myriad building safety issues such as focusing on knotty electrical problems, an introduction to permit technicians and what they do, and what it takes to become a building official.
"As an ICC Preferred Provider, SVABO is able to offer continuing education units for the classes, in-person or not. Webinars became a popular offering during pandemic restrictions," Henderson explained, "so much so that SVABO gained new members — including some from out of state — who said, 'Hey, I want to be a part of this.' And COVID was not going to stop us from our mission." Part of that mission also includes the chapter using some of its revenue to fund scholarships for those who want to continue studying to become building officials in colleges or trade schools. "Those scholarships help pay for Code Council code books and certification tests," Henderson said. "And as part of our past presidents group, we also mentor those students to help them gain a solid footing in the industry."
"The industry needs more building officials so we do whatever we can to help make that happen," said Jon May, building official for the city of Grass Valley in California, in his letter of support. "SVABO has worked diligently, both locally and regionally, to improve the quality of life in our community, including rehabilitation of housing for underprivileged residents."
As part of their outreach, Henderson said that SVABO will take up a project with the support of members and partners in the community. "There was a veteran in one of our communities who wasn't able to keep up with his home. We got some volunteers and donations from suppliers and contractors to fix up part of it, so he could live there safely."
Making new partners and prospective building officials is what it's all about," Henderson said. And he's especially thankful to have the International Code Council as partner. "The ICC provides so much support. We couldn't do any of this without them. We are immensely proud of the award they chose to give us. It's such an honor."
"Chapter presidents, my fellow board members and I understand the time and effort you contribute on behalf of your chapters," said Steve McDaniel. "Today's awards are a small token of appreciation from the board of directors and the entire Code Council membership. Congratulations to all of you and thank you for your leadership and for the work that you continue to do to support resilient construction and strong building codes."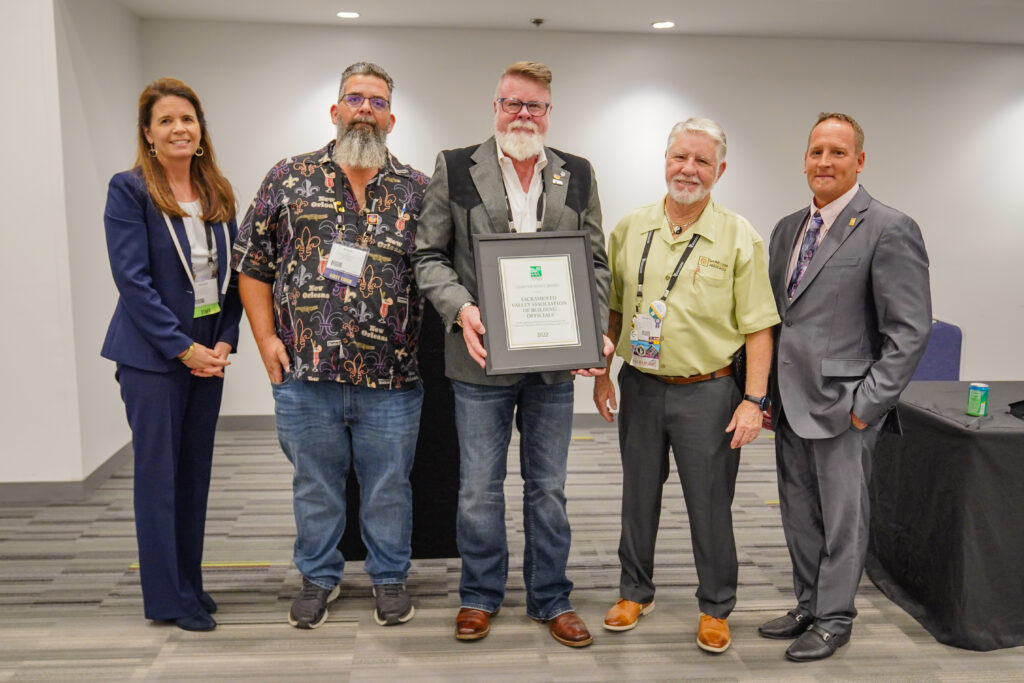 The International Code Council congratulates the Sacramento Valley Association of Building Officials as the recipient of its 2022 Chapter Merit Award.
View past recipients of the Chapter Merit Award.
---
Chapters make a difference
International Code Council chapters are groups of code officials and industry-related professionals run by volunteers who support and promote the mission and goals of the Code Council. Chapters create partnerships with members of the building community and increase public awareness about the value of code officials in our everyday lives. They provide significant support for the code development process, International Code adoptions and other important Code Council initiatives such as Building Safety Month, the Code of Honor scholarship program and the Raising the Profile campaign.
The Code Council is supported by nearly 400 chapters spread throughout the country and around the world. Chapters are designated as regional, state, local, professional, student or global depending on the geographical area they serve and the nature of their membership. Every Code Council chapter is different. Many chapters focus on a particular discipline such as building, fire, mechanical or plumbing.
Learn more about International Code Council chapters.