Rachel Patterson Nurtures Future Building Safety and Code Enforcement Professionals During Building Safety Month and Beyond
Rachel Patterson, Senior Code Enforcement Officer for the city of Westminster's Community Development Department, is at the forefront of building safety and code enforcement leadership.
Every spring, the International Code Council, its members and building industry professionals seek to raise public awareness about the importance of building safety within their communities. The second week of the 2023 Building Safety Month campaign emphasizes how important building professionals and code officials are in constructing and maintaining safe homes, businesses and schools.  These professionals ensure that buildings are constructed to withstand everyday use and potentially disastrous events such as earthquakes or tornadoes.
Rachel Patterson, Senior Code Enforcement Officer for the city of Westminster's Community Development Department, is at the forefront of building safety leadership.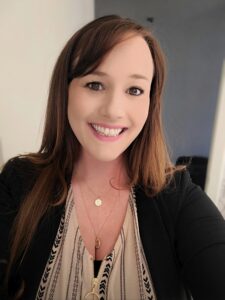 Patterson Started Code Enforcement in the Private Sector
Patterson collaborates with many departments, including fire and building departments, to investigate and enforce municipal, development, safety and land use concerns.
She works with citizens, along with property and business owners, to address quality of life concerns, such as blight nuisances.
"Being a part of making the world a safer place is so beautiful," she said. "Helping others is something we have a duty to do, and, in my career, I get to accomplish this every day."
Patterson is also a Sustainability Specialist for Shums Coda Associates, which works to bring the International Energy Conservation Code® (IECC) resources to local building departments.
Safety 2.0

Initiative Supports Emerging Building Safety and Code Enforcement Leaders
Involving youth in the industry with programs like Safety 2.0, the Code Council's initiative for supporting new building safety professionals is especially exciting for Patterson.
The program offers training for students in high schools, colleges and trade schools, as well as a variety of mentorship and leadership programs. Patterson took advantage of the program herself by becoming a Code Council board shadow in 2021.
"This program is fantastic," Patterson said. "Understanding the power of these resources and opportunities is beyond valuable for younger code professionals looking for direction and answers. I love the collaborative environment and relationships created."
Patterson Offers
Code
Education
an
d Outreach
Patterson offers various platforms for those in the industry, as well as the public, to understand building codes, including webinars to learn about different topics in code enforcement.
She also developed an animated series, "Fiona the Fox", to educate kids about public safety professions, and community concerns like snow removal.
SEE RELATED: Bringing building safety to younger generations
"Gaining knowledge and hands-on experience for primary and secondary school children motivates me," she said. "The children's show I co-created is to help kids understand not only why codes are in place, but also how to use them. Plus, they learn how to engage with local governments whenever there are safety code issues that might affect quality of life."
During Building Safety Month and beyond, Patterson hopes to expand school career days to encourage younger generations to enter the building industry. She looks forward to sharing the importance of building safety code work with students and encourages youth to explore this career that she finds so gratifying.
"I'm a lifelong code lover and enjoy participating in the creation of new codes and regulations."
Mentorship is Crucial to a Fulfilling Code Enforcement Career
Reflecting on 16 years in the building code industry, Patterson is grateful for the advisors and mentors who have shepherded her career.
"I have been privileged to gain knowledge from many individuals," she said. "Time is a gift given that can never be recouped. I feel lucky to have had so much help along the way."
She's learned to be willing to pivot in this rapidly changing industry and in the world at large. She recalled a favorite quote by journalist Margaret Fuller: "Love what you do and allow others to light their candle in your knowledge."
Compassion is Key in Building Safety and Code Enforcement Work
Compassion, innovation and passion are all a part of Patterson's strategy.
"You have to want better for the world," she said. "If you have that mindset, then you realize that what you're doing has the potential to save a life. You need to be able to listen with your ears, body, heart and soul, but, most importantly, you must have integrity in everything you do, in every decision you make."
Patterson appreciates the opportunity to help individuals and homeowners find resolutions, and not just by providing code expectations and deadlines. "Utilizing experiences and data to create or modify codes is an incredible feeling," she said. "Once you help others understand the importance of the codes, you see them appreciate the process. The work we do every day can and does save lives."