William Dupler honored with 2021 Bobby J. Fowler Award for integrity, professionalism and compassion

Each year, the International Code Council recognizes peers and colleagues who are a reflection of what the association stands for: dedication to developing model codes and standards used in the design, build and compliance process to construct safe, sustainable, affordable and resilient structures. The Code Council honored several outstanding individuals and organizations for their accomplishments and contributions to building safety and resiliency in their communities during the 2021 Annual Conference in Pittsburgh, Pennsylvania.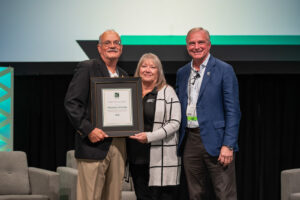 The Bobby J. Fowler Award is the most prestigious award presented by the Code Council. It honors the memory of the first chairman of the Code Council Board of Directors who led the charge to consolidate three regional model code organizations into one association. This award is presented to a leader who demonstrates integrity, professionalism and compassion in furthering the noble cause of the Code Council. This year's Bobby J. Fowler Award was presented to William "Bill" D. Dupler, a past president of the Code Council Board of Directors (2011–2012) and former Deputy County Administrator for Community Development for Chesterfield County, Virginia, during the ICC Leadership Luncheon on Monday, Sept. 20, 2021, in Pittsburgh, Pennsylvania.
Dupler personifies the spirit and essence of the Bobby J. Fowler Award. His lifelong contribution to the building safety and code industry and the International Code Council has helped to advance the built environment. He has cultivated a broader understanding of the importance of modern building codes and standards nationally and locally among code officials, home builders and other building safety professionals.
Dupler has served the code industry for more than 40 years — most recently as Chesterfield's County Deputy County Administrator of Community Development. Dupler worked in Virginia as a plans examiner, engineering supervisor, deputy building official and building official and in these roles, he oversaw building inspection, community enhancement, economic development, environmental engineering, planning, transportation and utilities. Over his career, Dupler worked with state authorities and local contractors to coordinate numerous county initiatives to assist residents and businesses. He also initiated a Code Update Training educational program for local homebuilders and their subcontractors and consultants to talk about state and Code Council code changes, and how these changes directly impact their work. His experiences as a Code Council volunteer on various committees, such as a chapter leader and board member, prepared him for many challenges and opportunities throughout his career.
He also served on the Code Council Board of Directors for 11 years as a director, secretary/treasurer, vice president and finally as president. As a director, he focused on supporting the members and positioning the association for success in the future. Due to his tireless efforts and forethought, Dupler was chosen as Code Council president in 2011 during the Annual Business Meeting of the 2011 Annual Conference in Phoenix, Arizona, to lead the association into a new era. During his tenure, he implemented Year of the Member initiatives and expanded opportunities for all Code Council members and other stakeholders to have meaningful input in the governmental consensus process used to develop the International Codes. He also was directly involved with the cdpACCESS Steering Committee developing and testing cdpACCESS, the application that facilitates online voting by Code Council Governmental Members, which was introduced in 2012.
William Dupler is a respected leader, advocate and ICC honorary member. The Code Council is grateful for his service to the building and code development community and his support and dedication to the association and its mission. His service personifies the spirit of the Bobby J. Fowler Award as a leader who demonstrates integrity, professionalism and compassion in furthering the noble cause of the Code Council.
View past recipients of the Bobby J. Fowler Award.
Read more on William Dupler in this perspective piece for the Building Safety Journal.