Advancements in Hydrogen Use as a Carbon-Free Fuel
More countries around the world are replacing natural gas used for heating, fueling vehicles, generating electricity and other industry operations with hydrogen.
According to the U.S. Environmental Protection Agency, greenhouse gases from human activities have been the significant driver of observed climate change since the mid-20th century. Over the years, researchers and industry professionals have been considering the use of hydrogen as a carbon-free fuel to help aid decarbonization efforts around the world.
However, the challenge lies in finding a productive way to reduce energy-related greenhouse gas emissions while still providing enough energy for the world's growing population. To solve this, researchers have been evaluating emerging energy technologies that have the potential to significantly reduce the reliance on carbon as an energy carrier, specifically hydrogen fuel.

What is Hydrogen Fuel?
Hydrogen is the lightest, simplest and most abundant element, making up 75 percent of the mass of the universe. It is a type of fuel that is produced from a wide variety of resources including natural gas, nuclear power, biomass and renewable sources like solar, wind and water.
Hydrogen is considered a clean and sustainable fuel source because water is the only byproduct. In contrast, traditional fossil fuels emit greenhouse gases when burned.
To build cleaner fuel networks, we must first understand the benefits of hydrogen and then conduct real-world testing and research for each intended use.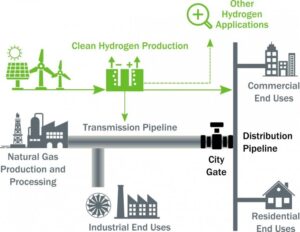 Hydrogen

Fuel

on

a Global Scale
More countries around the world are replacing natural gas used for heating, fueling vehicles, generating electricity and other industry operations with hydrogen.
Hydrogen has been regarded as the future fuel of choice for decarbonization with applications ranging from light and heavy-duty vehicles to fuel for ships and airline transportation. Its fuel cells can also power laptops and cellphones, and supply electricity to power grids and heating buildings. NASA has even used hydrogen fuel cells to power electrical systems on spacecraft.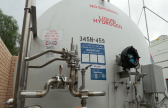 Hydrogen is also used heavily in processing industries. Green steel production uses hydrogen to reduce iron pellets into sponge iron, which is metallic iron that can be processed to form steel. This process is done at high temperatures but below the melting point of iron (1472°F – 2192°F), which saves energy. 
Currently, the UK has plans to add hydrogen to its main gas pipeline by 2025. Between two percent and five percent of the fuel flowing through the country's transmission network will be hydrogen in two years.
In Europe, natural gas is the second largest energy source, with oil (crude oil and petroleum products) being the largest source. European policymakers are increasingly acknowledging the important role that hydrogen plays in existing gas networks to help meet goals for decarbonization while simultaneously offering minimal disruptions for consumers.
Hydrogen Fuel Use in the United States
The United States produces more than 10 percent of the global hydrogen supply and plays an important role in developing the global hydrogen economy. In Nov. 2021, the Federal Government funded the U.S. Department of Energy (DOE) with 9.5 billion dollars to allocate towards hydrogen research and development for multiple uses of the fuel both now and in future applications. 
The DOE's clean hydrogen strategy is broken up into three key strategies:  
Target strategic, high-impact uses for clean hydrogen

 
Reduce the cost of clean hydrogen

 
Focus on regional networks

 
Through these strategies and with support from federal funding, the DOE has established short-, mid- and long-term objectives to introduce hydrogen into the built environment. However, the range of hydrogen use will depend on various barriers to market adoption, including challenges in building storage and infrastructure.  
Short-Term Objectives (2022-2025): 
Lay regulatory groundwork for large-scale clean hydrogen deployments

 

Identify regulatory and policy gaps

 

Develop streamlined guidance on hydrogen pipeline and large-scale project permitting

 

Initiate transition to clean hydrogen for hard-to-carbonize applications

 

Advance efficient end-use technologies

 

Improve data collection to quality climate impacts of hydrogen leakage

 

Develop best practices and guidance to assess life cycle emissions of deployments

 
Mid-Term Objectives (2026-2029):  
Enable international harmonization of codes and standards

 

Develop market structures and address regulatory barriers to increase electrolyzer access to renewable energy

 

Share safety best practices and lessons learned through publicly accessible platforms 

 

Deploy at least two clean hydrogen hubs demonstrating use in hard-to-decarbonize sectors

 

Develop national guidance for hydrogen blending limits

 

Supply clean hydrogen to produce at least 3 billion gallons of sustainable aviation fuels from biomass and wastes by 2030

 

Increase efficiency and cost-effectiveness of recovery and recycling of raw materials

 
Long-Term Objectives (2040-2050) 
Implement blending hydrogen in natural gas for heat
How to Develop
a Safe and
Clean Fuels Network
Hydrogen blending into natural gas has important implications for safety which need to be evaluated. Research is ongoing in studying the effects of blending up to 30 percent of hydrogen with natural gas.
It is essential that researchers consider the potential for hydrogen leakage due to its small molecular size. Hydrogen has a wide flammability range (4 – 75 percent by volume) and relatively low ignition energy (0.02 millijoules).
Also, it is important to research the effects of blended fuels on existing natural gas pipelines, distribution lines as well as valves, fittings, flanges, gaskets, venting systems and appliance performance. Hydrogen may damage certain materials, an occurrence known as hydrogen embrittlement, which can be complex and vary with physical parameters such as temperature and pressure.
By conducting studies, researchers can demonstrate safety in infrastructure and appliances, enhance a community's clean energy economy and resiliency, establish hydrogen blending codes and standards, reduce hydrogen costs through production and delivery, maintain energy reliability and affordability, and much more.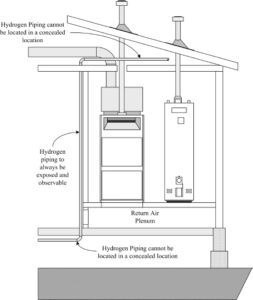 So
Cal
Gas
and University of California, Irvine Research Hydrogen Fuel
So Cal Gas and the University of California, Irvine (UCI) have joined forces to study how electrolytic hydrogen can be safely blended into the existing natural gas infrastructure. The goal of the study is to better understand how clean fuels, like hydrogen, could be delivered at scale through existing natural gas systems.
Through the study, researchers are using an electrolyzer to convert water into hydrogen for blending into the existing gas grid of the UCI campus, powering residential and light commercial equipment, including water heaters, boilers, furnaces and ovens.
The study is an essential first step towards establishing an injection standard for renewable hydrogen and significantly lowering greenhouse gas emissions.
Breakthrough Technology
for Hydrogen Fuel
In October 2022, two companies, Oceanit and Hawai'i Gas, partnered with the DOE to pilot breakthrough technology that is anticipated to safely transport hydrogen fuel through the U.S. Natural Gas infrastructure, which is the most efficient and economical method.
The collaboration will utilize Oceanit's HydroPel technology, a treatment that can be applied to existing steel pipeline infrastructure to help reduce hydrogen embrittlement and decrease operating costs, with Hawai'i Gas' existing pipeline network. This collaboration will help diminish the technical challenges of increasing higher amounts of hydrogen into the natural gas supply.
Codes
and Standards
R
eferencing Hydrogen
Designers and installers of systems that utilize hydrogen gas blending into natural gas distribution systems need to adhere to codes and engage with local code officials to obtain safety and permitting approvals.
The International Code Council's International Codes (I-Codes) currently address systems that use pure hydrogen and include no provisions for blending hydrogen into natural gas. Codes and standards must be updated and considered to address safety gaps when injecting hydrogen into the natural gas infrastructure.
Due to the increased focus on hydrogen fuel and the need for updated codes and standards, the Code Council's PMG Code Action Committee (PMGCAC) has developed a Hydrogen Working Group. This working group is made up of industry experts, academia, building and fire officials and other interested parties who will review the current requirements in the I-Codes that address the use of hydrogen and assess the need for additional safety measures based on the current use of hydrogen in the built environment.
Currently, requirements hydrogen exist in the International Fire Code®, International Building Code®, International Residential Code®, International Fuel Gas Code® and the International Mechanical Code®. The working group will address additional uses and submit recommended revisions and/or new code proposals for the 2027 code development cycle.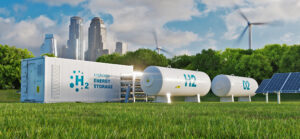 Preparing for Hydrogen in the Built Environment
With the additional funding made available to support the use of hydrogen, it is safe to say that the use of this climate-friendly fuel will continue to grow in both the transportation industry and the built environment.  
The Code Council and its members will continue to review research to identify provisions necessary to ensure the safe and efficient use of hydrogen now and in the future in the built environment.  
To learn more about the progress of hydrogen use in the U.S., and around the world, be sure to visit the Department of Energy's Hydrogen Program website. 
For information on the safe use of hydrogen, view The Center for Hydrogen Safety's website.