Board Shadow Program participant Ayiende Toby
Encouraging and inspiring tomorrow's leaders: Board Shadow Program participant Ayiende Toby
Ayiende Toby is a plans examiner for the city of Augusta, Georgia, which is a long way from the Caribbean nation where he was born and raised. As a child growing up in Trinidad and Tobago, Toby dreamt of being an architect. When his parents gave him the option to move to the United States for high school or stay in the Caribbean until he graduated, Toby evaluated that decision through the lens of his career aspirations. Even at a young age, he recognized that the technical classes his local high school offered, like woodworking and technical drawing, would benefit him in the long run. So he stayed.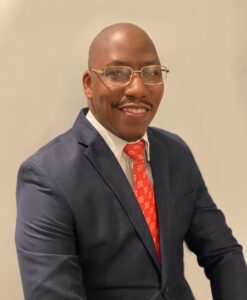 "I'm thankful to my parents for allowing me to make that decision," he said. "It shaped me into who I am now."
Toby graduated from high school and moved to New York at age 17. He found ample work as a laborer for various construction companies but had his sights set on future goals. His curiosity about buildings and designs inspired him to teach himself how to use AutoCAD, Bluebeam, PlanSwift and estimating software. Those self-taught skills and knowledge led to jobs working in computer-aided design (CAD) departments for window manufacturers and calculating estimates for contractors.
Sixteen years ago, Toby met the woman who would become his wife, and they got married nine years ago. Soon, they were ready for a change. They wanted to raise their children away from the hustle and bustle of the big city, so they left New York and headed south.
"When I moved to Georgia four and a half years ago, that's when I fully got into the codes," Toby said. "There was an opening for two jobs. One was for an assistant plans examiner, and the other was for a building inspector. Luckily, I got hired for the assistant plans examiner role. I then pursued my profession as a plans examiner. Multiple certifications later, I am a plans examiner with the city of Augusta, responsible for all residential plan review."
Toby started working for the city of Augusta in 2018. Since then, he has earned eight International Code Council certifications: Building Plans Examiner, Commercial Building Inspector, Residential Building Inspector, Residential Energy Inspector/Plans Examiner, Property Maintenance and Housing Inspector, Zoning Inspector, Commercial Plan Reviewer, and ICC/AACE Certified Code Enforcement Officer.
"I kind of just got hungry after the first one," Toby said. "It was a great feeling, so I kept going. But I'm not just earning them to have them for bragging rights. Every certification I have is practical to what I do daily. I am the unofficial liaison between the building department and the code enforcement division. I interact with them daily on any questions or concerns they have. I bridge that gap." Toby also liaisons with the zoning department, flood plain manager and other teams. The broad knowledge he is gaining through ICC certifications opens doors and gives him additional opportunities to help his community.
Toby has also been taking classes at Augusta Technical College. On May 14, 2022, he graduated with honors and a degree in business management. With his strong work ethic and desire to learn, it's no surprise that Toby was selected to participate in the Code Council's prestigious Board Shadow Program. He connected with past Code Council Board Director Donny Phipps and attended the 2021 International Code Council Annual Conference in Pittsburgh, Pennsylvania.
"The experience was phenomenal," Toby said. "It was like a breath of fresh air to see so many like-minded individuals who share common interests in the codes. It had me come out of my comfort zone and build relationships with people across the country. But my main takeaway was how receptive the board members were to us shadows and our ideas, specifically Donny. He was very helpful and instrumental in me joining multiple membership councils and even being a member of [ICC] Region 8, which is something I would have never done had I not met him."
Toby also appreciated Phipps sitting with him during the code hearings and explaining the process. Had he attended the code hearings on his own, he said they would have been difficult to follow. But Phipps walked him through each step, sharing reasons to vote for or against each decision and explaining how the outcomes would impact future code cycles. As someone who loves to learn, Toby soaked up the experience.
"I highly recommend participating in the Board Shadow Program," he said. "This is a life-changing experience. Some of the people I met, I still talk to them. If I have a question, I can reach out to them. Had I not taken this avenue or been exposed to this I would not have such great relationships with so many influential people. This is a good thing that the ICC has going on, and it should be something that everyone gets involved in so they can understand code hearings and why people do testimonies. This really enhances life safety and the future of the codes."
The support and guidance Toby experienced at the annual conference is something he has felt ever since he joined this industry. His first mentor was an architect he met in his early days as an assistant plans examiner.
"I was blessed to have an architect as a mentor. He had years of experience and wisdom. He had an architect license in multiple states and was also a building official, so he taught me the design professional's point of view and the code official's point of view. It was the best of both worlds and made it easy for me to grasp plan review." Toby values the support he has received and encourages other young professionals to seek out industry connections.
"My advice would be to reach out to everyone within the ICC community," he said. "Sign up for as many membership councils and local chapters as possible. Basically, get involved."
Now, Toby is paying forward the kindness he has received by helping others. His favorite thing about his job as a plans examiner is being able to serve the citizens of his community.
"It brings me joy to educate the public," he said. "Whether it's a design professional, staff member, contractor or homeowner, it's something big for me to be able to educate them on life safety, zoning, code enforcement and flood hazards. I take pride in the enforcement of codes and in the educational experiences, teachable moments and interactions with the public."
Toby loves serving the community he calls home now, and he would also love the opportunity to serve the community in which he grew up. He follows the Code Council's work supporting jurisdictions in the Caribbean and hopes to get involved one day. It would bring things full circle for the teenage boy who left Trinidad and Tobago years ago to follow his dreams.
"Eventually, I want to be able to represent ICC on the level of making the codes more available and bringing more awareness to the Caribbean. I would like to one day be able to be a part of a committee that gives back. With my knowledge, being from the Caribbean, and what I've learned, benefiting from both the U.S. and Caribbean school systems, being able to give back in some way would be something that I look forward to."
To help facilitate inclusive, collaborative relationships between seasoned code professionals and emerging industry leaders, the International Code Council created its Board Shadow Program — part of its successful Safety 2.0 initiative — which provides an opportunity for emerging code professionals to "shadow" the Code Council Board of Directors at its annual conference and public comment hearings, to intercept and absorb information and experience real-time leadership as they observe their board mentors.

Now in its fifth year, the program provides an opportunity for the Code Council board to connect to diverse emerging professionals from different socio-demographic backgrounds and enables senior leaders to hear a different level of thinking to real-time issues facing young code professionals today. The board gets a much broader range of views on strategic, complex and critical issues, and a feedback loop of challenge, solution, development and learning is created. The program demonstrates the benefits of investing in future code development leaders and helps create a diverse pipeline of "ready-to-go" leaders who understand and are already contributing to the construction industry.