Board Shadow Program participant Daniel Dabler
Encouraging and inspiring tomorrow's leaders: Board Shadow Program participant Daniel Dabler
Talking to Daniel Dabler, MCP, will put a smile on your face. He embraces new challenges, creates his own opportunities and believes in working hard. He also routinely pushes himself beyond his comfort zone in pursuit of personal growth. With these qualities, plus a passion for the building safety industry, it is no surprise that he is achieving great things.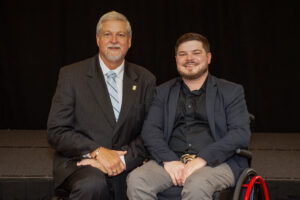 Dabler is a building inspector for the Clark County Building Department in Vancouver, Washington. He is the president of the Chemeketa Chapter of the International Code Council, which was also honored with the 2021 Chapter Merit Award for distinguishing itself through activities demonstrating the Code Council's goals and objectives. Chemeketa Community College and its Chemeketa Chapter have been powerhouses in developing skills and knowledge in new generations of code officials. He has also achieved the Code Council's prestigious Master Code Professional (MCP) designation and was recognized as the 2021 Oregon Building Officials Association Most Motivated Go-Getter. This would be an incredible list of achievements for anyone, but especially so for Dabler who began his career in building safety just a few years ago in 2019.
"I would never have thought this is what I was going to be doing," Dabler said. "Trade work doesn't get talked about a whole lot in high school these days, let alone the aspect of being an inspector or a plans examiner. But it's a great path, and I think it should be talked about more."
Dabler was working for a remodeling company in Salem, Oregon, when he first learned about the building safety industry. At that time, he had no idea what the work of a building inspector or plans examiner entailed.
"Every time I was on a job site, and somebody told me to do something a specific way, I would ask why. Knowing the why behind something helps me remember how to do it. But I started to notice that no one could tell me why we needed to do things a certain way. I felt like there was a deeper side to it and more to learn. That got me interested in the idea of being an inspector or a plans examiner and getting into the building safety career path."
Dabler applied to the Building Inspection Technology Program through Chemeketa Community College in Salem. "They take about 30 students a year, and I got in," he said. Less than a year into the two-year program, Dabler was in a motorcycle accident that left him paralyzed from the chest down. Despite spending a month in the hospital and having to relearn how to do everything in a wheelchair, he only missed two school terms. He didn't let the accident or those missed terms slow him down.
"I wanted to start working. I knew it would make life really hectic when the terms that I needed to finish came back up," he said. "Classes are Monday through Thursday evenings for about three hours a night, and I knew that was going to be a lot, but I wanted to start applying for jobs."
To make himself a more competitive candidate, Dabler worked for a code consulting company for free, in exchange for being taught about plan review. That company later offered him a job, but his sights were set on working for a jurisdiction. Once he started applying, he received multiple offers.
As he was settling into his role as a building inspector, Dabler learned about the Code Council's Board Shadow Program. He had connected with a few Code Council board members on Linkedin, and, as he got to know them, they said they liked his attitude, and he seemed like a good candidate for the program. They put him in touch with Alan Boswell, who had an open spot, so he applied.
"It couldn't have come at a better time," Dabler said. "I was trying to further my career and take on as much as I could to submerge myself in it. The Board Shadow Program is something that takes you from just touching the surface to getting submerged in a big network of great people with tons of experience."
One of the highlights of the Board Shadow Program for him so far has been the opportunity to attend the recent conference and code hearings in Pittsburgh, Pennsylvania. From meeting the International Code Council Board of Directors to learning new things about codes and building safety, Dabler said the experience was incredible. He is also grateful for the network of colleagues and friends he developed that week.
"I couldn't believe how good of a group the board shadow cohorts were. Everyone was so nice and genuine, and we were all there to learn. By the second day, once everybody had let their walls down, it was like we had all known each other for a long time. Being able to build relationships to that caliber with individuals who are on the same path as you spread out around the country — that's amazing."
Despite being an outgoing person, Dabler was nervous about attending the conference. Flying across the country to meet new people and learn about and discuss industry topics with more experienced professionals is one thing. Making that trip while navigating a wheelchair that he had been in for less than a year made it even more challenging. Looking back, he said he would do it again in a heartbeat.
"It was not the easiest thing, but I am so happy that I did it. It was a great experience. You have to take those steps out of your comfort zone. That's where you learn so much about yourself."
One thing Dabler loves about this industry is the opportunity for continued growth. "You could spend your whole life doing this, and you still wouldn't know everything there is to know," he said. "There is always room for improvement. You can make this career whatever you want it to be, depending on how much you put into it."
Dabler encourages anyone considering a career in the building safety industry to be proactive about making connections. "A big part of this career path is taking steps out of your comfort zone, networking and getting to know people," he said. "In today's world, it's hard to network in the same way that you could just a few years ago. Now it's a different dynamic. Linkedin was a way to show who I am to other individuals in the industry. If I hadn't done that, I would not have had the great opportunity to go to the conference as a board shadow."
He also recommends not being afraid to fail. "Go into it with an open mind," Dabler said of trying new things. "If it works, it could be the greatest thing you ever did. If it doesn't, it will lead you to the next thing."
To help facilitate inclusive, collaborative relationships between seasoned code professionals and emerging industry leaders, the International Code Council created its Board Shadow Program — part of its successful Safety 2.0 initiative — which provides an opportunity for emerging code professionals to "shadow" the Code Council Board of Directors at its annual conference and public comment hearings, to intercept and absorb information and experience real-time leadership as they observe their board mentors.

Now in its fifth year, the program provides an opportunity for the Code Council board to connect to diverse emerging professionals from different socio-demographic backgrounds and enables senior leaders to hear a different level of thinking to real-time issues facing young code professionals today. The board gets a much broader range of views on strategic, complex and critical issues, and a feedback loop of challenge, solution, development and learning is created. The program demonstrates the benefits of investing in future code development leaders and helps create a diverse pipeline of "ready-to-go" leaders who understand and are already contributing to the construction industry.