Board Shadow Program participant Serena Locke
Encouraging and inspiring tomorrow's leaders: Board Shadow Program participant Serena Locke
Serena Locke says it was luck that led to her career as a building permit technician for Jackson County Development Services in Medford, Oregon. However, it's likely that her natural ability to connect with people, her love of learning and her passion for helping others also helped manifest her unexpected career change in September 2016.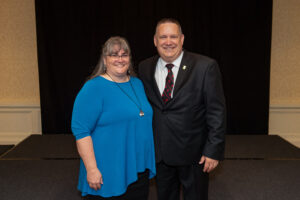 Locke wasn't feeling supported at her previous job, but she also wasn't looking for a new one when an acquaintance encouraged her to check out an open position with the county. The job description sounded interesting, so Locke applied, got an interview, clicked with the management and soon found herself in a role and industry she loves.
"I liked what I did before this," she explained. "But there wasn't the support system that I have now, with coworkers and management supporting me. Everyone is so supportive here."
Accomplishing goals through education and teamwork
Despite coming from an unrelated industry, Locke has already made a name for herself in this one. She is vice president of two International Code Council chapters – the Oregon Permit Technicians Association (OPTA) and PermitTechNation (PTN). She was the May 2021 Jackson County Employee of the Month and the PTN 2021 Permit Tech of the Year. Locke achieved all of this after switching industries mid-career, yet remains humble about her accomplishments.
"I like helping the customers. I like helping my coworkers. I like helping the inspectors. Whatever needs to get done, I like helping people figure out what they need to do," she said.
Locke is also grateful for those who help her. From her very first day on the job, she realized she was in an environment where learning, education and teamwork are valued.
"We had three permit techs all start at the same time, and our trainer was amazing. She has been in the industry for a long time, so she knew what information to give us," Locke said. "My boss, Ted Zuk, is also really supportive of us educating ourselves and says if we want to learn something new, then we should go for it."
Discovering the ICC Board Shadow Program
Once she settled into her new role, Locke started studying for her International Code Council certification. It wasn't a job requirement, but it was a goal she wanted to accomplish for herself. And she did. In 2018, Locke earned her ICC Permit Technician certification. Along with everything else she has accomplished, Locke is also part of the Code Council's Board Shadow Program. She had heard about the program through colleagues and wanted to experience it for herself.
"I totally knew about the program," Locke said. "I wanted to see behind the scenes and know more about the [Code Council]. And the board members we always see in our meetings, I wanted to know what they do." Locke asked Code Council Board Director Jim Sayers if she could be his board shadow. She had met him at a few events and was impressed by how approachable he was. Sayers said yes.
As part of her participation in the Board Shadow Program, Locke attended the 2021 ICC Annual Conference in Pittsburgh. She had attended the 2019 event in Las Vegas through her involvement with OPTA but said this time was different. While her first conference was overwhelming because she was still brand new to the industry, a highlight of the Pittsburgh experience for her was feeling like part of the community.
"It was nice to see how inclusive the board was," she explained. "They were very engaging and friendly and inclusive. You're wondering, 'Where do I fit in in this scenario?' And they just welcome you in. It was really nice." As for her fellow board shadows, Locke said, "Oh, we were a cool group."
In addition to helping her make new connections and strengthen existing ones, the Board Shadow Program has also given Locke a better understanding of how the Code Council works. She said she would "100 percent" recommend the program to others who are new to the industry, whether they have recently graduated from school or are making a career change as she did. Locke also advocates for mentorship.
Stressing the importance of mentoring and participation
"There are so many options in the building industry. Find people that can help mentor you and guide you in the career path you want to take," she urged. "I have great mentors. Besides my boss, I also have great mentorship through PermitTechNation. The past presidents have been outstanding, and I can't say enough about how nice it is between that and the OPTA chapter. Everybody wants to help you grow and be better at whatever you want to do in this part of the industry."
Locke also recommends Code Council chapter participation, whether someone is new to the industry or not. "You can learn more and have more resources at your fingertips by joining ICC chapters, going to those events and meeting new people," she said. "It also helps you build friends outside of your workplace, so you have a network of friends and colleagues that you can reach out to for opinions and questions."
As a permit technician, Locke answers questions all day, every day, and loves it. She enjoys helping first-time homeowners, as well as contractors who have been in the industry for 30 years. She also enjoys working with colleagues in her department, as well as her larger network across the industry. She is at a place in her career where she feels supported and gets to do the things she loves: problem-solving, collaborating and contributing. Whether it was luck or something else that led her here, Locke has found her calling.
"I like helping people," she said. "And I like being part of a team. I really do mean that."
To help facilitate inclusive, collaborative relationships between seasoned code professionals and emerging industry leaders, the International Code Council created its Board Shadow Program — part of its successful Safety 2.0 initiative — which provides an opportunity for emerging code professionals to "shadow" the Code Council Board of Directors at its annual conference and public comment hearings, to intercept and absorb information and experience real-time leadership as they observe their board mentors.

Now in its fifth year, the program provides an opportunity for the Code Council board to connect to diverse emerging professionals from different socio-demographic backgrounds and enables senior leaders to hear a different level of thinking to real-time issues facing young code professionals today. The board gets a much broader range of views on strategic, complex and critical issues, and a feedback loop of challenge, solution, development and learning is created. The program demonstrates the benefits of investing in future code development leaders and helps create a diverse pipeline of "ready-to-go" leaders who understand and are already contributing to the construction industry.