Board Shadow Program participant Paul Messplay
Encouraging and inspiring tomorrow's leaders: Board Shadow Program participant Paul Messplay
When Paul C. Messplay, IV, MCP, CBO, CFM, embarked on a summer road trip in 2011, he could not have predicted the career path that would soon unfold before him. Having just earned a master's degree in public administration and facing an unwelcoming job market, Messplay set off across the country, hoping the open road would help him figure out what to do with his life and career.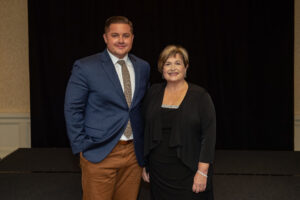 Ten years later, through a series of unexpected events and a willingness to say yes to new challenges, Messplay is a code and regulation specialist with the Virginia Department of Housing and Community Development. He is also one of the youngest International Code Council members to have achieved its prestigious Master Code Professional (MCP) designation. "There was a lot of serendipity, being in the right place at the right time," Messplay said. "I feel very fortunate to be where I am."
When Messplay returned from his road trip, he responded to several Craigslist ads, one of which was posted by a real estate agent looking for help processing contracts. The two hit it off, and Messplay was hired. A few months later, however, a spinal embolism left the real estate agent paralyzed. Suddenly, he needed an agent to sell properties. Paul Messplay quickly obtained his real estate license to help.
His experience with real estate led to renovating houses with his grandfather and ultimately leading a small construction crew doing historic renovations in and around Richmond, Virginia. When he and his wife discovered that they were expecting a child, Messplay realized that he needed a job with benefits, so he took his next career leap.
"The motto of my career has been saying yes to things I don't understand yet, which so far has worked out," he said. He found a job listing for a position as a building plan reviewer in a local county and decided to apply. With his extensive experience reviewing construction plans and his Class A contractor license, it sounded like it might be a good fit. "I applied, got interviewed, got the job and started reviewing plans. Then I learned about the Code Council and the certification requirements for being a plan reviewer. At that point, I was absolutely hooked."
That first role led to others with increasing scope and responsibility. Paul Messplay also started pursuing multiple certifications through the Code Council; setting goals, studying and achieving them. He now works under Cindy Davis, CBO, deputy director of the Division of Building & Fire Regulations for the Virginia Department of Housing and Community Development, and president of the Code Council Board of Directors.
"My favorite thing about my current job is my ability to interact with building officials across the state and help them solve problems for their specific jurisdictions," he explained. "That is super rewarding. I really like that feeling of being able to help people, and I think this position affords me that opportunity to a great deal."
When Davis approached him in early 2021 about the Code Council's Board Shadow Program, Messplay had no idea what to expect. As usual, however, he said yes to the new opportunity in front of him, confident that he could figure it out. "Up to that point, my relationship with ICC was very much from the consumer side. I had never experienced the back end of it and the business structure. It seemed like a great opportunity to get a peek behind the curtain, understand the functions of ICC a bit more, and learn what goes into everything that I was used to on the consumer side."
Before becoming part of the Board Shadow Program, Messplay had never been to a conference, but he did have the opportunity to attend the code hearings in Las Vegas in 2019. He received a scholarship through the Code Council to attend and said otherwise he would not have been able to go. The recent meeting in Pittsburgh was his first time at a conference and his second at the hearings. "There is a whole itinerary of events for us to attend, so we see the same crew of people who are in the Board Shadow Program at each of the events throughout the conference," he said. Some also attend after-hours social events and networking opportunities.
While Messplay would attend the code hearings without being part of the Board Shadow Program, he said the opportunity to participate is a big draw for some of his peers. "I would still go to the code hearings because it is such an important part of my job. We must understand what's happening at the national level because our Virginia codes are modeled after those. But for some of the other board shadows, they may be coming from a jurisdiction, as I did, that doesn't have the finances to send them. I think getting to experience something like that is a huge selling point [for the Board Shadow Program]."
Despite still being a young professional in his field, Messplay is already thinking about how to engage the next generation. It wasn't until he started working in construction and renovating houses with his grandfather that he discovered the roles of building inspectors and plan reviewers. He would like to see the industry appeal to young people sooner, so they recognize it as a career option. "I think the ICC Technical Training Program is a phenomenal vector for getting in front of the younger generation, especially those who are more hands-on with the type of career they want to have. I would love to see that expand more."
Paul Messplay offered three pieces of advice for anyone considering a similar career path. First, make yourself more marketable by being flexible and having the desire and willingness to wear multiple hats. Second, study the energy codes. He believes reading and understanding energy codes will be the in-demand skills of the future. Third, learn how to communicate effectively with different people. Know your audience — contractor versus homeowner versus building official — and be able to speak their language and explain things in words they understand.
Messplay loves what he does and is a passionate advocate for the industry. Being part of the ICC Board Shadow Program is another accomplishment in an already successful career. "I've had a wonderful career so far," Messplay said. "It's been a phenomenal experience that I wouldn't have otherwise had if it wasn't for luck and being at the right place at the right time. If anyone is reading about becoming a building inspector or a building official or a plans reviewer and they don't know what all is involved, my advice is to say yes and then figure it out."
To help facilitate inclusive, collaborative relationships between seasoned code professionals and emerging industry leaders, the International Code Council created its Board Shadow Program — part of its successful Safety 2.0 initiative — which provides an opportunity for emerging code professionals to "shadow" the Code Council Board of Directors at its annual conference and public comment hearings, to intercept and absorb information and experience real-time leadership as they observe their board mentors.

Now in its fifth year, the program provides an opportunity for the Code Council board to connect to diverse emerging professionals from different socio-demographic backgrounds and enables senior leaders to hear a different level of thinking to real-time issues facing young code professionals today. The board gets a much broader range of views on strategic, complex and critical issues, and a feedback loop of challenge, solution, development and learning is created. The program demonstrates the benefits of investing in future code development leaders and helps create a diverse pipeline of "ready-to-go" leaders who understand and are already contributing to the construction industry.