Ensuring a safer future through training and education

The building safety industry is poised to explode with opportunity for young qualified professionals during the next 15 years as seasoned construction industry veterans prepare to retire from the building safety industry, according to a survey conducted by the National Institute of Building Sciences in 2014. A tremendous opportunity is set to open up for the entire building industry, including a new generation of building inspectors, code officials and construction professionals.
Building safety professionals play a major role in keeping the public safe. They ensure that all buildin

gs, including homes, businesses, and places of public assembly, are built to required building safety codes, which address structural stability, fire safety, exits, sanitation, electricity, energy efficiency, and more. These building safety professionals are responsible for protecting the public health, safety and welfare through effective code enforcement.
Well-trained, motivated building safety professionals are key to creating and maintaining a successful built environment. Training is important because it helps code officials avoid mistakes and accidents and properly enforce the code. Week four of the International Code Council's Building Safety Month focuses on the importance of training and professional development. The building safety field encompasses a wide gamut of specialties and offers many excellent career opportunities that contribute to the safety of the built environment.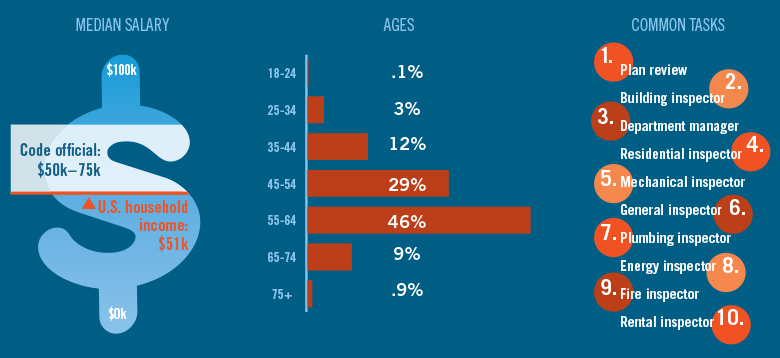 Building careers for today's generation
The Code Council has developed Safety 2.0 to welcome a new generation of members and leaders to the building safety profession. Programs include the High School and College Technical Training Programs and Military Families Career Path Program — which promotes building safety careers for military personnel after service — and the Building Safety Career Path Initiative, Value of the Code Official Initiative, Chapter Leadership Academy, Emerging Leaders Membership Council and Board Shadow Program. For students or professionals looking for a new career, check out the options below.
Building Safety Career Path Initiative
The Building Safety Career Path Initiative introduces the building safety profession as an exciting and attractive career option for individuals and audiences not traditionally connected to building safety.
Military Families Career Path Program
The Code Council's Military Families Career Path Program helps veterans who are transitioning to civilian life and their family members learn more about building safety career options.
High School Technical Training Program
The High School Technical Training Program was established to formally introduce high school students to the codes associated with their trades.
College Technical Training Program
The Code Council's College Technical Training Program is intended to work in tandem within existing construction trades, construction technology or engineering programs.
Value of the Code Official Initiative
The Value of the Code Official is a toolkit for members to heighten awareness of the importance of code officials to their communities and to highlight the code official's role as a helpful advocate for community safety, health and welfare, and economic development.
Emerging Leaders Membership Council
The Emerging Leaders Membership Council serves as an entry point for new, motivated members to engage in the activities of the Code Council.
Board Shadow Program
The Board Shadow Program provides an opportunity for potential leaders to shadow the Board of Directors at the ICC Annual Conference to experience real-time leadership as they observe their Board mentors.
Chapter Leadership Academy
The Chapter Leadership Academy is an exclusive annual event for chapter leaders to discuss and strengthen important skills related to chapter management, legal considerations, member recruitment and retention, and effective communications.
It's hard to think of a more important aspect of building safety than training and development. Continuing education helps code professionals stay current with the latest developments, skills and new technologies required in their fields and helps shape the future direction of their careers. It increases qualifications and income, improves confidence and discipline, and widens social networks.
One-stop shop for code training and education
For code professionals looking to enhance their knowledge, advance their career or earn certification, the ICC Learning Center is the comprehensive, one-stop shop for code training and certification where candidates can access training and education in a variety of formats that suit their learning style and schedule.
Face-to-face engagement at multi-day, focused topic institutes or single-day, single-topic seminars offer active discussions and hands-on learning with peers to network and advance your career. Self-paced online courses and recorded web sessions allow you to select a topic from the online catalog and learn and study at your own pace and on your own schedule — 24 hours a day, seven days a week. Moving forward, you will have a full year from date of purchase to complete an online course, which means you can study whenever you have time, and have maximum flexibility to review and study the material as you complete the course curriculum. Live web sessions take the face-to-face discussions online, and further develop your knowledge through virtual discussions and exercises. Guided by an expert facilitator, web-based training is an opportunity to learn collaboratively from the comfort of your office or home on specific topics without expensive travel or time out of the office.
In addition to online learning opportunities such as study tools, practice quizzes and guides to required exam references to help familiarize you with study materials and the general test-taking environment and prepare you for taking your targeted exam, the Learning Center also offers supporting services to organizations and jurisdictions, including event registration and logistics services, Hire ICC to Teach, and customized training.
The new wave of virtual learning
The ICC Assessment Center offers expanded certification and testing options and resources. The launch of PRONTO (Proctored Online Testing Option) — the Code Council's cloud-based testing system — is part of the association's commitment to ensure access to the latest technology-based solutions. PRONTO enables candidates to take ICC certification exams online with a live proctor at their convenience any time of the day on their home or office computer (or other secured location) and provides results immediately upon exam completion. PRONTO allows flexibility and control over scheduling and taking an exam.
PRONTO originated from the need for building and fire code professionals to achieve certification in a manner most convenient to them. This new method of virtual, digital learning has surpassed the initial goal of connecting individual candidates to the exam experience in the comfort of their homes and has gained momentum. A recent survey of PRONTO users on their ability to connect to the exam proctor; the knowledge, efficiency and professionalism of the exam proctor; the security of the registration process; the quality of the user interface; and the efficiency of the examination functions (bookmark, notes, etc.) revealed PRONTO to be a more convenient and accessible means of furthering professional development in the field of building safety. As jurisdictions quickly realized the benefits to its employees, PRONTO expanded to PRONTO@work, which offers organizations the option to dedicate an on-site testing area for their employees to take Code Council examinations through PRONTO. Since its initial launch, PRONTO has improved accessibility in testing to impact building safety professionals on a local, state and global level.
Opening the door to extensive training opportunities
The ICC Preferred Provider Program opens the door to extensive training opportunities from a variety of educational resources. The program recognizes and promotes Code Council-approved educational courses offered by a variety of education providers, focusing on the areas of construction codes, standards and guidelines as well as building construction materials, products and methods. An expansive listing of available educational courses, both onsite and online, is available to users of the Preferred Provider Program. Users have the opportunity to gain information about educational offerings and other services of Preferred Providers. In addition, ICC certificate holders may obtain continuing education units (CEUs) from Preferred Providers that can be applied toward the renewal requirements of the Code Council's certification program.
The approved education providers collectively form a broad network of education providers — the ICC Preferred Provider Network. Education providers are encouraged to partner with the Code Council to greatly expand recognition of, and access to, available training needed to serve a broad learner base. Preferred Providers have the opportunity to communicate their programs, services and products to the Code Council's broad audience of members and customers.