April 14, 2020 l Tested by hurricanes, tornados and floods. Molly Price brings new energies and insights as South Carolina's state codes board administrator. Read more.
April 13, 2020 l Emory R. Rodgers scholarship deadline extended to May 1. Applicants allowed more time to file form for major scholarship to leadership and executive development program. Read more.
April 13, 2020 l Jason Pryor pays it forward encouraging new professionals. Gulf Port code official is an Emerging Leaders Membership Council activist at work and after work. Read more.
April 6, 2020 l At 23, he's the youngest to achieve MCP. Michael Doherty of Addison, Texas, joins an elite group of individuals who've obtained their Master Code Professional certification. Read more.
February 12, 2020 l Technical Training Program continues its growth. ICC Executive Project Director Madi Dominescy reviews the Code Council's Technical Training Program as it's meeting the need to develop tomorrow's code leaders and officials. Read more.
February 11, 2020 l It's a new generation building career. Jason Dilworth grew up with it. His father — an ICC Master Code Professional — was a builder, inspector and a building official and owned a third-party agency. His grandfather was a builder. Now, here's Jason's story. Read more.
February 1, 2020 l ELMC Officers featured on Pulse Podcast. Chair Andre Jaen and Vice Chair Allison Cook of the ELMC Governing Committee cite the advantages that membership brings to young code professionals and those who would consider a career in building codes on Pulse Podcast #24.
January 21, 2020 l Big talent coming from Texas. Bobby Horner writes about SkillsUSA students putting code and construction skills to the test. Read more.
January 6, 2020 l Jesse DeAnda's innovations improve field efficiencies. Hollywood's Jesse DeAnda embraces technological innovations in the building safety industry through the digitization of online permitting and field documentation. "I love that this industry is made of smart and passionate people looking to protect their communities. We are touching every part of the community every day." Read more.
January 6, 2020 l Code enforcement is a good fit for Rebecca Brown. She had discovered her purpose — to be in a job that protects people from unsafe structures. Today, she's a founding member of the Emerging Leaders Membership Council's leadership. Read more.
December 27, 2019 l PPOs offer inspired leadership training. An inspiring series of webinars on becoming an effective leader was developed and is available by people who ought to know. The Past Presiding Officers developed the series to help advance your career, skills and mindset. Each webinar is $49 per member. Titles include "Effective Leadership," "Flexing Your Leadership Muscles," "Mastering the Art of Mentorship," "Building Your Bench" and "Public Speaking for the Code Official." Read more.
November 18, 2019 l Fellowship's first recipient allows 34-year-old a new career trajectory. Chris Landreth using Emory R. Rodgers Leadership in Building Safety Fellowship award for a two-week intensive program at Massachusetts Institute of Technology's prestigious Sloan School of Management for an executive certificate in management and leadership. Read more.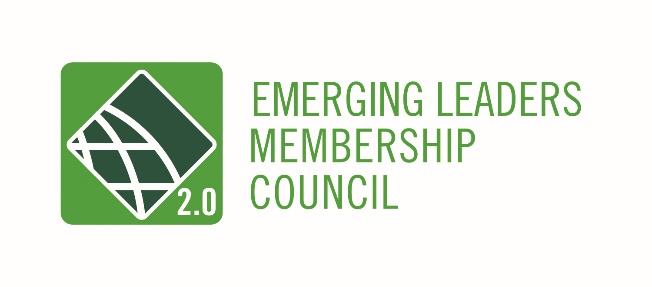 Emerging Leaders Membership Council
The Emerging Leaders Membership Council is a place created within ICC to accelerate motivated young professionals on a path to future leadership. It represents an opportunity to connect our current leaders with new talent and perspectives in hopes that we can shake-up convention and redefine success. It is a vehicle for those involved to grow professionally and create connections that will last a lifetime as those new members grow into involved and experienced mentors.
We intend to grow our numbers, our involvement and our voice as we encourage our members to develop and learn. We hope that industry leaders will help us by sharing their experiences and teaching us the value of ICC as an institution in building safety.
Every single ICC member is welcome to our council. Please join us in a journey that will change lives, communities and careers for years to come.
Andre Jaen, Chair
ELMC Governing Committee
The ELMC is open to all ICC Members but is focused specifically on Members age 35 and under and/or those Members who have been in a codes enforcement-related profession for less than 10 years. If you're looking to network with peers, to learn how to become more involved in professional activities, and influence the direction of ICC will take in the future, enroll in the Emerging Leaders Membership Council today. Simply fill out the enrollment form, and ICC will be in touch with more details.
Governing Committee of the ICC Emerging Leaders Membership Council
Andre Jaen, Chair, Jefferson County, CO
Allison Cook, Vice Chair, City of Arlington, VA
Ben Breadmore, Past Chair, Town of Holden, ME
Elizabeth Arrington, Lexington-Fayette County, KY
Andrew Bevis, Du Quoin, IL
Rebecca Brown, Dorchester County, SC
Cole Cloward, Grand County, UT
Kevin Gore, West Chester Borough, PA
John Hudgison, Columbus, GA
Stephanie Jacobson, Clackamas County, OR
Bonnie Muhigirwa, City Aspen, CO
Staff Liaison
Richard Hauffe, Senior Regional Manager, Government Relations, International Code Council
Board Liaison
Tom Peterson, ICC Board of Directors
Questions on the Council? Contact Karla Higgs.
Important Research to Emerging Leaders
There have been a number of studies and articles on mass retirements of code officials across the United States. That's a deep concern to all at ICC, and it is a fundamental reason the ELMC was created. The studies are available below for download.