August 19, 2019 l Mentors lit the path forward for Utah's Cole Cloward. International Code Council Board Director Jeff Whitney was contemplating retirement and searched for a suitable replacement. He found that, and a future leader, in Cole Cloward whose path has taken him through the ICC Board Shadows program and now on the Governing Committee of the Emerging Leaders Membership Council. Read More.
July 22, 2019 l Roots in the building industry were planted early. By the time Kyley Flynn reached the age of 24, she was married with a child and had become a building inspector and plans examiner with seven Code Council certifications under her belt. And she owns her own business. Read More.
July 11, 2019 l Building Safety Journal spotlights ELMC's Elizabeth Arrington. Residential building inspection supervisor Elizabeth Arrington discusses her introduction to construction as a hobby and how the building industry is challenging stereotypes and welcoming young professionals from different walks of life. Read more.
June 24, 2019 l Useful benefit for military veterans debuts in Louisiana. Called a "win-win" program to offer "a useful benefit for military veterans but to also attract badly needed new hires to our profession," incentive allows newly employed veterans the opportunity to work as jurisdictional inspectors without state required Code Council certification for 24 months. Read More.
June 20, 2019 l Series of mentors lit the pathway. Instructors in high school and then at Casper College in Wyoming lit the pathway for Russell Murphy to pursue construction. Montana's Dennis Hirsch got Russell involved in ICC and Region II, which led to a job at Colstrip, Montana. And then ICC Board member Jim Brown interested Russell in the Board Shadows program. Read More.
June 6, 2019 l Board Shadow's journey started in Afghanistan. With hands-on experience as a carpentry masonry sergeant with the 149th Vertical Construction Company deployed to Afghanistan during Operation Enduring Freedom, a conversation at a social function led to Gary Forsyth's career as a building official. Read about this Board Shadow's journey in this Building Safety Journal article. Read More.
May 13, 2019 l Board Shadow Alan Campos is profiled. The Code Council's Building Safety Journal features ICC Board Shadow Alan Campos, permit technician for Hemet, Calif. Campos participates in the 4-year-old Board Shadow Program which provides an opportunity for emerging code professionals to "shadow" the ICC Board of Directors at the ICC Annual Conference, to absorb information and experience real-time leadership. ... Read More.
April 29, 2019 l Shining a light on emerging code professionals. This is Maria Del Marco's feature story about 35-year-old John Hudgison's experience as a Board Shadow and a member of the ICC Emerging Leaders Membership Council's Governing Committee and his work as Director of the Building Codes & Inspections Department in Columbus, Ga. … Read More.
April 26, 2019 l Focusing on great careers, new leaders. The recent ICC 2018 Annual Report, issued on the 15th year of ICC as a consolidated association, featured a subsection devoted to job opportunities for new generations of code officials. Scroll down and you'll find the profile on Jesse DeAnda, a charter member of the Emerging Leaders Membership Council's Governing Committee. DeAnda is also Immediate Past President of the L.A. Basin Chapter of ICC. ... Read More.
April 21, 2019 l Colorado's Building Futures Committee empowers the next generation. From mentoring to education to career development, the Building Futures Committee is opening doors for new members of the building safety and construction industry in Colorado. Story written by Hope Medina and Don Marchbanks … Read More.
March 30, 2019 l Iowa's Lucas Pump describes taking his first ICC exam.The International Code Council has many talented individuals working behind the scenes to develop, maintain and administer Code Council exams. But what is the experience like on the other side? … Read More.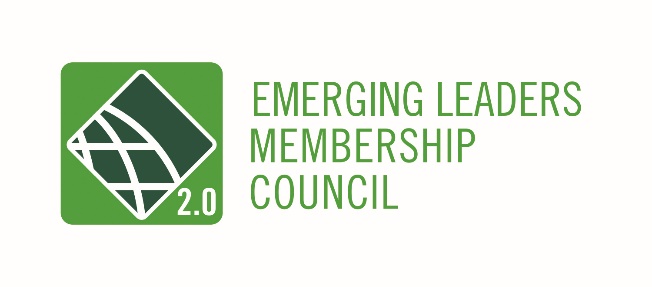 Emerging Leaders Membership Council
Now in its third year, the Emerging Leaders Membership Council is a growing, exciting venue for new and young code professionals. We are taking on new challenges and making innovative uses of social media, starting with our live stream broadcasts from the 2018 ICC Annual Conference in Richmond. Check out the three live streams on the ELMC Facebook page, and our Mentoring Mondays videos in the news block of this webpage.
"We invite you to join ELMC. It's free. And we invite you to sit in our phone conference meetings and our twice-annually face-to-face meetings.
"Your ideas, your energies and your efforts to boost ELMC participation is welcome. Our Membership Council is your gateway to code activism in ICC and in your community.
"We're glad you found our webpage. Now sign up for our Membership Council and join the excitement."
Ben Breadmore, Chair
ELMC Governing Committee
The ELMC is open to all ICC Members but is focused specifically on Members age 35 and under and/or those Members who have been in a codes enforcement-related profession for less than 10 years. If you're looking to network with peers, to learn how to become more involved in professional activities, and influence the direction of ICC will take in the future, enroll in the Emerging Leaders Membership Council today. Simply fill out the enrollment form, and ICC will be in touch with more details.
Governing Committee of the ICC Emerging Leaders Membership Council
Ben Breadmore, Chair, Town of Holden, ME
Andre Jaen, Vice Chair, Jefferson County, CO
John Hudgison, Columbus, GA
Elizabeth Arrington, Lexington-Fayette County, KY
Rebecca Brown, Dorchester County, SC
Jesse DeAnda, City of Beverly Hills, CA
Allison Cook, City of Arlington, VA
Stephanie Jacobson, Clackamas County, OR
Cole Cloward, Grand County, UT
Staff Liaison
Richard Hauffe, Senior Regional Manager, Government Relations, International Code Council
Board Liaison
Tom Peterson, ICC Board of Directors
Questions on the Council? Contact Karla Higgs.
Important Research to Emerging Leaders
There have been a number of studies and articles on mass retirements of code officials across the United States. That's a deep concern to all at ICC, and it is a fundamental reason the ELMC was created. The studies are available below for download.