May 28, 2018 l ELMC's final "Mentoring Mondays" video features ELMC Vice Chair Ben Breadmore. This is the final week of the 2018 Building Safety Month, and here is the final and fourth in a series of the "Mentoring Mondays" videos aimed at helping young people to choose careers in codes. This interview flips the script on the program as our own ELMC Vice Chair Ben is interviewed by Arthur Unobskey, a 35-year Air Force veteran and newly hired building inspector. … Watch Video.
May 21, 2018 l ELMC's third "Mentoring Mondays" video showcases veteran code officials offering advice to peers. Georgia's Dwayne Garriss, ICC Board Past President, offers some advice to those considering succession planning: "You need to start mentoring your replacement." This episode, "Passing the Torch: Advice for Our Veteran Officials," also features insights from Becky Baker, Stuart Tom, Bill Bryant and Tom Peterson. … Watch Video.
May 14, 2018 l ELMC's second in a series of "Mentoring Mondays" videos focuses on ICC's next generation of code officials. In celebration of 2018 Building Safety Month, the Emerging Leaders Membership Council's Governing Committee is releasing a video series of interviews with ICC veteran code officials. This one is titled "Preparing the Next Generation." It is the second in a series of four weekly videos. … Watch Video.
May 7, 2018 l ELMC Governing Committee launches its first of four "Mentoring Mondays" videos to celebrate 2018 Building Safety Month. Each Monday during Building Safety Month, the Emerging Leaders Membership Council will launch a new video of interviews between ELMC Members and ICC's veteran code officials: Becky Baker, Jefferson County, Colo., winner of the 2017 Gerald H. Jones Code Official of the Year Award, ICC Board Vice President Bill Bryant, ICC Board Past President Dwayne Garriss, Tom Peterson, who is ICC Board Liaison to the ELMC Governing Committee, and ICC Board Member Stuart Tom. The is titled "Who Mentored You?" … Watch Video.
April 23, 2018 l Safety 2.0 welcomes new generation to building safety profession. What's the best way to draw a younger generation of code officials and inspectors to fill the void of Baby Boomers who have retired or will soon? First of all, don't use the word "code." … Read More .
April 5, 2018 l New generation of code officials on the rise. Quanya Reese, a graduate of Paul Laurence Dunbar High School in Washington, D.C., is one of the many examples of young people interested in advancing in the building safety profession. Through hard work, dedication and perseverance, Reese has received certification for the International Property Maintenance Code. … Read More.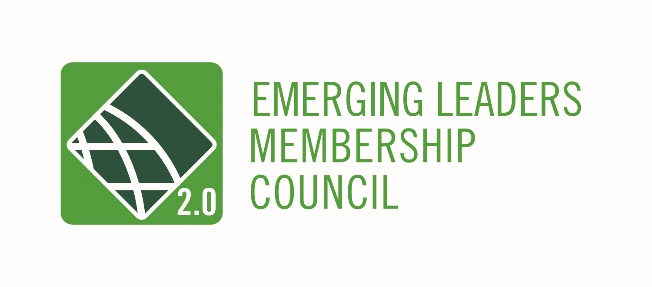 Emerging Leaders Membership Council
"As the newest addition to ICC's family of Membership Councils, the bar is set high for the Emerging Leaders and we're ready to take on that challenge!.
"The Emerging Leaders was created for a few reasons. First, it provides an opportunity to involve new, motivated and highly active members into the International Code Council. Second, it can leverage our unique skills as emerging leaders to tackle the mass exodus of Code Officials who will soon retire. Lastly, the Emerging Leaders was established to innovate, refine and assist the ICC, and all of its functions, in the most efficient and effective way possible.
"The world is changing rapidly and this is our time to ensure that our highly essential industry stands at the forefront. Come and join your colleagues and peers in making a difference in the world we live in! We look forward to sharing your passions and ideas!"
Michael Tomaselli, Chair
ELMC Governing Committee
The ELMC is open to all ICC Members but is focused specifically on Members age 35 and under and/or those Members who have been in a codes enforcement-related profession for less than 10 years. If you're looking to network with peers, to learn how to become more involved in professional activities, and influence the direction of ICC will take in the future, enroll in the Emerging Leaders Membership Council today. Simply fill out the enrollment form, and ICC will be in touch with more details.
Governing Committee of the ICC Emerging Leaders Membership Council
Mike Tomaselli, Chair, Anne Arundel County, MD
Ben Breadmore, Vice Chair, Town of Holden, ME
John Hudgison, Columbus, GA
Elizabeth Arrington, Lexington-Fayette County, KY
Rebecca Brown, Dorchester County, SC
Jesse DeAnda, City of Beverly Hills, CA
Andre Jaen, Jefferson County, CO
Staff Liaison
Richard Hauffe, Senior Regional Manager, Government Relations, International Code Council
Board Liaison
Tom Peterson, ICC Board of Directors
Questions on the Council? Contact Karla Higgs.
Important Research to Emerging Leaders
There have been a number of studies and articles on mass retirements of code officials across the United States. That's a deep concern to all at ICC, and it is a fundamental reason the ELMC was created. The studies are available below for download.