Glenn Mathewson receives 2021 ICC Educator of the Year Award for inspiring and promoting professional development

Each year, the International Code Council recognizes peers and colleagues who are a reflection of what the association stands for: dedication to developing model codes and standards used in the design, build and compliance process to construct safe, sustainable, affordable and resilient structures. The Code Council honored several outstanding individuals and organizations for their accomplishments and contributions to building safety and resiliency in their communities during the 2021 Annual Conference in Pittsburgh, Pennsylvania.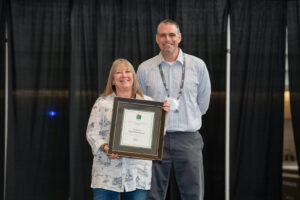 The ICC Educator of the Year Award recognizes the excellence of an individual or organization in promoting professional development and the educational advancement of the building safety profession. The award is given in memory of Brent Snyder, a renowned Code Council educator and Past Presiding Officer, for his calm and inspiring leadership and his many contributions to Code Council members to further their educational pursuits, professional development and leadership. Glenn G.A. Mathewson, MCP, president and instructor at BuildingCodeCollege.com, received the 2021 ICC Educator of the Year Award during the Safety 2.0 reception on Monday, Sept. 20, 2021, in Pittsburgh, Pennsylvania.
As a building code educator, author and consultant, Mathewson's ability to teach complex topics in an easy-to-understand manner — along with his in-depth knowledge of the International Codes — has made him a favorite instructor and a mentor to many. In fact, he is such a popular instructor that he has amassed his own following among building professionals. His classes are often described as comprehensive, memorable and fun. Most importantly, his lessons stick. Mathewson's former students are often overheard quoting him while on the job or reminding others, "Remember what Glenn said about this…"
Mathewson began his construction career in 1996, starting as a young laborer and carpenter's apprentice and progressing to framing homes and later operating his own remodeling company. In 2005, he became a building, plumbing and mechanical inspector for the city of Westminster, Colorado. He spent the next 13 years at the city, in roles as inspector and plan reviewer. He earned his Master Code Professional certification in 2007 and, after teaching his first code class, he began his career in writing, teaching and consulting, all while still working full-time for the city.
In 2012, he began using technology to make codes more accessible and understandable, and soon opened BuildingCodeCollege.com, a web-based learning site where students can learn at their own pace. An ICC Preferred Provider, Mathewson is both president and instructor at the online school. In spring of 2018, he took the big leap, and after 13 years with the city of Westminster, Mathewson left to pursue full-time commitment to code education through BuildingCodeCollege.com. Drawing on his experience as a tradesman, contractor, consultant and building inspector, he is able to review, discuss and teach the standards of construction with a true understanding of the realities involved with applying them in the field. His distinctive approach, coupled with his free class offerings, has made learning more accessible to busy professionals in the code community.
On top of this, Mathewson has been a staunch defender of copyright of the International Codes and has authored more than 100 technical articles in publications such as Professional Deck Builder, the Journal of Light Construction, Fine Homebuilding and the Building Safety Journal. He is also the author of the Code Council's book, Deck Construction Based on the 2021 International Residential Code, which was released this year. Since 2011, he has been a technical code advisor to the North American Deck and Railing Association and represented the decking industry in the 2015 and 2021 International Residential Code development process.
His unique educational style and commitment to public health, safety, and welfare have benefitted our industry for more than 25 years. The International Code Council congratulates Glenn Mathewson as its 2021 Educator of the Year.
View past recipients of the ICC Educator of the Year Award.
Read more on Glenn Mathewson in this perspective piece for the Building Safety Journal.