---
Director at Large
Angie Wiese, PE, CBO
Fire Safety Manager
Saint Paul, Minnesota
Send Email
In January 2018, Angie Wiese, PE, CBO was selected to fill the vacant director-at-large position on the International Code Council's Board of Directors. Originally from the Twin Cities, Minnesota, Wiese serves as the Fire Safety Manager for the City of Saint Paul.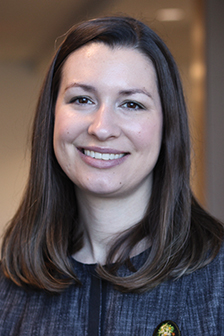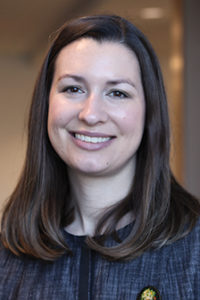 After earning a Bachelor of Science in Mechanical Engineering from Purdue University, Wiese got her start working for a fire sprinkler contractor. In 2005, she was hired by the city of Saint Paul to be a fire protection engineer. Wiese worked in this position for eleven years, also earning a Master of Arts in Public Administration from Hamline University.
In 2016, Wiese was promoted to her current position of fire safety manager where she oversees the fire safety inspection program in Saint Paul for both new and existing buildings.
Wiese is grateful for the number of mentors she has had over the years who have helped her along her career path. Her predecessor and former Saint Paul Fire Safety Manager Phil Owens as well as former Saint Paul Fire Marshal Steve Zaccard served as major inspirations and sources of guidance throughout her career and time working for the City of Saint Paul.
Wiese also credits former Code Council Board member Greg Johnson for introducing her to the Code Council and helping her get involved in the code process. "Greg is the one who encouraged me to get my building official certification," she said. "I'm a fire person by trade, but he encouraged me to be well-rounded and to participate in the building construction meetings with the building officials." Johnson recognized Wiese's initial interest in codes and encouraged her to take the exam to become a Certified Building Official (CBO). Now Wiese is a licensed professional engineer in fire protection as well as a Minnesota CBO.
As she reflects on her own experiences, Wiese's advice to the younger generation of building safety professionals is to not be afraid of the process or being involved. "When I started doing this, I thought this was a massive world that was hard to get into. In actuality, we need new people and we need new perspectives. People shouldn't be afraid to take a leap and try something new."
As a woman in what is a typically male-dominated field, Wiese is a role model for young women joining the industry. Her advice to others is to be observant and vocal – "Don't be afraid to speak up when something doesn't seem right or if you have knowledge to share."
Wiese is proud of the impact she has made on the code development process, most specifically with regards to fire codes. She hopes that her time on the board, while it may only an interim position, will be spent making a similar impact within the Code Council overall. Wiese intends to use this position as a platform to "speak for the membership and speak for the groups that may have previously been unheard."
Outside of her time at work, Wiese makes great use of the Minnesota weather and enjoys cross-country skiing. "It allows me to see a bit of nature in these colder winter months," she says.
In addition to her fire safety manager position and her new position on the Code Council Board of Directors, Angie is also the President of the Fire Marshals Association of Minnesota and a board member of the Fire and Life Safety section of the International Association of Fire Chiefs.