2019 PMG Roundtable
A special PMG roundtable discussion — Mitigating Water Leaks in Premise Plumbing Systems — was held on April 27, 2019, the day before the Committee Action Hearings began in Albuquerque, N.M. The International Code Council and other plumbing industry experts discussed water leak prevention solutions in sanitary drainage, indirect waste and storm drainage; water supply and distribution, fixtures, appliances and solar; and landscape irrigation and rainwater harvesting in three panels during this signature event.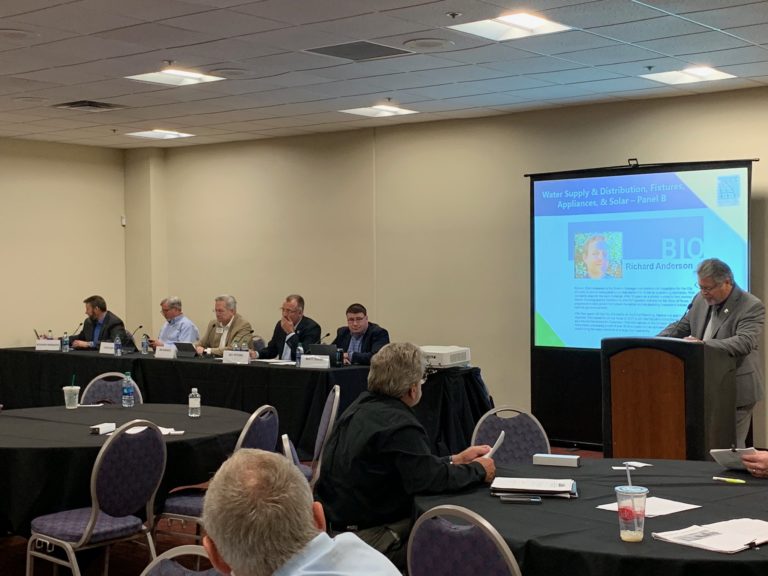 Code Council VP of Government Relations Technical Resources Neil Burning at the podium for the 2019 PMG Roundtable
Attendee Testimonials
Roundtable attendee Joseph Montoya, chief building official for the town of Castle Rock (Colo.), and panelist Curtis Dady, technical manager of the Business Development Group at Viega LLC, shared their insights regarding the issues raised during the forum. Read them below.
As a code geek and a plumber who also serves as chief building official for a small jurisdiction, I appreciate the effort behind, and the valuable discussion that took place at, the April 27 roundtable meeting. …I think the report that drove the PMG roundtable is very telling in itself. It shows (in my opinion) that the catastrophic failure in piping systems comes down to three things: poor installation (first and foremost); poor maintenance by the owner or owner's representative; and lack of skill in the repair and maintenance of piping systems.
— Joseph Montoya, Chief Building Official, Town of Castle Rock, Colorado
I was honored to participate on one of the three panels for this discussion. The topics were well thought out and forwarded to us in advance for preparation. Subsequent to the meeting, all feedback I heard was enthusiastic to the point that each of us knew our time had been well spent for the purpose of making a positive impact for our industry. Kudos to Dominic Sims, Neil Burning, Lee Clifton, Shawn Strausbaugh, Jim Cika and others for endorsing, selecting and organizing another great event.
— Curtis Dady, Technical Manager of the Business Development Group at Viega, LLC
From 2019 PMG Roundtable, Albuquerque, N.M.