The International Code Council is monitoring Hurricane Ida as it moves through Cuba and into the southern Gulf of Mexico. Ida became a hurricane earlier today and is expected to strengthen throughout the weekend. Ida is currently forecast to make landfall as a high Category 3 major hurricane affecting the central Gulf Coast including metropolitan New Orleans, southeast Louisiana, coastal Mississippi, Alabama, and the Lower Mississippi Valley. Life-threatening storm surge inundation of 7 to 11 feet above ground level is possible within the area from Morgan City, Louisiana to Ocean Springs, Mississippi, including Lake Borgne.
Ida is forecasted to be a dangerous major hurricane when it reaches the northern Gulf Coast on Sunday, bringing potentially devastating winds and damage as it moves onshore. Ida will produce heavy rainfall Sunday into Monday resulting in considerable flash, urban, small stream, and riverine flooding. People in the forecast path of Ida should ensure they have their hurricane plan in place and begin executing it now while following advice given by local officials. For the latest forecast and additional safety information, please visit the National Hurricane Center and the Code Council's hurricane safety and resources page.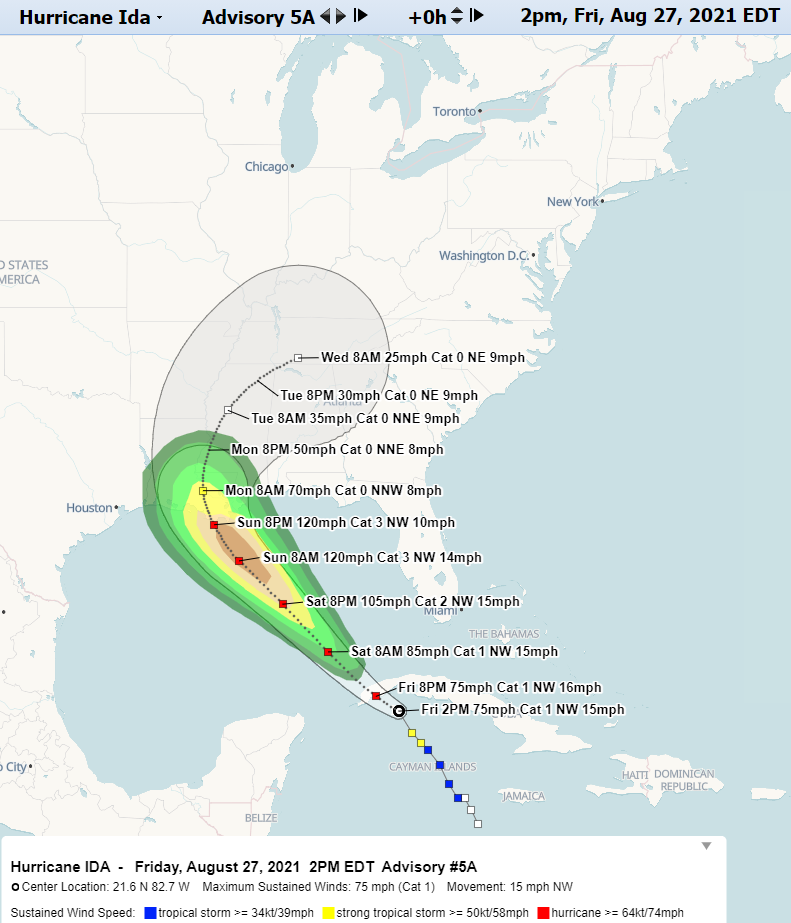 Disaster Response Alliance
As an aid to community disaster response, the Code Council and the National Council of Structural Engineers Associations (NCSEA) sponsor the Disaster Response Alliance (DRA). The DRA maintains a national database of skilled, trained, and certified building safety professionals who are standing by and ready to assist communities in need. The DRA has assembled a cadre of skilled code officials, engineers, and others from across the country who are willing to assist with post-disaster safety assessments, building damage assessments, inspections, and surge support for other code-related functions. The Disaster Response Alliance brings together skilled, volunteer second responders in one place for easy access and quick mobilization. Federal, state, local, tribal, and territorial entities may request assistance directly through the DRA web site.
Interested in becoming a DRA resource?
The DRA is always looking for volunteers. If you or someone you know is interested in becoming a DRA second responder resource, please visit the Volunteer Now link on the DRA web site. Architects, engineers, and building safety professionals willing to make a difference during times of disaster are encouraged to apply. The DRA is also looking for individuals with specialized skills, knowledge, or abilities such as plans examiners, permit technicians, and building inspectors.
New FEMA Disaster Recovery Program Resource for Code Officials
When disasters strike, codes and standards serve as a baseline for the return to safe, sanitary, and habitable buildings. Code officials and their floodplain management counterparts rely on support from emergency managers and community leaders to help secure the critical resources needed to ensure the health, safety, and welfare of the community. To that end, FEMA recently announced a new disaster policy specifically aimed at providing much needed assistance for code officials and floodplain managers during disaster response and initial recovery for up to 180 days following a major disaster declaration. This policy, administered under FEMA's Public Assistance program, offers reimbursement for critical community functions such as building code administration, code enforcement, floodplain management administration and enforcement, and conducting substantial damage surveys inspections in affected communities. For more information, visit the Code Council's resource page.
FEMA Building Resilient Infrastructure and Communities (BRIC) Building Code-Related Hazard Mitigation Opportunities
The Code Council and FEMA support community-based mitigation strategies that decrease risk and repetitive loss while increasing a community's resilience to disasters. As part of those strategies, the adoption and enforcement of building codes has been identified as one of the five priorities of FEMA's FY2021 BRIC program. Eligible building code adoption and enforcement activities for the proposed BRIC program are activities that:
Evaluate adoption and/or implementation of codes that reduce risk
Enhance existing adopted codes to incorporate more current requirements or higher standards
Develop professional workforce capabilities through technical assistance and training
The BRIC program application period opens September 30, 2021, and closes January 28, 2022. For more information on the disaster-resistant provisions of the International Codes or the FEMA BRIC program, contact your Code Council Government Relations Regional Manager or Karl Fippinger, Vice President - Government Relations, Fire and Disaster Mitigation at kfippinger@iccsafe.org.
Managing Your Flood Risk
With Ida in the headlines, the Code Council and our partners at the Federal Emergency Management Agency (FEMA) remind everyone that floods can happen anywhere, not just during or after a hurricane. Most homeowner's insurance does not cover flood damage. Flood insurance is a separate policy that can cover buildings, the contents in a building, or both, so it is important to protect your most important financial assets including your home, your business, and your possessions.