The Global Award
The ICC Global Award recognizes distinguished service to the Code Council's global mission and vision.
The 2018 recipients are Eng. Abdulhameed Ali Al-Marzouqi, director of Policy, Contracts and Asset Management at the Department of Urban Planning and Municipalities, Abu Dhabi, United Arab Emirates, and Chuck Ramani, founder and past president of the International Accreditation Service.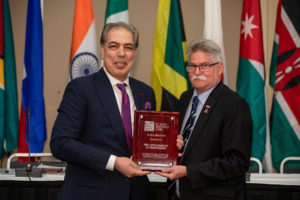 Imad Eldurubi accepts the 2018 Global Award on behalf of Eng. Abdulhameed Al-Marzouqi.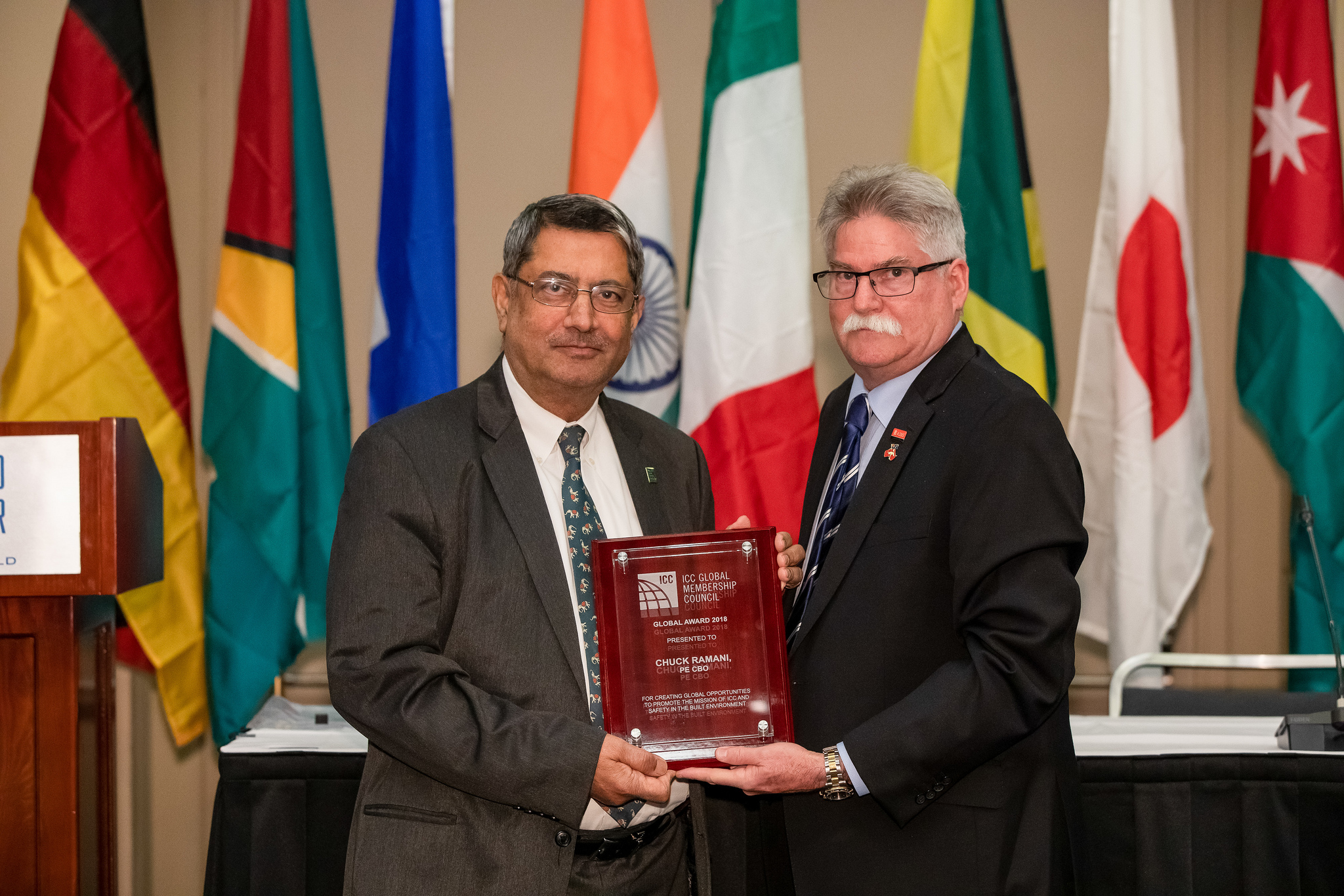 Chuck Ramani accepting the the 2018 Global Award.
Past recipients
2017:  Dr. Brian Meacham of the Worcester Polytechnic Institute.
2016: The Global Cooperation Department of ASTM International under the leadership of its Vice-President, Ms. Teresa Cendrowska.
2015: The International Trade Administration of the U.S. Department of Commerce.
2014: Ms. Evangelina Hirata Nagasako, Technical Director of the National Body of Standardization and Certification for Building and Construction in Mexico, for her efforts to spread ICC's mission of a safer built environment.
2013: Two recipients--Dr. Khalid El Zahaby, Chairman of Egypt's HBRC, for his leadership helping enhance the performance of the building sector in the Arab Republic of Egypt through scientific research, code development and construction materials specifications; and Target Corporation and Target Code Compliance Manager Tom Phillips for their leadership and active participation in the development of the Replicable Buildings Guideline.
2012: Two Receipients--His Excellency, Ahmed Mohamed Shareef, Undersecretary of the Department of Municipal Affairs, Abu Dhabi, UAE, for being the driving force behind the adoption, development and implementation of the Abu Dhabi Building Codes; and Mr. Imad Eldurubi, President of the WOBO for his outstanding leadership and active participation promoting ICC's core values globally.
Stay tuned for announcements about the opening of the 2019 nomination period.